Bruins
Jakub Lauko's knack for conducting chaos is keeping him in Bruins' lineup
"I can be like a Boston Bruin for the playoffs."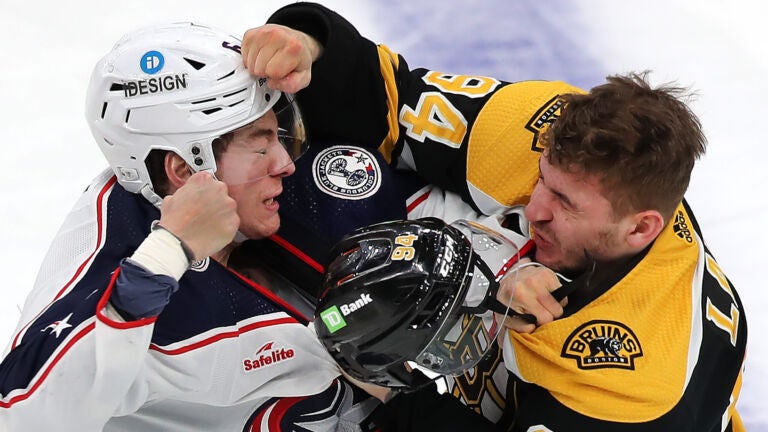 Jakub Lauko doesn't necessarily have time on his side when it comes to proving his mettle in the NHL ranks.
A fourth-line foot soldier tasked with landing welts on the forecheck, Lauko doesn't have the luxury of 17 or 18 minutes of reps in Jim Montgomery's rotation. No power-play shifts are prescribed to bolster his offensive totals.
Of the 19 games he's logged with Boston this season, Lauko has only eclipsed 10-plus minutes of ice time on six occasions. Against Columbus on Thursday night, he spent just 4:53 on the TD Garden's frozen sheet.
"My upside is not like [David Pastrnak's] upside or [Brad Marchand's] upside," Lauko said postgame. "So I was like, 'If I want to keep playing here. I just need to change the way I'm playing a little bit and do what I do best.'"
And against the Blue Jackets, Lauko continued to retool his identity as a fly in the ointment against the opposition.
If the 23-year-old winger is only going to get beckoned over the boards a couple of times per night, he's making a habit out of making those scarce shifts count.
He didn't etch his name on the scoresheet during Boston's 2-1 victory over Columbus.
But Lauko's second-period scrap with Hanson native Billy Sweezey stirred up a Bruins team sleepwalking through another game in the dog days of late March.
"At the start of the whole second period, I just felt like we were kind of flat," Lauko said of dropping the gloves with Sweezey. "So it was a great opportunity and great moment to get the guys going, get the crowd going."
Less than five minutes after Lauko and Sweezey were both banished to the sin bin, Boston erased a one-goal deficit off of a power-play tally from Tyler Bertuzzi.
A cross-check delivered by Lane Pederson against Patrice Bergeron sparked most of Thursday's bad blood. Trent Frederic's one-punch retribution against Pederson upon exiting the box was an emphatic stamp on Boston's sandpaper response to Columbus' infraction.
But Jim Montgomery was quick to lump Lauko in with Frederic for their efforts to tilt the momentum back in his club's favor.
"Tonight, by no means were we at the standard that we've seen most of the year. But what I like is how Lauko did that," Montgomery noted. "How Frederic didn't let our captain get abused. There's something to pay for that when you come to Boston and do something like that."
Lauko's knack for shifting the fortunes of his team has been a recurring trend during his latest stint up with the Bruins.
His propensity to operate in Grade-A ice has yielded solid offensive returns (four goals, six points in 19 games) this season. But Lauko's north-south acceleration and willingness to stick his beak into any scrum is giving Boston a decisive edge in terms of penalty differentials.
Boston's power play has fallen into an extended rut as of late (12-for-98 over their last 28 games). But Lauko has done what he can to give the Bruins' man advantage the minutes it needs to remedy itself.
Lauko's relentless puck pursuit and ornery post-whistle habits have seen him send many skaters to the penalty box for penance.
In just 161:31 of 5v5 reps, Lauko has drawn 11 penalties this season. That's the same number of 5v5 penalties drawn as Patrice Bergeron, and two more than David Krejci — who has logged over 766 additional minutes at 5v5 action.
In total, Lauko is averaging 4.09 penalties drawn per 60 minutes of 5v5 play. Of the 726 NHL skaters who have been on the ice for at least 150 minutes of 5v5 TOI this season, Lauko's 4.09 rate ranks first overall.
Second place? Oilers power forward Klim Kostin … at 2.74 penalties drawn per 60 minutes.
Pestering opponents and getting officials to raise their arms for on-ice judgment isn't as flashy as snapping pucks into twine off of breakaway bids.
But Lauko's transformation from offensive dynamo to fourth-line scrapper has been a necessary adjustment in order to earn a spot up in the pros.
"If I had like 10 chances when I was young, I scored on some of them," Lauko said of his impressive stat lines during his early years back his native Czechia. "And here, I'm not gonna have 10 chances per game.
"I just said ''Hey, I need to change the game a little bit. I need to be more hard-nosed and just skating and forechecking — and that was the biggest difference between last year and this year."
Lauko might be dogged in his fight for more minutes. But he's also realistic.
If both Taylor Hall and Nick Foligno are cleared for deployment in the postseason, Lauko's minutes will dry up on the depth chart.
He doesn't have the high-end talent of Hall, nor the resume that Foligno has penned over 1,081 games in the NHL.
But given the physical toll that every NHL roster trudges through during postseason play, Lauko knows his name could be called in short order.
It won't take him very long to get re-acclimated when his number is scribbled back into the lineup.
"I know how the lineup is looking here when Hallsy and Fliggy are gonna be back. It's gonna be hard to crack the lineup," Lauko said. "But these games, I'm [trying] to show everyone that if something happens or the coaches are gonna make a different decision, I'm ready.
"They can rely on me, that I can repeat that play for the playoffs. I can play that kind of hockey. I can be like a Boston Bruin for the playoffs."
Sign up for Bruins updates🏒
Get breaking news and analysis delivered to your inbox during hockey season.