Bruins
Bruins' Taylor Hall is nearing a return — and could create a dominant third line for this Cup run
Hall is expected to join a third line already featuring Charlie Coyle and Tyler Bertuzzi.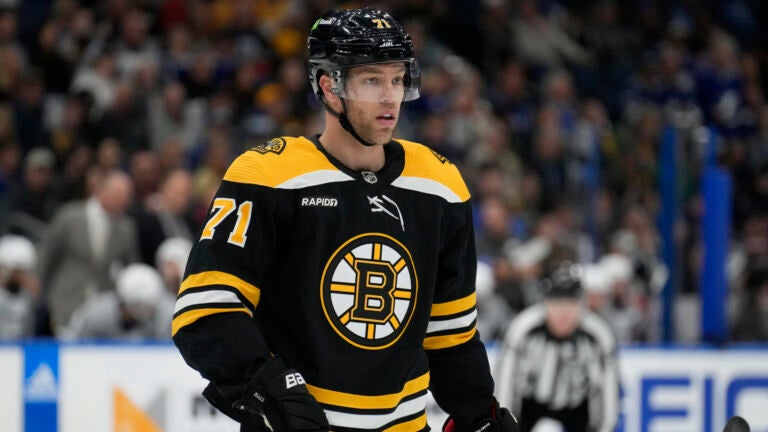 The initial reports weren't promising for Taylor Hall.
Hampered by a lower-body injury against the Canucks back on Feb. 25, the veteran winger was placed on long-term injured reserve just five days later.
Don Sweeney noted at the time of Hall's injury designation that his status "took a real unfortunate turn", prompting Boston to deal for Tyler Bertuzzi for additional middle-six insurance. Surgery was not ruled out for the former Hart Trophy winner.
But as evidenced by Brad Marchand's accelerated return from hip surgery in October, the 2022-23 Bruins have a knack for shattering points records and recovery timelines alike.
More than a month after his season was placed in jeopardy, Hall is poised to return ahead of a Cup run — and join an imposing third line alongside Bertuzzi and Charlie Coyle.
"It feels great to be out with the guys and to practice with them, to be in the meetings and everything else," Hall said Wednesday afternoon at Warrior Ice Arena. "When they're on the road, it's pretty lonely around here. It's fun to be back around the atmosphere."
Wednesday's on-ice session marked the first time that Hall shed the red, non-contact sweater he's skated in over the last week-plus of practice reps.
Even though Jim Montgomery did not confirm or deny Hall's availability for Thursday's home matchup against the Maple Leafs, he did note that the 31-year-old forward has made significant strides.
"We're starting to get him into game rhythm again through practice. … I think he's doubtful for tomorrow, to be honest," Montgomery said. "But I'm not gonna completely rule him out."
Hall's eventual return will further bolster a Bruins roster already ranked second in the league in scoring at 3.66 goals per game.
A big-bodied pivot in Coyle has fared well this season with a power forward in Trent Frederic, with Boston holding a 34-18 edge in goals scored during the duo's 611 minutes of 5v5 ice time.
But for Montgomery, swapping Hall and Frederic yields a higher offensive ceiling for a third line looking to land punches against the soft spots on opposing rosters.
But for that trio to reach its potential, Montgomery acknowledged that someone will need to take the initiative when it comes to peppering the net.
Of the 16 Bruins forwards with at least 50 minutes of 5v5 reps this season, Coyle ranks 10th in shots per 60 minutes at 6.75. One of Hall or Bertuzzi will need to augment their role from pass-first winger to steady triggerman next to the Weymouth product.
"I think everyone's gonna have to be a little more shot-first," Montgomery said of Boston's revamped third line. "There is no true shot-first player on the line. But if they can wear people down below the tops of the circles, and with Hall there being able to make plays off the rush because he can beat people — not only one-on-one, but around people wide — they just all got to be shot-ready. That's the only thing that would prevent them from being in a fairly dominant line."
Despite the initial pessimism regarding his status ahead of a potentially fruitful playoff push, Hall said his confidence never wavered in terms of getting back on his skates.
"Everyone knows the expectations that are on the outside and what we believe in this room. But it's a lot of fun to rejoin the group," Hall said. "When you're in the thick of things, you don't quite realize how special it is."
Sign up for Bruins updates🏒
Get breaking news and analysis delivered to your inbox during hockey season.