Bruins
Taylor Hall set to return to Bruins' lineup Saturday, will play with Charlie Coyle and Trent Frederic
Hall's been out since Feb. 25 due to a lower-body injury.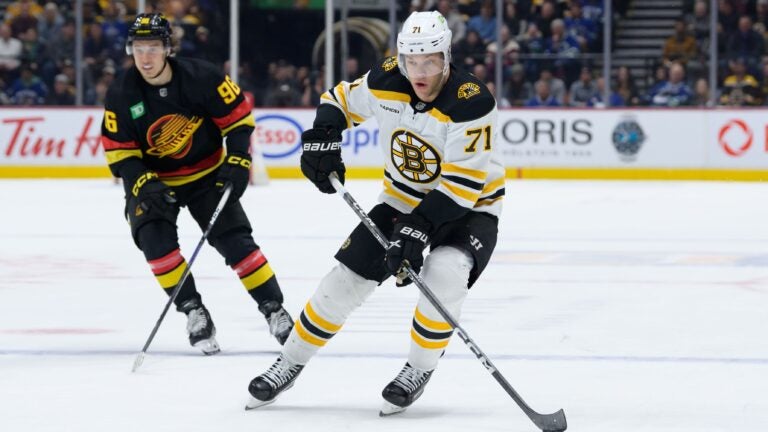 The Bruins are getting a big reinforcement as they look to make history and play in their final tune-ups ahead of the Stanley Cup playoffs.
Taylor Hall will return to the Bruins' lineup for Saturday's game against the Devils, Bruins coach Jim Montgomery told reporters earlier in the day. Hall's been out since suffering a lower-body injury Feb. 25. Despite the month-plus-long absence, don't expect his usage to be any different.
"We're excited to have him back, [and] we're gonna use him the way we normally do," Montgomery told reporters. "I don't know how much power-play [time] he's going to get. That will be dependent on how he's doing. Most important is getting him up and running with five-on-five shifts."
Hall's injury in February was viewed by many as the precursor to the Bruins trading for Red Wings forward Tyler Bertuzzi in March. The two skated as the wings on Charlie Coyle's line at Wednesday's practice, but with David Krejci out again on Saturday, Bertuzzi will move over to the line with Pavel Zacha and David Pastrnak.
So, Hall will be on Coyle's line opposite of Trent Frederic. Hall said he feels comfortable playing with those two, as he's skated with them for much of the season, and he hopes to be able to make plays.
"The key for me tonight is to get my legs under me as soon as I can and make plays when they're there, and then if they're not you have to keep it at simple at times, that's what you do," Hall said. "But when it's time to make plays, I'm ready to do that and I feel like I've worked on my game a lot, and my strength and conditioning is where it needs to be, and I'm excited to prove that in the game."
Hall's been no stranger to making plays this season. He's scored 16 goals and has 20 assists in 58 games this season, proving to still be a dynamic playmaker.
Hall's not expected to play in Sunday's game against the Flyers, Montgomery said.
Defenseman Charlie McAvoy will also play in Saturday's game. He departed Thursday's win over the Maple Leafs early following a collision with Patrice Bergeron. Montgomery said McAvoy's early departure was only precautionary.
The Bruins are seeking their 62nd win of the season Saturday, which would tie them with the 1995-96 Red Wings and the 2018-19 Tampa Lightning for the most in a single season in NHL history. The Bruins have three more regular-season tilts following Saturday's game.
Sign up for Bruins updates🏒
Get breaking news and analysis delivered to your inbox during hockey season.