Bruins
10 things that defined the Bruins in a dominant, record-setting season
Plenty went right for the Bruins during a 65-win, 135-point regular season.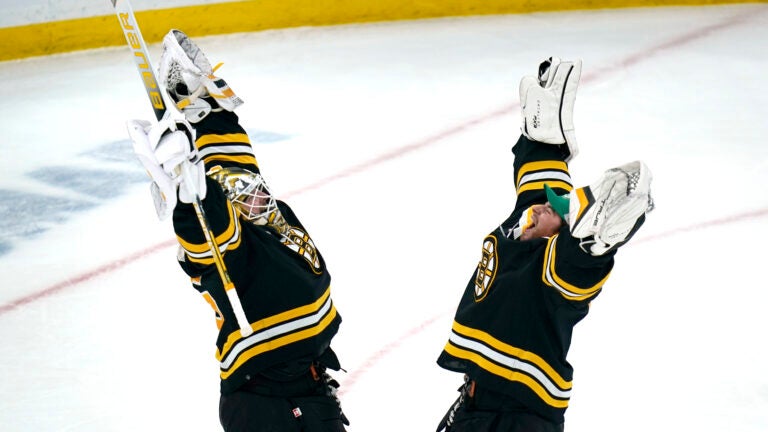 The 2022-23 Bruins set NHL records for victories and points in a season. No other team in the league's 106-year history has demonstrated such regular-season dominance.
Here are 10 things that defined the record-setting season.
1. Bergeron and Krejci return and defy Father Time
Patrice Bergeron and David Krejci returning for another season were the first dominos that needed to fall for the Bruins to orchestrate a season for the ages.
With the star centers accounting for just a combined $3.5 million salary-cap hit, general manager Don Sweeney had the fiscal flexibility to bolster the roster. And despite their high mileage, both Bergeron and Krejci delivered.
In his 19th season, Bergeron should be a finalist for his sixth Selke Trophy as the league's best defensive forward. The 37-year-old scored 27 times in 78 games.
Krejci's playmaking and on-ice vision didn't erode following a year overseas, as the crafty center posted 56 points in 70 games at age 36.
2. Lindholm puts a banged-up defense on his back
Even with Bergeron and Krejci back, the Bruins were looking at an uphill climb in the fall.
With Brad Marchand, Charlie McAvoy, and Matt Grzelcyk sidelined after offseason surgeries, most expected the Bruins to tread water out of the gate. But by the time all three were cleared for game action in early November, the Bruins were 12-2-0, and it was largely the play of Hampus Lindholm that kept the defense from taking on water.
During the 13 games that McAvoy missed, Lindholm averaged 24:13 of ice time and recorded 13 points (4 goals, 9 assists). Lindholm will receive Norris Trophy consideration this spring.
3. Montgomery lifts new team from behind the bench
The Bruins' top brass caught flak when Bruce Cassidy was fired after six seasons, two 50-win campaigns, a Presidents' Trophy, and a trip to the Stanley Cup Final. In Jim Montgomery, the Bruins felt that a fresh perspective and a "new voice" would yield stronger returns.
The Montreal native did that and then some.
Montgomery's emphasis on quality over quantity in shot selection led to a surge in five-on-five scoring. He also encouraged more playmaking avenues for his defensemen. Above all, his positive attitude kept players confident and composed amid the peaks and valleys of an 82-game march.
"I love his communication," Bergeron said in January. "He always lets us know how he feels. It speaks volumes of the connections he's making with the guys and the way that he coaches and his style."
4. A gritty Winter Classic win
For all of the talk of the Winter Classic becoming stale, the Bruins pushed back by way of their third-period comeback against the Penguins at Fenway Park.
The Bruins' arrival at the game in vintage Red Sox jerseys drew plenty of cheers. But it was the two-goal third period of Jake DeBrusk — gutting his way through a reported fractured leg and hand injury — that sent more than 30,000 fans home happy.
"He's a lot tougher than people think," coach Jim Montgomery said. "And he's more committed than people are aware of. And because of those things, his game is growing."
5. Marchand steps up for Bergeron
This team may not be mistaken for the Big Bad Bruins of yesteryear, but they answered the bell and dropped the gloves when the time came to set a physical tone — or to step up for a teammate.
That willingness to dole out retribution was epitomized by Brad Marchand dropping Canadiens forward Rem Pitlick on March 23 following a late hit on Bergeron.
"You don't hit our captain like that," Montgomery said. "That was a three-second late hit, and I loved the fact that Marchand made the guy pay a price for doing that."
6. Ullmark stops 54 shots in Vezina-worthy performance
The Bruins had no business skating off the ice at Calgary's Saddledome Feb. 28 with a win. Skating with drained legs and weary lungs at the end of an extended road trip, the Bruins were outshot by the Flames, 57-20.
But they escaped with a 4-3 overtime victory in large part because of a 54-save effort by goalie Linus Ullmark.
Whether it be the baseline stats (40-6-1 record, .938 save percentage, 1.89 goals against average) or the underlying metrics (.859 high-danger save percentage, 48.5 goals saved above average, per Natural Stat Trick), Ullmark should be the front-runner for the Vezina Trophy.
7. DeBrusk rescinds trade request, and Sweeney's trades are home runs
The 2022-23 season offered a clean slate for DeBrusk, who rescinded his standing trade request following Boston's coaching reshuffle and rewarded his team with 27 goals over 64 games as a top-line winger.
Sweeney then bolstered the roster with some savvy deals. After a shrewd move in the summer to acquire Pavel Zacha — who exceeded his previous career high by 21 points — Sweeney had little urgency to buy at the trade deadline. But he parted with future assets in exchange for a haul of win-now veterans.
Dmitry Orlov added offensive punch, penalty-killing prowess, and a minutes-eating approach to the defense. Garnet Hathaway's sandpaper style was welcomed on the checking unit. And Tyler Bertuzzi, a last-second pivot for Sweeney following injury concerns with Taylor Hall and Foligno, scored 16 points in 21 games with the Bruins.
8. Pastrnak reaches 60 in record-breaking win
The secondary scoring surged this season, but Pastrnak placed himself next to Phil Esposito as the only Bruins to score 60 goals in a season.
It was fitting that the team's record-breaking 63rd victory — a 5-3 win at Philadelphia April 9 — was stamped by Pastrnak's 15th career hat trick.
"Elite. Creative. He's like an artist, the different ways he scores," Montgomery said back in January.
9. Puck luck
Even the best teams in NHL history need some breaks. These Bruins were no different.
Look no further than the comeback victory over the Jets Dec. 22, jump-started by a fortuitous bounce off the boards that ricocheted right to Pastrnak for his easiest tally of the year.
Even McAvoy's Orr-esque rush and tally against the Sharks on Jan. 22 was the result of a timely bounce of the puck from his shin pad to his stick.
10. Ullmark lights the lamp
There were many warm embraces exchanged between Ullmark and Jeremy Swayman this season. But none were as enthusiastic as the one after Ullmark lofted a puck down the ice and into an empty net to close out a 3-1 win in Vancouver Feb. 25.
In a season where just about everything has gone right, a goalie goal was all but inevitable.
Sign up for Bruins updates🏒
Get breaking news and analysis delivered to your inbox during hockey season.