Bruins
NHL playoffs: Can anyone in the East beat the Boston Bruins?
After winning an NHL record 65 games in the regular season, the Bruins still have to win 16 more games in order to lift the Stanley Cup.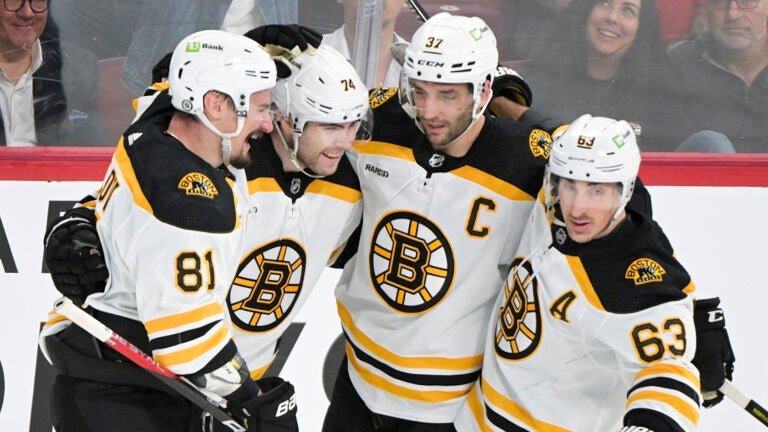 After winning an NHL-record 65 games and steamrolling opponents since October, the Boston Bruins look like the clear favorite to come out of the East and win the Stanley Cup.
The reality? "Everyone's 0-0," veteran forward Charlie Coyle said.
The climb to try to win the franchise's first championship in more than a decade begins with a series against the Florida Panthers. Injuries could make Boston vulnerable in the second round against Toronto or Tampa Bay and in the conference final against either Carolina, New Jersey, the New York Rangers or Islanders.
But the Bruins' talent, consistency and depth make them look like they can overcome it all.
"The confidence level is high," coach Jim Montgomery said. "We believe that it's going to be hard, and we don't talk about winning the Stanley Cup now. We talk about Game 1, that's going to be our focus. We think that not looking too far ahead that creates anxiety. We believe in staying present and our process allows us to have success."
No team in the league's salary cap era, which began in 2005, has had as much regular-season success as the Bruins. They lost just 12 times this season — once in their final 11 games — and their 135 standings points broke the record held by Montreal in 1976-77, though rules then kept the Canadiens from piling up more.
Still, Boston's dominance added up to the Presidents' Trophy and home-ice advantage throughout the playoffs — when the hockey really matters — starting with Game 1 against the Panthers on Monday night.
"We have a quick memory," said goaltender Jeremy Swayman, who split time in net with Vezina Trophy favorite Linus Ullmark. "We understand that we're gonna have our backs against the wall at times in playoffs, so we're gonna have that joyful aggression when it comes and make sure we do everything we can to end out on top."
WHO'S IN THE WAY?
First up, Florida: one of only two teams to beat Boston twice this season.
The Panthers, who finished atop the league last year before losing in the second round, shook off a slow start and made the playoffs in the final week. First-year coach Paul Maurice, in the playoffs for the 10th time in nearly three decades in the NHL, called it a "monumental challenge" to face the Bruins but it's exactly what he and his team want.
"We're kind of going up against — I mean, let's say it for what it is — the best team in regular season history here," said winger Matthew Tkachuk, who led Florida with 109 points. "We have a chance to do something very, very special. But it's going to take a lot of preparation, a lot of execution."
The Lightning and Maple Leafs face off in the first round for a second year in a row. Tampa Bay rallied to win the series in seven games last year on the way to a third consecutive trip to the final before losing to Colorado, which could again emerge from the West.
But this may be Toronto's year to break through for the franchise's first playoff series since 2004.
"I just like how they they adjusted to get a little bit tougher," retired forward-turned-TNT analyst Paul Bissonnette said. "I think they're going to win that first round, and that's just going to propel their confidence moving forward throughout the playoffs."
METRO MADNESS
While the Bruins were the class of the Atlantic Division, the Metropolitan side of the East playoffs is anyone's game. The Carolina Hurricanes won the division for a third consecutive year and open against the Islanders.
"We definitely think that we need our best players to be the best," general manager Don Waddell said. "If we're going to have success, our best players need to be good. But we do need to get goals from all four lines."
The Rangers can get that — and they'll need it in the first round against the rival Devils. Landing elite offensive players Patrick Kane and Vladimir Tarasenko at the trade deadline was crucial, but their X-factor may be Alexis Lafrenière, Filip Chytil and Kaapo Kakko scoring while opponents are focused on shutting down the top two forward lines.
"Every line is a big part of our team, and so are they," first-line center Mika Zibanejad said. "It's fun to see them play, and it's obviously very important."
So is experience, which New York got from a trip to the East final last year. New Jersey does not have that, but the Devils have 99-point producer Jack Hughes and fill a need for speed.
The Devils, back in the playoffs for the first time since 2018, are arguably the fastest team in the league. Playoff hockey could test that, but opposing players can't hit what they can't catch.
"Players that normally don't hit start hitting," coach Lindy Ruff said. "You start talking about physicality and puck battles that you've got to win. We've had a lot of challenges through the year that we've answered the question with a yes. Our next question is to be able to prove that we can take this into the playoffs and be a successful team."
GOALTENDING GAINS
Each team with home-ice advantage — the Bruins, Leafs, Hurricanes and Devils — are favored to get through the first round on FanDuel Sportsbook. But goaltending has derailed more than a few hundred favored hockey teams in the history of the sport, and this year is no different.
Boston may need to contend with either two-time Vezina winner Sergei Bobrovsky. Toronto is facing 2019 Vezina winner and 2021 playoff MVP Andrei Vasilevskiy. Carolina gets likely Vezina finalist Ilya Sorokin. And New Jersey has to deal with reigning Vezina winner Igor Shesterkin.
Upsets begin in net. Let the chaos begin.
"There's going to be some very good teams that are going home after the first round," Waddell said. "I know that. That's the way the playoffs go."
Sign up for Bruins updates🏒
Get breaking news and analysis delivered to your inbox during hockey season.