Bruins
The key to a quick first-round series for the Bruins? Slowing down Panthers' rush-heavy offense
"They take advantage of the opportunities and they're smart with it."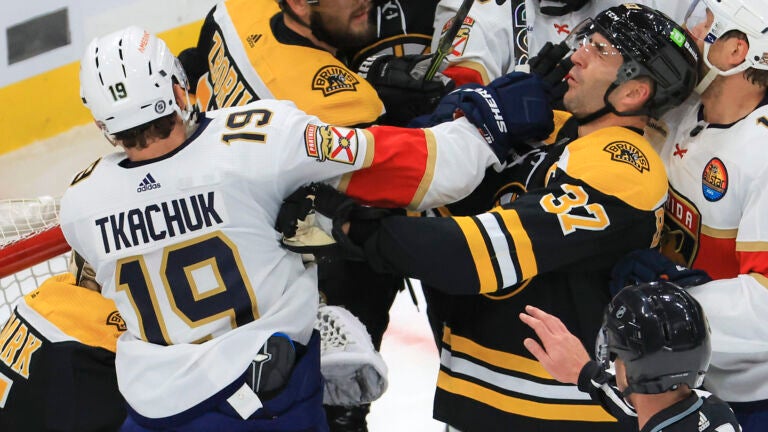 COMMENTARY
The Bruins have the means to consistently land welts against the Panthers over a best-of-seven series.
Journeyman goalie Alex Lyon has served as an unlikely bastion for Florida over these last few months. But his heroics in net likely won't be enough to bail out a porous defense in front of him.
While the Bruins are first in both goals allowed (2.12 goals per game) and penalty kill success rate (87.3 percent), the Panthers rank 21st (3.32) and 23rd (76.0%) in those same categories. Florida is 22nd in shots allowed per game (29.8).
Even when weighing expected goals (which factors in other metrics like shot quality), the Bruins still rank second in expected goals against (2.77 per 60 minutes of play.) Florida? You guessed it … 23rd overall (3.27).
The Bruins, fresh off of a 65-win regular season, were going to be considered the favorite against whatever team they drew in the first round of the 2023 Stanley Cup Playoffs.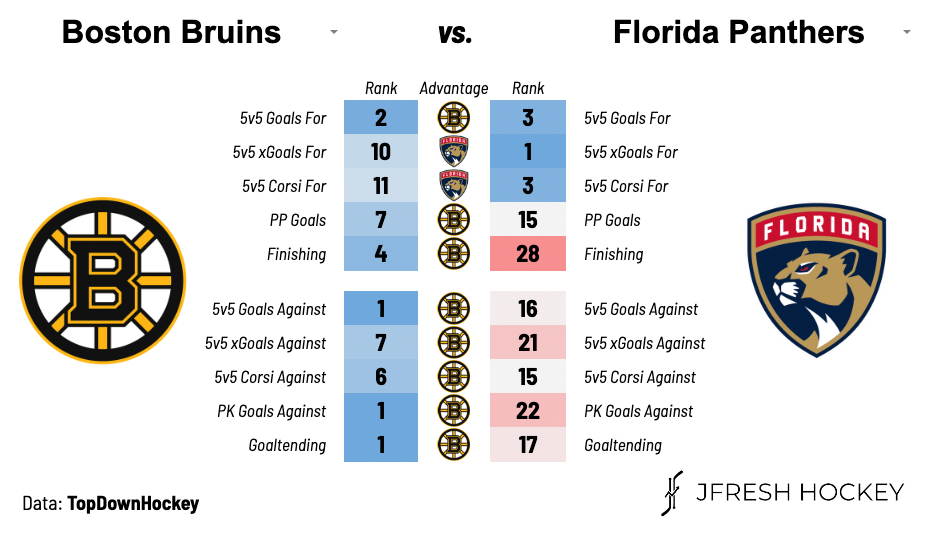 In Florida, there is an evident flaw that Boston's deep forward corps should exploit. But down the other end of the ice, the Cats can't be taken lightly.
Because even if Linus Ullmark, Jeremy Swayman, and the Bruins' stingy defense have turned aside plenty of Grade-A looks this season, Florida's high-octane offense might boast the highest ceiling of any team standing in Boston's way this spring.
"I mean, it was a pretty tight four games," Jim Montgomery said of Boston's matchups against Florida this year. "It was a real tight series. Every game was tight. They're a good hockey team. … Their transition to offense is something that has been excellent for three years and continues to be so and I think at times that has given us some issues."
Embracing an on-ice track meet
The baseline stats for the Panthers' O-zone production is already impressive. They rank sixth in the NHL in scoring (3.51). Over the past two months, no team has generated more offense at 5v5 action than Florida (3.25 5v5 goals per game since Feb. 1).
The Panthers were the lone team in this 16-team playoff field to hand Boston two losses this season. No opponent put more pucks past Ullmark and Swayman than Florida (15 tallies in four games).
Anchored by impact players like Matthew Tkachuk (109 points), Aleksander Barkov (78 points), Carter Verhaeghe (42 goals), and an offense-first defenseman in Brandon Montour (73 points), Florida has the personnel to do plenty of damage.
But when factoring in the chances the Panthers routinely generate, you can make the case that this offense should be even better.
In terms of pure goal differential, the Bruins (+127) have an absurd advantage over the Cats (+16). But the Panthers hold an expected goals rate of 311.0, far beyond the 288 goals they actually scored.
It's a sign of some poor shooting luck for the Panthers, who are one of the best in the league at generating high-danger chances.
Most of those looks are the result of Paul Maurice's club torching teams in transition. And while Florida has elite players capable of putting defenses on their heels, it's the routes that the Panthers take that tend to create faults in a team's defensive structure.
"They confuse mostly with their routes and you combine that with the elite speed and hockey IQ," Montgomery said of Florida's rush ability. "They've got a lot of players, like [Anthony] Duclair is very dangerous on the third line. [Ryan] Lomberg, everyone thinks of Lomberg as an agitator, but this guy makes a lot of plays. He has 12 goals, and again, elite speed.
"So they got speed, they confuse you with their routes. They run a lot of, I call them 'X plays' where they're crossing and someone is slashing in behind. So that's why they're a gifted offensive team."
If one was to comb through the Panthers' highlight reel this season, you'll see an awful lot of transition offense. And most of it is the rest of trailing skaters or players weaving through the neutral zone and finding soft areas of the ice.
When they're executing at a high level, the Panthers make things miserable for an opposing goaltender, with an activating defenseman or lurking winger often serving as the triggerman on an odd-man rush.
(This rush goal from Sam Bennett earlier this season may not feature a tailing skater lighting the lamp. But it is a key example of the options Florida creates for itself when its orchestrating a four or five-man rush down the ice. Bennett was the one who released the shot, but he had plenty of options if he wanted to pass here. Not an enviable spot for Jeremy Swayman to be in.)
The Bruins' defense is one of the best in the league in terms of slowing down teams in transition, especially through the neutral zone.
The easiest way for Boston to limit those rush opportunities, of course, is to manage the puck correctly.
The Panthers are well aware of their defensive deficiencies. They're not going to win many 1-0 or 2-1 contests, not against the Bruins.
As such, they're more than willing to pressure and force plays under duress, especially if it leads to quality chances down the other end of the ice.
For Boston, playing a clean, simple brand of their O-zone approach should limit the quality looks that Florida can generate in a hurry.
(Florida can carve up teams on the rush, but they also excel at forcing turnovers and capitalizing on the forecheck. Boston has the system in place to negate rush chances over a seven-game series, but they can't have turnovers like the one above — which led to a quick tally from Anton Lundell).
"You got to know the players they have and especially the first two lines," Charlie Coyle said of Florida. "There's guys who are really good with the puck and can make those plays and I don't want to say play risky, but they take advantage of the opportunities and they're smart with it. So any little break down, any turnovers, they come right down … and they'll make you pay."
Picking your poison
Florida's is more than just a one-trick pony on offense, due in large part to the presence of one of the top netfront players in the league in Tkachuk.
With the big-bodied winger stirring up havoc down low, the Panthers have a player capable of winning puck battles, screening Ullmark/Swayman and cleaning up plays near the blue paint.
"I know Matt a little bit," Derek Forbort said of Tkachuk. "He's obviously an emotional leader of that team. He's one of the better netfront players in the league. We've got to do a good job of taking away his stick and boxing him out."
The Bruins will likely throw plenty of resources toward slowing down players like Tkachuk or a big-bodied pivot like Barkov. It's a task easier said than done, with both Charlie Coyle and Tomas Nosek's lines expected to earn plenty of reps against those top-six opponents.
Against a team with this much firepower, the Bruins might have to pick the lesser of two evils when it comes to corralling Tkachuk or Florida's rush attack.
The latter stands as a more likely avenue, considering Florida's chances will dry up so long as Boston takes care of the puck and eats up the clock in the offensive zone.
And barring Lyon or Sergei Bobrovsky standing on their head down the other end of the ice, Boston should shred the Panthers in their own zone.
Bruins in five.
Sign up for Bruins updates🏒
Get breaking news and analysis delivered to your inbox during hockey season.