Bruins
10 years ago, Boston cheered (and sang) as one at a Bruins game unlike any other
"I think the DNA of the city is to never sit back. It's to stand up and fight back."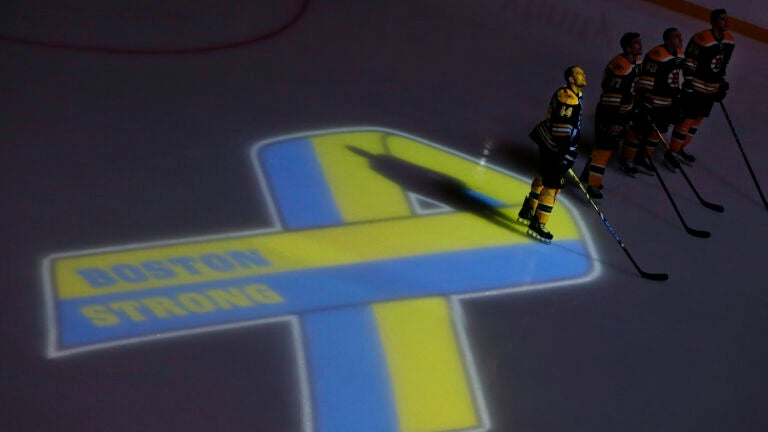 Ten years ago, Boston was reeling.
Just 48 hours after a pair of explosions tore across the Boston Marathon route on Boylston Street — killing three and injuring hundreds — a mourning city needed a unifying force.
It came as little surprise that sports served as that conduit, with the resiliency and community rooted in the Commonwealth channeled onto the Fenway Park grass and frozen sheet at TD Garden.
David Ortiz's impassioned address on April 20, 2013 was the emotional stamp on the melding of sports and spirit within Boston following the marathon bombings.
But it was the Bruins' home matchup against the Sabres on April 17 that served as the first major event held in the city following the tragedy at the finish line.
And with an entire region in need of a lift, both the Bruins — and close to 18,000 fans — delivered.
Ten years following that memorable matchup on Causeway Street, here's a look back on that tumultuous week, in the words of Bruins past and present.
A tradition like no other
The Boston Marathon falls at a busy time on the regional sports calendar.
As runners commence their arduous trek from Hopkinton to Boylston Street, both the Bruins and Celtics are usually in the midst of promising playoff runs. The warming weather signals the start of another summer of Red Sox baseball.
And even though both Charlie Coyle and Matt Grzelcyk donned black-and-gold sweaters long after 2013, the Weymouth and Charlestown natives both held plenty of ties to the 26.2-mile tradition.
CHARLIE COYLE: "My sister [Jess] ran it a few years back. It was the crappiest day out and she was like, 'I'm never doing that again.' It was just a torture. Rainy and cold, but she geared up for it. So that was cool to see her prepare for it. … You always know people from around here, either friends or some family who are running it.
"So there's always some little connection. But it's always such a great buzz around here and whether or not you're not running in it, you know people, you've got friends who are there having a good time. It's always such a great event."
MATT GRZELCYK: "Back in the day — I don't know how many times my dad [John] actually used to run the marathon. But a lot of people from Charlestown sort of did that. They didn't always register, just guys would literally just do it, just to do it. So I think back then it was just kind of a hobby for them."
The marathon-centered connections are easy to glean for those who hail from the region. But even pro athletes like Shawn Thornton — currently the chief revenue officer of the Florida Panthers — quickly found the appeal of the event.
SHAWN THORNTON: "I had friends run it from back home. My sister-in-law ran it. I was fairly close to a guy named Lucas Carr that was actually running it that year, and just crossed the finish line not too far before the bombs went off. I think you live in Boston for however many years — I mean, you're gonna have some sort of attachment to that event. There's no way not to."
Tragedy strikes
At the time the bombs were detonated at 2:49 p.m. during the 117th running of the race, the Bruins were prepping for a home game that night against the Ottawa Senators.
DANIEL PAILLE: "My wife [Dana] ran the marathon two years prior and I know her and a couple of the wives were contemplating going to watch that year. They didn't end up going. I can't remember exactly why they didn't go. But I know my wife didn't go because it was my birthday, so she stayed back home.
"The time of the bombing … it was within minutes of my wife's time, which she ran two years prior. So it was a little eye opening there and usually where they watch [the race] is around that area. So it definitely would have been a scary time for us had they been there."
Coyle, in the midst of his first NHL campaign with the Minnesota Wild, took in the news from afar.
COYLE: "I remember I was on the road and just hearing all that as it was going down. It's such a shame. It just didn't seem like real life and then you're just trying to keep up with it."
While Coyle joined the hundreds of thousands scrolling through their phones for updates, many of the Bruins were in the process of their pregame routines before that night's game.
Around 5 p.m., the NHL announced that the game against Ottawa was postponed — later rescheduled to April 28. The Celtics' game against the Pacers the following night was canceled outright.
PAILLE: "I was never a big napper when I played. But I do tend to stay away from my phone as much as I can. It was like mid afternoon, early afternoon and I got a bunch of text messages about how everyone is and making sure we're okay, if anybody's at the marathon. I didn't know exactly what was happening until I looked at the news. Obviously that was a big shock and how that could be so close to home for us to have that experience. So for me, getting that call, we were obviously trying to figure out — I don't think anybody was in any mood to play a game and the emotion to play a game based on what was happening at that time.
"And I thought it was the right call. I remember waiting to play, kind of getting the messages near the rink where we were ready to go and then all of a sudden, they called it. And I think it was, especially looking back, I believe it was the right call. There was no need for us to play a game based on what had just happened."
Many Bruins, like Thornton, were already at the rink by the time Monday's game was pushed back.
THORNTON: "I remember I woke up. I was in a pregame nap from like 1:30 till 2:30-ish. I woke up, I had a couple of coffees. I didn't have the TV on. I usually just listen to music and took the dogs for a walk or whatever. And I remember I headed over to the rink at around four. And I don't have social media or anything. So TVs were on at the rink. Everyone's there, just trying to figure out what the hell just happened.
"I was sitting in the training room. There's a couple guys in there, I just remember us really not — the full picture wasn't out there between four and five o'clock. There's a lot of speculation, a lot of noise. I remember [Bruins general manager] Peter Chiarelli just coming down into the locker rooms saying, 'The game is canceled. Go home. We think the culprits are still out there. Go home, be with your family and we'll get back to you when we're coming back in.' I was like, 'Holy s***, like this is real.'"
A state of limbo
For the next few days, Thornton and many other Bruins found themselves in a similar spot as many other Bostonians — searching for answers in a city stuck at a standstill.
GRZELCYK: "It was just so chaotic. School [Boston University] was closed a couple of days here and there was this manhunt going on literally right through campus, basically like a mile away. Just scary times."
THORNTON: "I got back to the house and then like the rest of the city — just sitting in my living room basically watching TV non stop, waiting for updates after updates and being flooded with emotions: angry, sad, confused. Like with what had just happened and texting everybody making sure that anyone you know that was involved or it could have been down there or whenever was safe, hoping to get text messages back."
Just two days after the bombing, the NHL opted to go ahead with Boston's home game against the Sabres on April 17. It was the first large-scale event to be held in the city since the attacks.
With the culprits of the bombings still not apprehended, there was a tangible feeling of trepidation present in the thousands who arrived on Causeway Street that night.
But even with the presence of bomb-sniffing dogs, armed servicemen, and metal detectors stationed all around the arena, it didn't deter those same fans from showing up in search of some much-needed normalcy.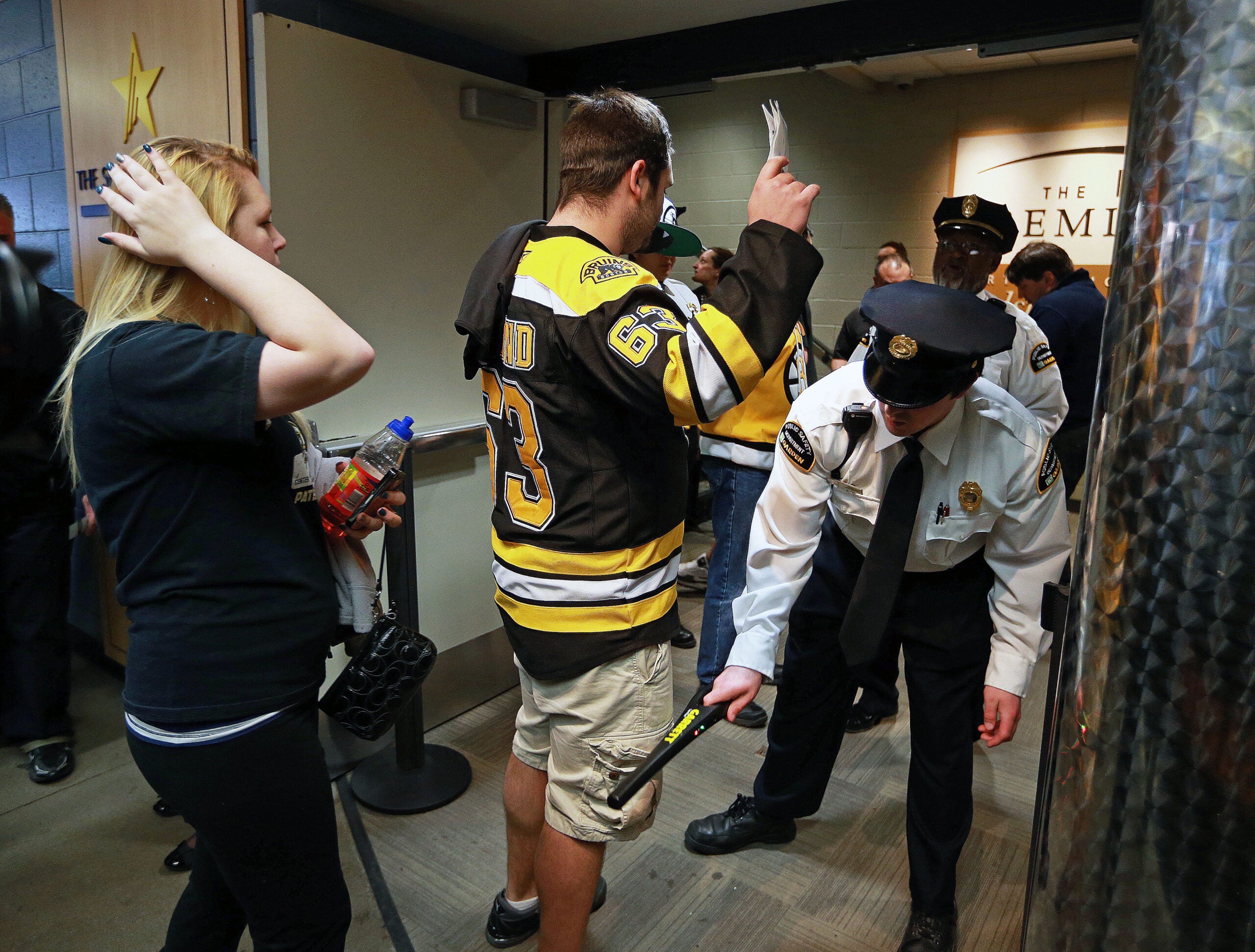 THORNTON: "I was not surprised in the least. That town is as tight-knit as I've ever seen. … It's a big city with a small-town feel. Everyone there really is proud to be a Bostonian. No matter what part of it you're from. Everyone says they're from 'Boston.' They're proud of it."
BRAD MARCHAND: "It was obviously a very devastating time in the city. There's nothing we can really do, but you still feel like you're playing for so much more on a night like that."
Taking to the ice
It was easy to hear the cacophony of cheers emitting from the Garden stands within the Bruins' dressing room.
It stood in stark contrast to what was transpiring within the bowels of the arena.
MARCHAND: "I remember it being very, very tense."
At that stage of the season, the Bruins only had seven games left on their regular-season docket. But there was no complacency to be found in a roster that was already locked in for another playoff push.
PAILLE: "Every time you play a game, you try to play with emotion and just the competitiveness that you want to win every game. That night, you didn't need to find it. I mean it was there from the beginning, from the morning, from the days leading up to it. We all felt emotional about what had just happened and wanted to try to show support by just playing a strong solid game for everybody."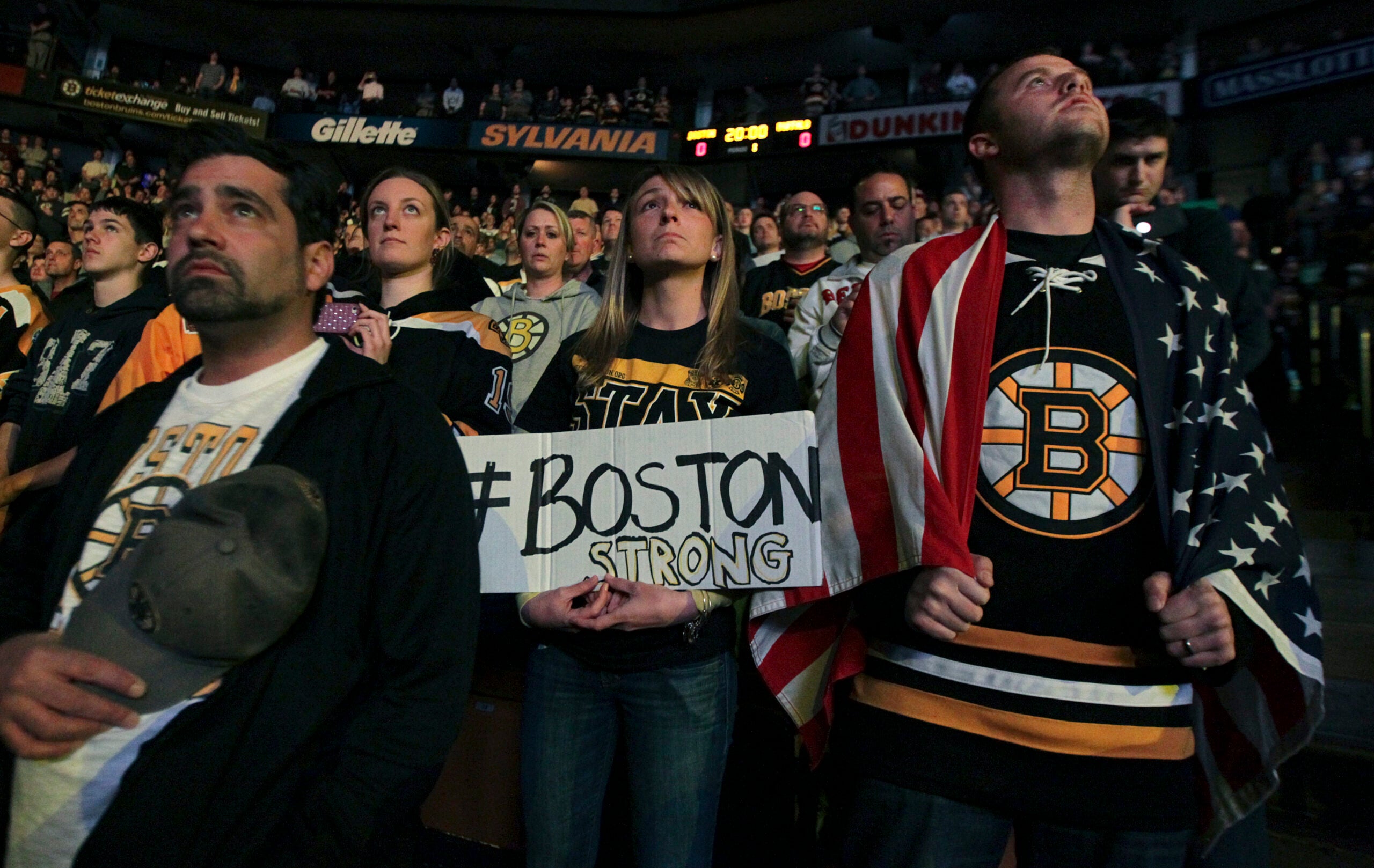 For the veterans in the room, the mandate was simple in terms of what that game against the Sabres was going to represent.
THORNTON: "I do remember us as a team, saying, 'Whatever's going on in the world, this is an opportunity for three-and-a-half hours for the city of Boston to try and tune that out. And we can be that source of relief.
"People can just kind of forget about all of the bad that's going on right now and tune into a game and we just wanted to make sure that we represented the city well. Our guys were very involved in the community and it meant a lot to us to be able to go out there and stand in solidarity with first responders, people on the frontline, people who were affected, people that were recovering at various hospitals around the city. We wanted to be something that they could look to for a few hours and just shake the other stuff out."
Singing as one
Before the Bruins even took to the ice, the Garden rattled with resounding cheers of "U.S.A!" and "Let's Go Bruins!"
Streaks of red, white, and blue and the distinct markings of the Boston Athletic Association punctuated the sea of bodies surrounding the ice.
PAILLE: "It felt like a playoff game."
As both the Bruins and Sabres lined up for introductions, a blue-and-yellow remembrance ribbon was emblazoned onto the ice. A video tribute showcasing the courage and resilience in wake of Monday's events was met with more cheers.
And as longtime anthem singer Rene Rancourt commenced his usual address, it only took him a few lines before he let the crowd take the wheel of his performance.
Boston answered the call.
THORNTON: "That was the first time I had heard that. … The hairs on your neck stood up. I'm getting a little choked up right now thinking about it. Your eyes are watering. It was impossible not to be moved by 20,000 people singing it together. Because you knew what it meant. You knew why they were singing it. It was a pretty special moment."
COYLE: "I don't know if I played that night. And I watched the video, whether it was live or right after and everyone was talking about it, all my buddies and my family back home. And seeing that and then sometimes you see that clip pop up every now and then. You get chills watching it. That's what this city is all about. Everyone comes together, whether it's some sporting event or elsewhere. Sports can definitely help bring everyone together and help a city that's in need of it at that time."
MARCHAND: "Looking back, it's a day I won't ever forget."
The puck drops
Paille scored 85 goals over the span of his NHL career. The 2013 campaign saw the fleet-footed winger score a game-winning overtime tally in the Stanley Cup Final.
But it was his first-period strike just 5:45 into that matchup against Buffalo that stands near the top of his career highlights.
PAILLE: "That was one of the loudest [times] I've ever heard our building and especially not having it be a playoff game. For me, it was exciting and then to be lucky enough to have scored in that game — but not only score, that I was able to score the first goal. I never felt so much excitement at that point with a goal. And just for a basic goal. Just having that, I think I was very emotional in terms of just getting that play."
Throughout the game, donations to The One Fund, established to raise money for the victims of the bombing, were doled out at every stoppage.
PA announcer Jim Martin urged those who ran in Monday's marathon to stand and be recognized by the Garden faithful. As many showcased their medals, Martin beckoned for cheers for all those who have made that 26.2 run. By the time he asked for all those who either volunteered or watched the marathon to stand, the Garden rose as one.
Even though the Bruins ultimately fell to the Sabres in a shootout, 3-2, the final score etched onto the Garden video board meant little that Wednesday night.
As the final horn sounded, both the Bruins and Sabres skated out to center ice for a joint stick salute.
THORNTON: "We talked about how through all the chaos and craziness that was going on, it gave people a sense of normalcy for while that game was going on. I think the city needed it."
GRZELCYK: "I think it speaks to the strength of the city and how sports kind of ties us all together and not only the Bruins, but those Red Sox as well. I think that everyone needed something to look forward to and be happy again."
PAILLE: "I think it showed the way that, although it's a big city, it's a big community. And in my time there, that's what I think of Boston. I think of it as a big community and it really showed. It really showed, coming from everybody in the community, in the cities, and the suburbs — just all of us coming together for one purpose and it was really moving to be a part of."
In the days and weeks following the bombing, Thornton and the Bruins were regulars at various hospitals visiting victims and their families.
THORNTON: "Going to see the victims afterward in the hospital and seeing the resiliency and the attitude they had about fighting back and not letting the terrorists win was pretty impactful for me. It could have been — 'Woe is me, why did this happen? Almost every single person I visited … the Bostonian came out, saying 'We're gonna be ok.'"
Ten years later, those few fateful days in Boston still resonate with Thornton and many others.
Amid the pain and hardship brought upon by April 15, many found strength and resolve in one another.
It's a trait rarely found in a sprawling city, especially in times of crisis. But then again, few cities are quite like Boston.
THORNTON: "I think the DNA of the city is to never sit back. It's to stand up and fight back. So I think in those moments, you get a sense of how much the community really supports each other. Boston's as good a place I've ever seen for supporting each other."
COYLE: "That's where 'Boston Strong' kind of originated. But I think it's always been there."
Sign up for Bruins updates🏒
Get breaking news and analysis delivered to your inbox during hockey season.