Bruins
Watch: Sean Collier's family joins Adam McQuaid as fan banner captains for Bruins' Game 1 vs. Panthers
Collier was the MIT police officer that was murdered three days after the Boston Marathon bombing in 2013.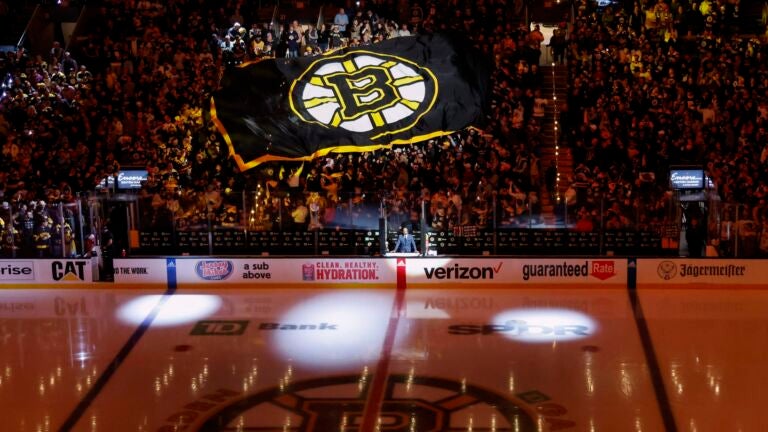 With the Bruins' Stanley Cup Playoffs opener taking place on Marathon Monday, the team paid tribute to one of the victims of the Boston Marathon tragedy from 10 years ago.
As part of their fan-banner captain festivities ahead of puck drop against the Panthers on Monday, the Bruins welcomed Jenn Rogers and Rob Collier — the siblings of slain MIT police officer Sean Collier — to help wave the team flag.
Sean Collier was ambushed and murdered by the Tsarnaev brothers on April 18, more than three days after the Boston Marathon bombings took place on Boylston Street. Collier was one of five victims of the Marathon attacks and the subsequent events, along with Lingzi Lu, Krystle Campbell, Martin Richard, and Boston Police Department officer Dennis Simmonds.
Collier's siblings were joined by former Bruins defenseman Adam McQuaid, who currently serves as the team's Player Development Coordinator.
Per the Bruins' team release, the team's fan banner captains for the 2023 Stanley Cup Playoffs "will include members of the New England community who have provided inspiration to the city of Boston through hard work, perseverance and resilience. Each playoff game at TD Garden will have a Fan Banner Captain that will be honored in-game and on all Bruins channels."
Sign up for Bruins updates🏒
Get breaking news and analysis delivered to your inbox during hockey season.