Bruins
Watch: Zdeno Chara, Russ Hoyt serve as Bruins' fan banner captains for Game 2 vs. Panthers
Chara ran the Boston Marathon in support of The Hoyt Foundation on Monday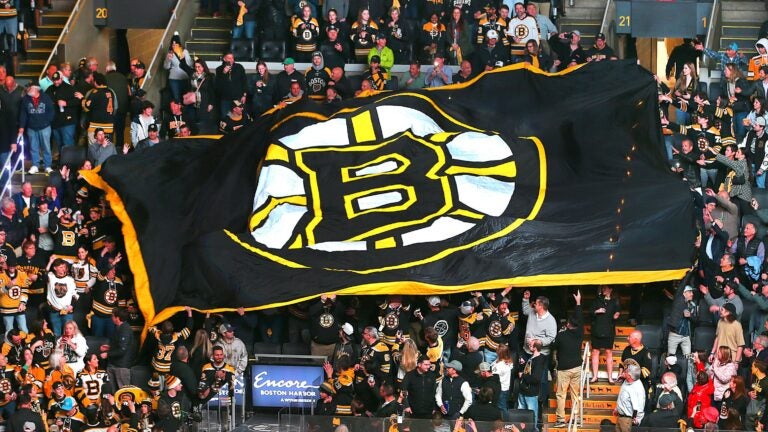 Fresh off of his conquest of the Boston Marathon on Monday, Bruins legend Zdeno Chara returned to his old stomping grounds to cheer on his former team.
Chara and Russ Hoyt — President and CEO of The Hoyt Foundation — served as fan banner captains ahead of the Bruins' Game 2 matchup against the Panthers on Wednesday.
Chara, towering over the rest of the Garden spectators near the glass, waved Boston's banner and spurred the crowd just ahead of puck drop.
Chara, who announced his retirement following a Hall-of-Fame career back in September, completed his first Boston Marathon on Monday with an impressive time of 3:38:23.
Chara ran the race in support of both the Hoyt Foundation and the Thomas E. Smith Foundation.
The Hoyt Foundation was formed in 1989 by the famous Marathon duo of Rick and Dick Hoyt. Dick Hoyt pushed his son Rick, who has cerebral palsy, in 32 Boston Marathon races between 1981 and 2014.
"The Hoyt Foundation aspires to build the individual character, self-confidence and self-esteem of America's disabled young people through inclusion in all facets of daily life; including in family and community activities, especially sports, at home, in schools, and in the workplace," the foundation's mission statement reads on its website.
The Thomas E. Smith Foundation has a mission to "better the lives of those affected by and living with paralysis through financial and emotional support, as well as supporting preventive innovations that decrease the risk of spinal cord injuries," per its website.
After crossing the finish line on Boylston Street, the 14-year captain of the Bruins offered support for his former team while speaking with WCVB's Duke Castiglione.
"It's one of the best teams that probably have ever played," Chara said of the 2022-23 Bruins. "They broke all the records. It's an unbelievable history. Wishing them all the best."
Per the Bruins' team release, the team's fan banner captains for the 2023 Stanley Cup Playoffs "will include members of the New England community who have provided inspiration to the city of Boston through hard work, perseverance and resilience. Each playoff game at TD Garden will have a Fan Banner Captain that will be honored in-game and on all Bruins channels."
Sign up for Bruins updates🏒
Get breaking news and analysis delivered to your inbox during hockey season.