Bruins
Bruins' David Krejci remains 'questionable' for Game 4 against Panthers
Krejci was a late scratch just ahead of Game 3 due to an upper-body injury.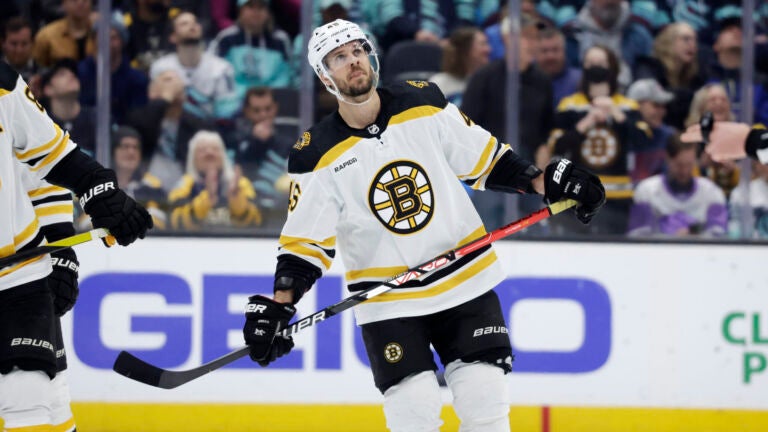 SUNRISE, Fla. — Reinforcements down the middle may not be on the way for the Bruins ahead of Sunday's Game 4 rematch against the Panthers.
Following Boston's 4-2 win over Florida on Friday night, Jim Montgomery didn't give a definitive answer regarding David Krejci's availability for Boston's next contest at FLA Live Arena.
Krejci, who skated with his teammates just 30 minutes ahead of puck drop in Game 3, was tabbed as a late scratch due to an upper-body injury.
"I'd say it's 50-50," Montgomery noted of Krejci's chances to play in Game 4.
On Saturday afternoon, Montgomery didn't stray from the murky recovery timeline for Boston's second-line center.
"There's no real update," Montgomery said of Krejci's status. " I would just say that he's questionable for tomorrow."
Krejci's sudden exit from the lineup on Friday came as a surprise, considering the 36-year-old forward was a full-go at both the morning skate and the warmups. However, Montgomery acknowledged later that there was a "good chance" that Krejci wasn't going to get the green light to play in Game 3.
It's unclear when Krejci suffered the upper-body injury against the Panthers. Krejci missed Boston's final six games of the regular season, but that extended absence was due to a lingering lower-body ailment.
Even before Friday's matchup, Krejci was struggling to gain traction in the offensive zone against Florida.
In Krejci's 28:40 of 5v5 ice time so far against Florida, the Panthers have outscored the Bruins, 2-0, and held a 24-9 edge in shots on goal.
A high-octane forward trio of Krejci, David Pastrnak, and Tyler Bertuzzi can trade chances (but generate goals) with the best of them. But so far in this first-round matchup, Krejci's line has been mired in Boston's D zone.
In the Bertuzzi-Krejci-Pastrnak line's 21:46 of 5v5 action, the Panthers have outshot Boston, 21-6.
Even with both Krejci and Patrice Bergeron on the shelf for Game 3, the Bruins controlled significant stretches of Friday's victory, with both Charlie Coyle and Pavel Zacha driving play as Boston's top-six centers.
"We're built for the long haul, right?" Montgomery said postgame. "Injuries are going to happen. And we believe that we have the depth to overcome numerous injuries, and I think the effort tonight is a good example. Should give everybody confidence, because I thought everybody contributed to our victory today in particular."
If Krejci remains out, the Bruins will likely keep their Game 3 lineup in place, especially given the returns that Coyle put together on a line next to Jake DeBrusk and Brad Marchand.
With Coyle occupying space down low and extending O-zone shifts, the Bruins held a 10-5 edge in shots on goal during the Marchand-Coyle-DeBrusk trio's 9:07 of 5v5 ice time.
"The responsibility is definitely up and you're gonna get probably a few more minutes, see more face-offs … I just want to take advantage of that opportunity and do the best I can," Coyle said. "You need to really focus in and make sure you're doing your part, because that's what the team needs.
"But as I said before, every guy kind of helped out in that way. Me being in the middle, of course, maybe a little more responsibility there — those two guys help, but still we get a lot of help and everyone pitched in."
Sign up for Bruins updates🏒
Get breaking news and analysis delivered to your inbox during hockey season.