Bruins
Bruins react to Linus Ullmark trying to fight Panthers' Matthew Tkachuk: 'He can beat up anybody'
"I think we're going to keep Linus' hands intact, and not let him risk breaking anybody's face."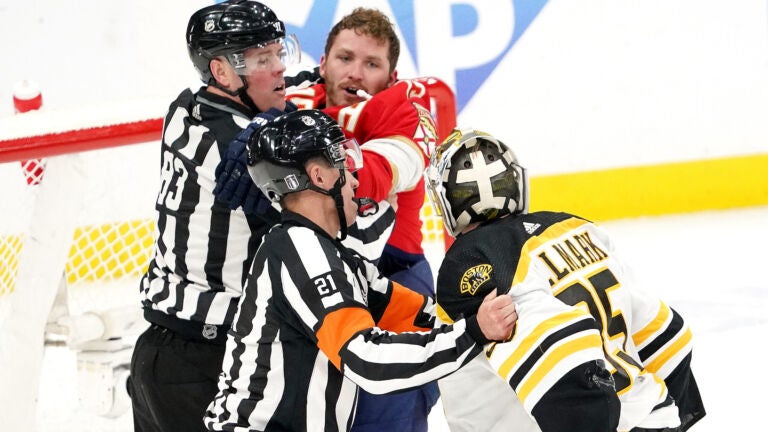 The Bruins would much rather have Linus Ullmark snatching pucks with his glove as opposed to dropping his mitts in a line brawl.
But following Boston's 6-2 win over the Panthers in Game 4, Ullmark's teammates expressed their full confidence in their goalie's ability to hang in the ring against Florida power forward Matthew Tkachuk.
"Linus is an animal," Brandon Carlo said. "Deep down in him, he can beat up anybody."
"He's got the size and reach, you know," Brad Marchand added of an Ullmark-Tkachuk heavyweight bout. "But maybe a little less experienced than Tkachukk. Maybe one day we'll get to see."
Emotions spilled over in the closing minutes of Boston's victory on Sunday night at FLA Live Arena, with a chippy contest bookended by a line brawl in Boston's own zone.
Tkachuk, who was sent to the sin bin earlier in the game for a late cross-check to Garnet Hathaway's ribs, shoved Ullmark in a netfront battle, starting the fracas.
While just about every red and black-and-gold sweater scrapped on the ice, Tkachuk later went back at the Vezina Trophy frontrunner. After Tkachuk tried to snatch Ullmark's stick, Boston's goalie chucked both gloves and attempted to square up with the Panthers forward.
The on-ice officials intervened and Ullmark, Tkachuk, Jake DeBrusk, and Sam Bennett all received misconducts.
The optics of Ullmark getting pulled from the game painted the picture of the refs sending him to the shower early. But Bruins coach Jim Montgomery noted postgame that Ullmark had the chance to play out the game, even with the misconduct.
Rather, the team opted to pull him in favor of Jeremy Swayman in order to keep him out of any other scraps.
"We didn't want to risk anything. … As a goalie, you're just expected to stop pucks," Montgomery said. "You're not expected to take stick work and someone coming after you. So we stick together and we stuck together. Really proud of our group with how we stuck together there."
Tkachuk's pestering of Ullmark was the latest in a long line of sequences in this first-round series where the Panthers have tried to get under the Bruins' skin.
But beyond Ullmark dropping the gloves, the Bruins have usually answered between the whistles, not after.
Whether it be Charlie McAvoy adding a physical retort through clean, open-ice hits or Boston capitalizing with a power-play goal following Tkachuk's penalty against Hathaway, the Bruins have responded to Florida's hijinks with assertive play on the ice.
"They seem to thrive on that," Marchand said of Florida getting Boston to bite after the whistle. "They build a lot of emotion in their game. After the whistles and creating scrums and a lot of guys gain momentum from that.
"Hasn't really been the way that we've played all year. When we can fight hard between the whistles and then skate away, it definitely allows us to stay in the right mindset to play the way that we want to play."
The Bruins will look to close out their first-round series with the Panthers on Wednesday night at TD Garden.
As for any chance of Ullmark getting another shot at scrapping with Tkachuk?
"I think we're going to keep Linus' hands intact, and not let him risk breaking anybody's face," Carlo said. "So we're gonna leave it like that."
Newsletter Signup
Stay up to date on all the latest news from Boston.com