Bruins
Takeaways: Bruins waited too long in first-round series to make goalie change before losing Game 7 to Panthers
The Bruins' decision to wait to start Jeremy Swayman until the final game and a lack of a killer instinct contributed to their historic playoff loss.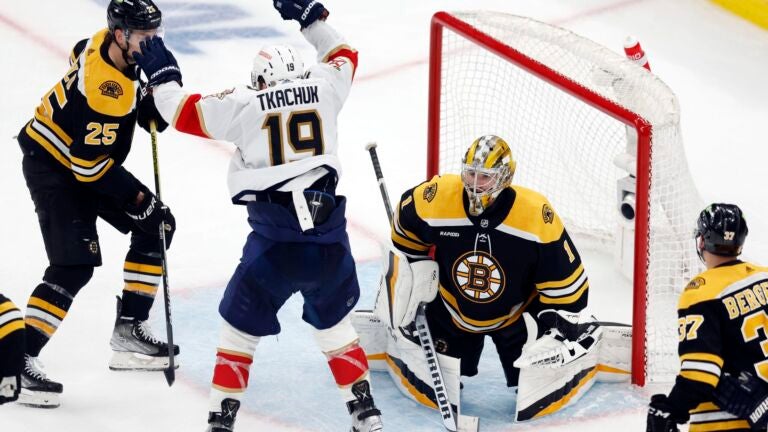 The Boston Bruins made some lineup adjustments ahead of their winner take all Game 7.
Jeremy Swayman earned his first start of the postseason. Matt Grzelcyk replaced Connor Clifton in a third-pairing role with Derek Forbort. Trent Frederic took Nick Foligno's spot on the fourth line. Tyler Bertuzzi swapped roles with Jake DeBrusk, with the former drawing an assignment with Brad Marchand and Patrice Bergeron and the latter moving to a third-line assignment with Taylor Hall and Charlie Coyle.
Yet, the Bruins did the worst thing possible in a Game 7: hesitate.
The Florida Panthers clogged the middle of the ice, sure. But the Bruins generated enough lengthy shifts in the attacking end, cycling the net and hoping to find the perfect play.
In the process, they passed up shooting opportunities against Sergei Bobrovsky. The Panthers, meanwhile, did enough to simmer Swayman's confidence.
Brandon Montour struck on the tail end of Florida's second power play attempt, beating Swayman with a nifty backhanded five-hole tally upon a give-and-go with Anton Lundell.
Boos started to rain down on Causeway Street after Sam Reinhart capitalized on a long shift and Boston's inability to clear the puck out of danger early in the second.
The Bruins played themselves into a 2-0 deficit in Game 7. They played themselves into a winner take all scenario after failing to end the series in Games 5 and 6.
David Krejci provided life with his power-play tally to cut Boston's deficit to 2-1.
In the third, the Bruins turned their previously lifeless TD Garden crowd into a frenzy after Bertuzzi and David Pastrnak scored just 3:16 apart to give Boston its first lead of Game 7.
But the Bruins couldn't get that last clear in the final minute, with Montour forcing overtime after his shot deflected off Charlie McAvoy's stick past Swayman.
The Bruins provided the Panthers life for the third straight game. And once again, they got burned.
Carter Verhaeghe capped off Florida's series comeback and the Game 7 come-from-behind effort 8:35 into overtime, providing a bitter and emotional end to Boston's season.
"The way it ended didn't matter," Montgomery said. "I guess the words that come to mind right now are, disappointment, confusion…"
Here's what we learned from the Bruins' soul-crushing 4-3 season-ending loss from Sunday.
A lack of killer instinct doomed the Bruins.
Amid all their struggles against Florida's aggressive forecheck, the Bruins had multiple opportunities to secure the series.
In Game 5, they fought back to tie the game on three separate occasions. And they nearly ended the series in regulation before Sergei Bobrovsky denied Brad Marchand's breakaway opportunity.
"It's a game of inches," Marchand said. "I had the game on my stick in Game 5, with a couple of seconds left. Didn't capitalize and they capitalized on their inches. They dug down one more than we did, one more battle, and that's it."
Linus Ullmark's gaffe on Matthew Tkachuk's winner opened the door for the desperate Panthers at the end of Game 5.
In Game 6, the Bruins took the lead twice in the third only to self-inflict. A fatigued Ullmark struggled to track pucks as a night of ill-timed turnovers — especially from Connor Clifton — led to Sunday's do-or-die Game 7.
On Sunday, they had the Panthers on the ropes again. An early tip from Bertuzzi and a Pastrnak rebound tally provided the Bruins with yet another chance to put Florida away for good.
But the Bruins couldn't get that needed insurance marker. And in the final minutes of the third, they found themselves back at square one.
In overtime, they let Swayman out to dry. The third-year Bruin did everything he could to give his team a chance in his first appearance of the series, including a stellar stop on Tkachuk's breakaway bid in the extra session.
"I mean, our wall play wasn't good enough," Montgomery said. "Give them credit. They were also aggressive and caused a lot of extra opportunities in the offensive zone."
Ultimately, the Bruins provided the Panthers with enough opportunities to shift momentum. And now they'll spend the off-season second-guessing themselves and asking what could've been.
The Swayman decision shouldn't have come this late.
Ullmark labored through Game 5 and Game 6. But the Swede downplayed his level of fatigue and wear and tear after allowing six goals Friday night in Sunrise.
Swayman waited patiently for his turn in net. The Bruins made their decision on Saturday to go with Swayman but didn't reveal their hand until warmups.
Indeed, hindsight is 20-20. Yet, Swayman's performance in Game 7 after nearly two weeks between starts was everything the Bruins could've asked.
Swayman allowed a rough opening marker on Montour's backhanded tally. And the Bruins provided some support for Swayman after Sam Reinhart's second-period marker, keeping his crease clean and creating transition up ice while limiting secondary scoring bids.
But late in regulation, the Bruins fell back into bad defensive habits. They couldn't clear pucks out of their defensive end, and, at times, endured lengthy shifts during the final minutes.
Yet, Swayman's stability would've provided a needed refresher in Game 5 or Game 6. Instead, the Bruins tabbed Ullmark as he struggled to battle through his most extensive workload of the season.
"We just thought he was going to give us the best chance tonight," Montgomery said. "You'd have to ask goalie [coach] Bob [Essensa] a little more in detail about that, but we all thought that he was going to give us the best opportunity tonight."
Montgomery said he had little regrets from his approach to his series aside from keeping Marchand and Bergeron together from the get-go in Game 5. Perhaps he'll encounter some second guesses over the Swayman decision in the days, weeks, and months ahead.
Despite his valiant effort, a competitive Swayman felt he could've made one more save to help his team.
"I just wanted to do my job, and I was one save short, so it sucks," Swayman said as he held back tears throughout his postgame media availability. "I think I owe[d] the guys one more save."
Another wasted season as Bergeron and Krejci loom over their futures.
The stunned Bruins crowd who stayed through the traditional end-of-series handshake may have witnessed the final moments of two battle-tested leaders.
Bergeron, who returned in Game 5, greeted every single teammate with embraces as they skated toward the tunnel. Toward the end of the line, he greeted Krejci and Marchand with tears running down his face. After a long exchange of hugs, Bergeron waved to the fans thanking them for all their support from the opening puck drop to the end of a record-breaking regular season all the way through to Sunday's stunning end.
"It hurts," Bergeron said. "It is what it is. You compete hard. You battle all year for that. It's hard."
And now the questions arise about Bergeron's future. As well as Krejci's.
Both signed bonus-incentive one-year contracts last off-season. Both will take extensive time to ponder over their hockey futures. And both dealt with injuries entering the postseason, with Bergeron admitting to suffering a herniated disk in his back.
Krejci didn't meet with the media afterward. He missed three games with an upper-body injury and also dealt with a lower-body ailment late in the regular season.
On a night of what could've been, the battle-tested Bruins will enter another off-season without their names on Lord Stanley. And come fall, Marchand may find himself as the lone holdover from that 2011 Stanley Cup squad.
Another pivotal off-season awaits the Bruins. But the post-Bergeron and Krejci era will continue to inch closer to its conclusion. After Sunday, they may only have one Cup to show for it.
Sign up for Bruins updates🏒
Get breaking news and analysis delivered to your inbox during hockey season.