Bruins
What Patrice Bergeron, David Krejci said about their future with the Bruins
"I'm kind of in the same mindset where I want to take a step back, and make sure I weigh the pros and cons."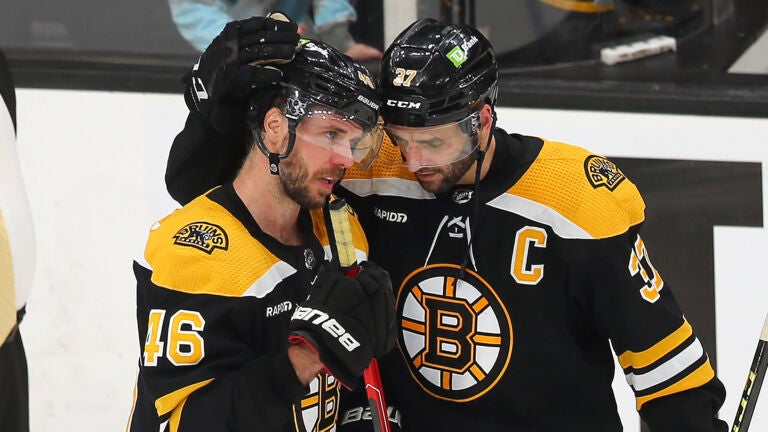 The Bruins find themselves in a similar spot as last offseason — waiting in anticipation for both Patrice Bergeron and David Krejci to shed light on their future plans.
And similar to last year, the Bruins are going to have to wait a few weeks.
Following Boston's shocking first-round exit against the Panthers, both Bergeron and Krejci shared the same sentiment as far as needing time before deciding on their next steps.
"I mean it's early right now to even make a sound decision," Bergeron said at Warrior Ice Arena. "So I really want to make sure that obviously I make the right call, and we make the right call as a family. So I don't know, I guess, how long it's going to take."
"There's lots to think about. I'm going to go home soon," Krejci added. "Talk to my family, but definitely want to make a decision soon."
Both Bergeron and Krejci noted that the pending decision will come down to either returning to Boston or hanging up their skates. Krejci isn't planning on returning to the Czech Republic for another pro season, nor would either center opt to sign a deal with another NHL team.
It was a trying season for the 37-year-old Krejci, as his family remained down in South Carolina while he opted for one last ride with his longtime teammates up in Boston. He still posted 56 points over 70 games in 2022-23, a year removed from playing against lesser competition in the Czech Extraliga.
"I think it was one of the best years, but also one of the worst years," Krejci said. "It was a rollercoaster. There were a few times this year that were disappointing. If we were not doing good, I would just pack it up and go back. From that standpoint it was tough, but coming here every day and seeing the guys just made it worth it."
In terms of his individual play, Bergeron was satisfied with the returns he put forth in his 19th NHL season.
Before suffering a herniated disc in his back during Boston's final-regular season game up in Montreal, Bergeron said he was relatively healthy during the team's 82-game slate. He ranked third on the Bruins with 58 points, and should be the frontrunner for a record-breaking sixth Selke Trophy as the league's top defensive forward.
But Bergeron will turn 38 in July. Boston's deep roster is destined to be carved up this summer amid a severe cap crunch.
Given the circumstances, the Bruins captain will need to assess whether opting for a 20th season in black and gold is right for all parties.
"Same — it's physically, mentally, trying to make sure you're invested and you're all there," Bergeron said. "And you're ready for another go at it, so it's kind of like the mindset — same mindset as last year."
Even though Bergeron has been in this spot before, the pain of this season's result is far worse than what transpired down in Raleigh last May.
"I think it's a different emotion, feeling, because it hurts a lot more with the way that things ended, with the year that we've had," Bergeron said. "But yeah, I think it's similar, I'm kind of in the same mindset where I want to take a step back, and make sure I weigh the pros and cons, and have a conversation with the family."
"I have lost some tough years before, but this one I would put probably right next to 2019," Krejci added. "This one's going to hurt. Then you have another thing, that could've been my last game. There's just lots of emotions. I don't even like to talk about it, because we have talked about it with lots of guys in the last couple days. It gets emotional and just not ready right now."
Throughout his years in Boston, Bergeron usually opts to stay in the moment.
When asked if he would have retired had Boston lifted the Stanley Cup, Bergeron said he wasn't sure.
As such, when asked what kind of legacy he believes he left with this Original Six franchise, Bergeron opted to not get caught up in definitive declarations.
"I'm not sure," Bergeron said. "I guess if it is, I left everything out there I guess is all I can really say, and I'm thankful and grateful, but we're not there yet, so we'll see."
Sign up for Bruins updates🏒
Get breaking news and analysis delivered to your inbox during hockey season.