Bruins
Linus Ullmark offers support for Jim Montgomery amid criticism for Bruins' first-round exit
"Something that everybody does when things aren't going the way they want to is they're trying to find a scapegoat."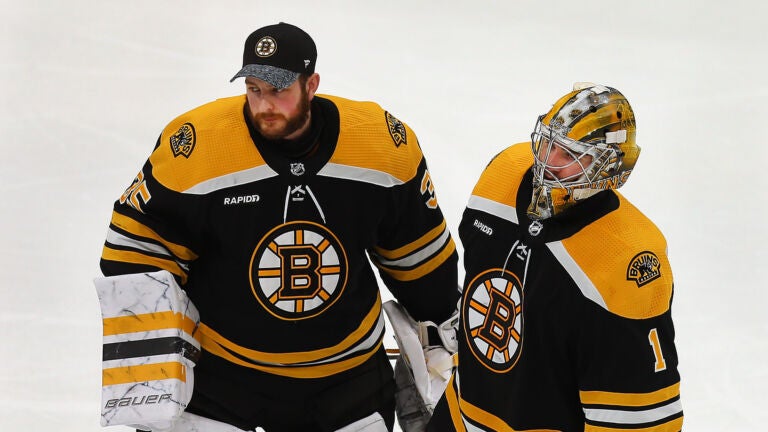 When it comes to doling out blame for the Bruins' crushing first-round exit against the Panthers, there's plenty to go around on Boston's roster.
On the ice, the Bruins' stout defense and transition game withered against Florida's bruising forecheck. In net, Linus Ullmark struggled to maintain his Vezina-level form. Multiple turnovers marred Boston's ability to lock down third-period leads.
But behind the bench, Bruins bench boss Jim Montgomery is not emerging unscathed.
Despite seemingly pushing all the right buttons with his stacked lineup during the regular season, multiple calls made by Montgomery unraveled against the Panthers during the postseason.
A lineup reshuffle ahead of Game 5 gave way to a sluggish start on home ice, while slotting in Connor Clifton for Game 6 led into a porous showing down at FLA Live Arena.
But most of the criticism directed toward Montgomery has centered around his irregular goaltender rotation, straying from a tried-and-true formula that helped Boston capture 65 wins from October though April.
Despite Ullmark's declining play as Boston's first-round series carried on, Montgomery opted to not start Jeremy Swayman as a potential defensive stopgap. By the time Montgomery finally placed Swayman between the pipes in Game 7, the damage was done.
But during the team's breakup day at Warrior Ice Arena on Tuesday, Ullmark backed his coach in wake of a Stanley Cup run cut short.
"I think that everyone that works in this — like you guys, it's very easy, and also something that everybody does when things aren't going the way they want to is they're trying to find a scapegoat," Ullmark said. "Right now, everybody is going at different directions. They're going at Monty, they're going up top, they're going at me, they're going at different people. That's not what we're about. We lose as a team, we win as a team.
"We've done that through the whole season. We try to do it as well now in the playoffs as well. Unfortunately, we lost four games in this series. That cost us to not go on to the second round, and that's what it is. That's human nature. Trying to find a scapegoat when things turn to [expletive]. It's natural, but it's also not the right thing to do. I do love Monty. He's been great for us all season long. I have full faith in him and whatever decisions he makes out there. He's one of the best coaches, if not the best coach that I've had."
Ullmark opted to not disclose whatever injury he was dealing with against the Panthers, but the 29-year-old netminder didn't use the ailment as an excuse for his dip in play during the Stanley Cup Playoffs.
After posting a 40-6-1 record and a .938 save percentage during the regular season, Ullmark went 3-3 with an .896 save percentage over six starts against Florida.
"We all battle our own things, whether it's mentally or physically, we all have our stuff," Ullmark said. "We all want to be out there and help the team out to the best of our capabilities. Yeah, it's pretty evident that I didn't play the way that I wanted to. It wasn't as good as I wanted to be, unfortunately at the worst time possible. That's something I have to live with."
Sign up for Bruins updates🏒
Get breaking news and analysis delivered to your inbox during hockey season.