Bruins
Zdeno Chara doesn't believe this Bruins core has come up short over the years
"I wouldn't say it's only one Cup, because there's probably a good dozen or over a dozen teams that don't even have that."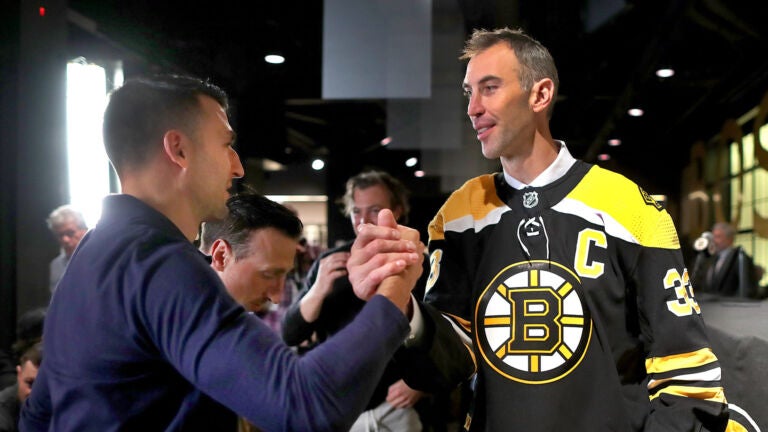 For close to two decades, the Bruins have enjoyed one of the most fruitful eras in their 99-year history.
With Zdeno Chara joining as a free agent in 2006 and both Patrice Bergeron and David Krejci anchoring Boston's center corps, Boston established itself as a perennial powerhouse in the Eastern Conference.
Since the 2007-08 season, the Bruins have posted five 50-win seasons and punched their ticket to the playoffs 14 times. They've won three Presidents' Trophies, set a league record for most points and wins in a season in 2022-23, and made it all the way to the Stanley Cup Final three times.
But amid that sustained stretch of dominance, the Bruins have only lifted the Stanley Cup once.
Following Boston's latest crushing defeat in the first round against the Panthers earlier this week, plenty has been said about whether or not this current core has underachieved out on the ice.
Speaking on 98.5 The Sports Hub's "Felger and Mazz" show on Tuesday, former Bruins captain Zdeno Chara said that's not the case.
Even though the Bruins have been dealt their fair share of heartbreaking defeats over the years, Chara believes that those setbacks are a testament to the unpredictable nature of the Stanley Cup Playoffs, rather than an outright indictment on the Bruins franchise.
"No, I don't. I wouldn't say it's only one Cup, because there's probably a good dozen or over a dozen teams that don't even have that," Chara said when asked if this team has come up short. "So I mean, if you want to take it that it's only one Cup — I mean it's not easy to even get that far. It's not easy to get to the Finals. And we were able to do it three times and I know that we all felt that we could win every one of them. But just like I said, that's sports. That's life. You're going to have to live with those losses as well.
"But, I think that this organization has been very consistent. … You go through some ups and downs, you go through some changes whether that's coaching or players. It's a process. And I think that I, personally, I'm proud to be a Bruin for for that long and setting a culture and establishing something that years and years hopefully from now players can carry that same torch and culture and continue something we started in '06 and hopefully be able to be successful and win later on. But yeah, I have no regrets and I only can say that I'm very grateful and proud of what we as a team were able to accomplish."
Even with a looming cap crunch this summer and the uncertain futures of both Bergeron and Krejci, the 2023-24 Bruins should still ice a competitive squad.
A roster anchored by a 60-goal scorer in David Pastrnak, two stout blueliners in Charlie McAvoy and Hampus Lindholm, a talented goalie tandem in Linus Ullmark and Jeremy Swayman and other forwards like Jake DeBrusk, Taylor Hall, Pavel Zacha, and Charlie Coyle can still do some damage.
But until they carry that production over into the postseason, Bruins fans have every right to be skeptical of the road ahead. And even if future teams continue to make it to the playoffs, this Original Six franchise will likely never have a better shot than the one it had this past year.
Sign up for Bruins updates🏒
Get breaking news and analysis delivered to your inbox during hockey season.