Bruins
Can the Bruins realistically re-sign any of their trade-deadline rentals?
With a little under $5 million in available cap space, the Bruins will have to be creative this offseason.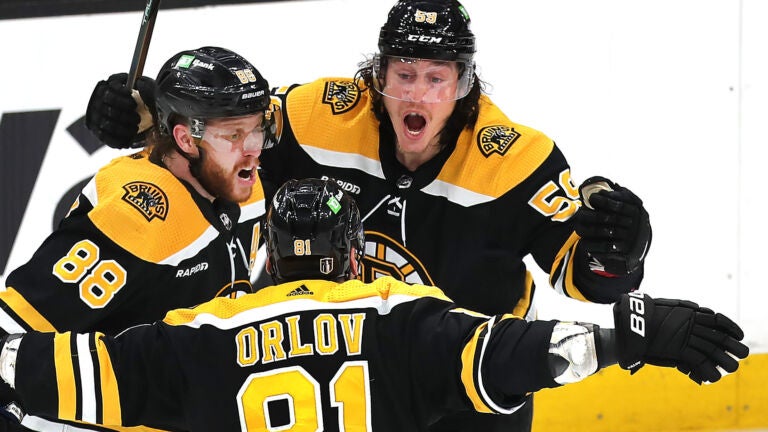 The 2023-24 Bruins are going to look very different from the roster that rewrote the record books over the last several months.
Even though Boston has key cogs like David Pastrnak, Charlie McAvoy, Hampus Lindholm, Jake DeBrusk and many others all signed through next season, the Bruins have another eight players to set to enter free agency this summer.
The list is extensive, and chock full of talent: Patrice Bergeron, David Krejci, Tyler Bertuzzi, Dmitry Orlov, Garnet Hathaway, Nick Foligno, Connor Clifton, and Tomas Nosek.
Shedding that many contracts in one offseason usually opens the door for fiscal flexibility and on-the-fly retooling. But even if Don Sweeney and the Bruins wanted to retain most of their 2022-23 squad, Boston isn't necessarily flush with cap room.
With Pastrnak's megadeal kicking in and $4.5 million in bonus overages on both Bergeron and Krejci's bargain-bin deals set to land on next season's books, the Bruins are projected to enter the summer with just under $5 million in cap space.
And that's without Boston's two top-six centers signed, along with multiple other contributors up and down the depth chart.
In order to add to this group, the Bruins will have to get creative this summer. Boston might have to either ink players to below-market deals once again, or move other contracts on the roster in order to free up more space.
The stakes involved with both Bergeron and Krejci's pending decisions are evident. Boston will leave it up to both pivots to chart their next move, even if a return for either star forward will likely involve another low-value contract.
But what about Bertuzzi, Orlov, and Hathaway — the trio of rentals that Sweeney and his staff relinquished five draft picks for (including two first-rounders) in order to put the 2022-23 team over the top?
Ideally, the Bruins retain at least one of those three skaters moving forward, especially if Boston plans to contend in the years ahead.
But that's an offseason endeavor easier said than done for Sweeney and his staff.
Tyler Bertuzzi, F
Aside from Boston's aging two-headed monster down the middle, Bertuzzi will be Sweeney's top priority in terms of his offseason agenda.
Added as a last-second contingency plan at the trade deadline following injuries to both Taylor Hall and Nick Foligno, Bertuzzi made the most of his short stint in Boston this spring.
After posting 16 points (four goals, 12 assists) in 24 regular-season matchups, Bertuzzi thrived in his first foray in the Stanley Cup Playoffs.
He posted 10 points (five goals, five assists) in Boston's seven-game series against Florida, displaying both poised netfront play and some encouraging chemistry next to Pastrnak.
Following Boston's season-ending loss on April 30, the 28-year-old Bertuzzi kept his options open ahead of his pending payday.
"Yeah, I haven't really thought about it honestly too much," Bertuzzi noted. "It's kind of been a whirlwind here, only kind of two days after, so talk with some family and then we'll go from there."
Bertuzzi's agent, Todd Reynolds, told Matt Porter of The Boston Globe that both he and the Bruins "haven't had any talks" since the season wrapped.
Bertuzzi's puck play and D-zone work left quite a bit to be desired this season. But his offensive capabilities will have plenty of teams lining up to hand him a hefty contract this summer.
Ideally, the Bruins want to be near the top of that list of suitors.
As we said earlier this offseason, the Bruins are hoping for more of an effective retool instead of a lengthy rebuild this offseason and beyond.
Locking up a player like Bertuzzi long-term and entrenching him into a top-six role for the next five-plus seasons gives Boston another piece to help keep them in the playoff picture.
Even if Krejci was to hang up his skates this summer, a reworked second line of Bertuzzi, Pavel Zacha, and Pastrnak will still dole out plenty of damage in the offensive zone next year.
Yes, Bertuzzi is a talented winger capable of helping this team in future seasons. But in order to keep him in Boston, Sweeney and Co. will likely need to move Taylor Hall's contract, if not another lineup regular in order to accommodate such a move.
Linus Ullmark? Jake DeBrusk? Both Matt Grzelcyk and Derek Forbort? Numerous contracts will have to be shredded off of Boston's books in order to keep Bertuzzi in place.
Dmitry Orlov, D
The Bruins had an abundance of riches on its blue line after prying Orlov out of Washington this winter, especially when giving the 31-year-old defenseman the keys to his own pairing further down on the depth chart.
In the postseason, Orlov's defensive fortitude and physicality likely fell below expectations. But his booming shot and passing abilities added another layer of attack to Boston's lineup.
In Orlov's 30 total games with Boston in 2023, the Russian skater scored four goals and posted 25 total points.
Orlov stressed that he enjoyed his time in Boston during the team's break-up day last Tuesday. But he was cognizant of the potential pay raise he earned for himself off this short stint with the Bruins.
"It basically feels like it's my last contract," Orlov said. "I'm going to be 32. We'll see."
Again, would the Bruins love to keep Orlov and have him anchor a separate D pairing from McAvoy and Lindholm? Of course.
But Boston doesn't have the means to keep both Bertuzzi and Orlov this summer. They may not even have the wiggle room to keep one, even with another trade or two.
And even though Orlov was a net positive for Boston over the last three months, there's plenty of risk involved with handing a blueliner like him another five or six-year deal at over $6 million per year — especially when he turns 32 in July.
Boston might benefit in the short term if Orlov is back in 2023-24, there's no doubt.
But as the Bruins look to retool and put together a sustainable core for the future, the last thing they want is a potential albatross contract on their books two or three years down the line.
Garnet Hathaway, F
Added as a physical equalizer capable of adding some scoring punch to the checking unit, Hathaway doled out 70 hits and six points over his 25 regular-season games with Boston.
But his impact waned in the postseason, especially after taking a late shot to the ribs off a cross-check from Matthew Tkachuk.
The Biddeford, Maine, native joined the familiar chorus of deadline pickups who raved about his time in Boston.
"From the moment I got here, I've said it a few times — I felt welcomed," Hathaway said. "It was a group that brought me, Orly and Bert in as if we'd been here all season. That was how it felt.
"That's how it transitioned onto the ice too, the chemistry was great with the lines we were on and the team we were with, and I think that was built from how the guys treated us and the characters in this room. It was really special."
Even though Hathaway's profile as a fourth-line grinder likely won't command top dollar, his knack for racking up hits and pestering opponents will likely make him a sought-after free agent.
Ultimately, Hathaway will likely be priced out of Boston, especially with the Bruins likely looking internally for reinforcements on the fourth line. Don't be surprised if young skaters like Jakub Lauko, Oskar Steen, and Marc McLaughlin make a push for those minutes during training camp this fall.
Who else?
The rest of Boston's crop of free agents likely fall under similar circumstances as the three skaters listed above.
Tomas Nosek and Nick Foligno were valuable foot soldiers on Boston's fourth line last season. But odds are that Boston saves some cash by pivoting to younger players in Providence in 2023-24.
Foligno did note last Tuesday that there's mutual interest on a return, but it'd likely need to be facilitated by a veteran minimum contract or a bonus-laden deal.
Connor Clifton's struggles in the postseason were an unfortunate ending to an otherwise stellar year for the Quinnipiac product. After years of serving as a seventh option on Boston's D corps, Clifton helped anchor the Bruins third D pair all season long.
Boston might value Clifton's contributions, but he's the latest in a growing line of skaters who probably prices himself out of town with his next contract.
As for Bergeron and Krejci, the waiting game will continue for the next few weeks.
The Bruins will hold out hope that both centers opt to not have this first-round exit be the final chapter in their illustrious careers.
Still the odds of having both centers back in black-and-gold sweaters in 2023 feels slim … at best.
Newsletter Signup
Stay up to date on all the latest news from Boston.com