Bruins
Patrice Bergeron's timeline, a looming cap crunch, and other takeaways from Bruins' end-of-season press conference
"I can't sit here and BS anybody, this stung."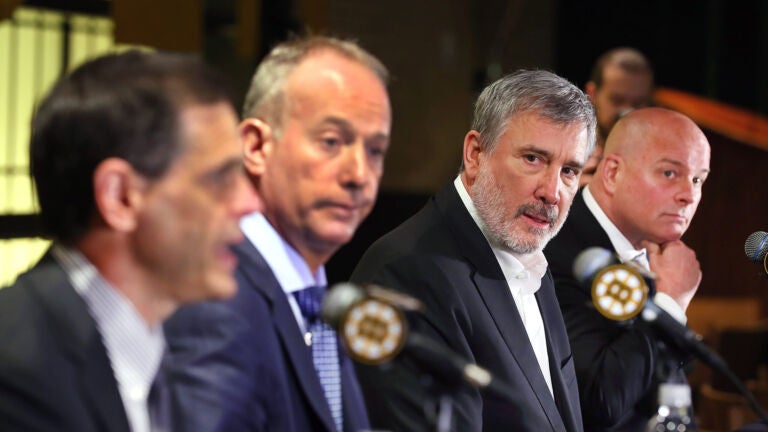 Nine days after the Bruins' record-setting season ended in a shocking first-round exit against the Panthers, Boston's top brass gathered at TD Garden to reflect on a season cut short and the painful decisions that await this summer.
As expected, Jim Montgomery's candid comments about his handling of Boston's goalie rotation and other lineup miscues captured most of the headlines from Tuesday's presser.
But Montgomery, Don Sweeney, Cam Neely, and Charlie Jacobs offered up numerous other thoughts on the state of the franchise moving forward and just how the 2022-23 campaign went awry.
Here are some additional takeaways from the Bruins' final press conference for the 2022-23 season:
A first-round exit stands among one of the worst defeats in franchise history
As Carter Verhaeghe snapped a puck past Jeremy Swayman in overtime on April 30, the Bruins were still 13 wins away from hoisting the Stanley Cup.
Boston still needed to overcome three more opponents en route to seeing their record-setting season through. Plenty more could have gone wrong between a second-round meeting with the Maple Leafs and additional matchups into June.
But given the body of work this roster put forth from October through April, coupled with the murky futures of both Patrice Bergeron and David Krejci, a first-round defeat was near the top of Neely's list of disheartening results for this franchise.
"It's been quite an empty feeling to be honest with you," Neely said. "You take a look at 2019, the loss in Game 7 [of the Stanley Cup Final], this is a close second for me. … I can't sit here and BS anybody, this stung. This stung."
For months, the 2022-23 Bruins seemed destined for a fruitful Cup campaign. A last kick at the can for veterans like Bergeron and Krejci had the chance of being validated with a title.
But all of Boston's regular-season accolades will ring hollow in the wake of a crushing defeat to a Panthers team 43 points below them in the standings.
"You look at the season, and you lose sight of the accomplishment because of the failure," Sweeney said. "That's what you're ultimately going to be judged upon and that's what we sign up for. So, you take responsibility and ownership. … Accountability rests with each and every one of us, and it lives with you, it just does. It sits in the bones and people might not quite understand, but it does."
Bruins' tried-and-true formula unraveled at a critical time
Montgomery's lineup reshuffles and reliance on Ullmark didn't help Boston as it let a 3-1 series advantage slip away against the Panthers.
But when it comes to doling out blame, the players themselves have to look inward after multiple self-inflicted mistakes and uncharacteristic gaffes.
All season long, the Bruins were bolstered by stout goaltending, poised puck movement, and a knack for snuffing out third-period rallies.
Those hallmarks rarely presented themselves against Florida, with Ullmark's sterling numbers in net cratering and Boston coughing up multiple third-period leads in Games 6 and 7.
"At the end of the day, ill time for execution was a massive problem for us," Sweeney noted. "In particular, in some of the games, you know, breakdown in structure, which we really hadn't done for the vast majority of the season. And our goaltending wasn't at the same levels as the regular season. So those three things combined are going to lead to variance in results.
"I think Game 6 is a bit of a snapshot of what kind of went wrong for us at points of the series where we're in control for a vast majority of games, we close games," Sweeney added later. "So we have the confidence to do those things and it, you know, dissipated in key moments right up until Game 7, where we're in full control of the hockey game with a minute to go."
Too much pressure?
The Bruins' failure to execute and inability to adjust to Florida's forechecking pressure were bewildering developments following a season where little seemed to throw this roster off course.
Even though the Panthers' efforts to force Boston into ill-timed decisions with the puck yielded effective results, Neely wondered if the elevated stakes found in this record-setting season started to wear on the dressing room once the calendar flipped to the postseason.
"If you recall going into last season, everybody had us as a potential wild card team," Neely said. "So, there was zero expectations going into this past season. … We end up having this historic year, my concern was, 'Okay, are the guys going to put too much pressure on themselves because of the regular season we had, and the expectation just went through the roof.' So, I had a couple players at the exit meetings actually apologize, saying, 'You guys gave us a wagon of a team, and we didn't execute.'
"So the players, they know. Players know when you have a chance to win and when you don't. They knew we had a chance to win. They knew we had a chance to go deep. And for whatever reason, we didn't play the way we played in the regular season… Game 3 was probably our best game. But we didn't play the way we played in the regular season. The confidence, the nerves, I don't know what it was, but these are the things that we have to dig into. Narratives started to change, you win the Presidents' Trophy, teams rarely win the Stanley Cup. So, all those things… the outside noise maybe creeped a little bit in for me."
As for the front-office personnel, Jacobs isn't pointing fingers at Boston's management for their efforts at crafting a deep, Cup-caliber roster.
"I do feel like our management pushed all the right buttons this year to deliver the best possible team we could for our fans," Jacobs said.
Linus Ullmark was healthy enough to play
Sweeney pushed back against a report from ESPN's Kevin Weekes that Linus Ullmark was playing through a "debilitating and painful" injury during the 2023 Stanley Cup Playoffs.
Still, Sweeney acknowledged that Ullmark was not completely healthy this spring. The optics of Ullmark's limitations were tough to ignore as the first-round series progressed.
After posting 40 wins and a .938 save percentage during the regular season, Ullmark went 3-3 with an .896 save percentage against the Panthers.
Ullmark opted to not clarify his exact injury during the team's break-up day last week.
"We get a report that is who is available, and Linus was fully available to play," Sweeney said. "He had something that was going on at the very, very end of the season, but it had cleared up for him to be eligible to play and had he not been, we certainly would have made a different decision. We felt very comfortable all year with the rotation we had and confidence in both goaltenders."
Bruins ready to play the waiting game with Bergeron, Krejci
Moving forward, the Bruins find themselves in a similar position to last offseason.
Before Sweeney and his staff can begin tinkering with this roster, they will have to await word on if one (or both) of Bergeron and Krejci plan on returning for another season in a black-and-gold sweater.
Even though Sweeney received word early last spring that both pivots were interested in coming back, Boston still operated with multiple contingency plans in place for roster construction.
Sweeney expects the team to operate under a similar mandate this summer as both Bergeron and Krejci mull over their options.
"We went through this exercise last offseason in putting together two kind of simultaneous rosters," Sweeney said. "I probably had an indication early enough last summer to go in the direction that we were able to execute. Some things came after that, Pavel Zacha is an example of sort of understanding where we may be and where we want to be.
"The goal was to build the deepest team that we possibly could, and we fell short, ultimately and the goal will be — you look at the core group of guys that we currently have that had very, very successful regular seasons and we'll build around that, maybe it'll be integrating younger players. You can already see where our minds are going in terms of running simultaneous things and we'll respect the timelines on David and Patrice as necessary."
Limited cap room is going to lead to some roster turnover
The return of either Bergeron or Krejci will help set the table for Boston's offseason to-do list.
But with a little under $5 million in available cap space, the Bruins are going to have their work cut out for them adding to this roster.
Beyond Bergeron and Krejci, the Bruins have six other pending unrestricted free agents this offseason, including their trio of deadline rentals in Tyler Bertuzzi, Dmitry Orlov, and Garnet Hathaway.
Boston will need to clear out cap space in order to realistically hand out deals at market value.
"I couldn't just categorically sign those players today," Sweeney said of Bertuzzi, Orlov, and Hathaway. "Our cap situation, we leveraged a little bit. Everybody knows our overage at [$4.5 million]. So we have some constraints, as do several other teams around the league.
"Our goal was to put the season on the absolute best roster we could put together and try and take a real legitimate run and we failed, no question. So, we have to pay that forward a little bit."
Odds and ends
Jim Montgomery didn't have any regrets about slotting Patrice Bergeron back into the lineup ahead of Game 5. Bergeron, playing with a herniated disc in his back, recorded one point in Games 5-7 while getting knocked for a minus-6 rating.
"After Game 3, I called Patrice," Montgomery said. "We were in Florida, and I was talking to him, and I said, 'I know you're doing better, I've seen the video of your rehab skates.
"If we win Game 4, is it prudent to us to give you more time?' And he goes, 'What do you mean?' I go, 'Do we not play you Game 5?' And he said, 'Monty, I'm playing Game 5.' That was enough for me to know. You don't keep Hall of Fame players out of the lineup."
Despite some bumps and bruises, Sweeney said that the Bruins don't expect to have any players undergo major offseason surgeries. It's a far cry from last summer, when Bergeron, Brad Marchand, Charlie McAvoy, Matt Grzelcyk, and Mike Reilly all went under the knife.
The Bruins are still in the process of reviewing potential changes to their staff ahead of the 2023-24 season. "We're going back through that stuff right now," Sweeney said. "We don't have anything impending, but I reserve the right that we're going to have to continue to unpack what's best for our organization and what Jim feels would help continue to move this group going forward and we'll make better decisions."
Newsletter Signup
Stay up to date on all the latest news from Boston.com