Bruins
Jim Montgomery discusses second-guesses, lineup calls that played into Bruins' first-round collapse: 'I make the final decision'
"It's my job to get players to own the moment, seize the moment. And that didn't happen."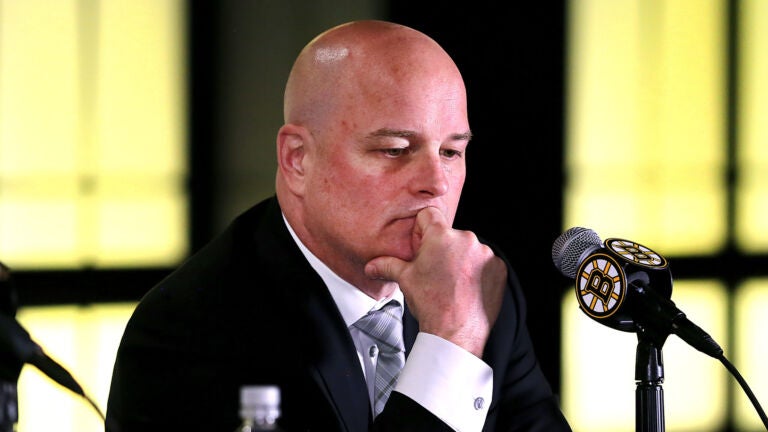 Jim Montgomery didn't mince words when asked to describe his current state over a week after the Bruins' stunning first-round exit against the Panthers in the Stanley Cup Playoffs.
"Frustrated, mad, accountable," the Bruins head coach said on Tuesday afternoon at TD Garden.
The prevailing sentiment from Boston's season-ending press conference on Tuesday was that there is plenty of blame to go around following an early playoff exit — especially for a loaded roster that rewrote the record books for most wins and points in a single season.
"We take full responsibility across the board in terms of where our failures are, individually and collectively as an organization," general manager Don Sweeney noted.
But in the wake of Boston relinquishing a 3-1 series advantage to a Panthers team 43 points below them in the standings, Montgomery has stood as a conduit of criticism for his team's miscues.
Most of that flak has been warranted.
Whether it be splintering an effective goalie rotation during the postseason, reshuffling his team's forward lines ahead of a sluggish start in Game 5, or tweaking his D corps in a porous Game 6, just about every lineup maneuver implemented by Montgomery felled his team on the ice.
On Tuesday, Montgomery took ownership for the multiple second-guesses that contributed to Boston's series defeat.
"The overriding one is it's my job to get players to own the moment, seize the moment. And that didn't happen, right? And that falls on me," Montgomery said of lessons learned this season. "And I think with the hard times we went through, we have to learn from them, right? If we don't learn from them, how are we going to grow? We'll just repeat the same thing next year. … We didn't have the same energy level we had in the regular season. We didn't have the same puck confidence that we had in the regular season.
"It hurts. Right now, it hurts. I've talked to players, it's hard right now. It's hard for our fans, it's hard for us. And the price we pay is we have to learn from it so that we move forward. Specifically, I mean, hindsight — you can go back and look at everything, right? … I already talked about the toll on the goaltenders and going to [Jeremy Swayman] a little earlier. What game is that? That's debatable. Again, that's hindsight."
Boston stacked up points at a record rate from October through April by allocating effective workloads for both Linus Ullmark and Swayman in net.
But in the postseason, the Bruins opted to roll out Ullmark for six starts in 12 days, even as his season-long fortitude between the pipes started to erode.
Even though Sweeney pushed back against the notion that Ullmark's late-season injury was a "debilitating" ailment, the Bruins had multiple instances to turn to Swayman in order to stop Boston's defensive structure from taking on water.
By the time Montgomery finally relented and started Swayman in Game 7, it was already too late.
Following Boston's 4-3 overtime loss on April 30, Montgomery raised more eyebrows after stating "You'd have to ask goalie [coach] Bob [Essensa] a little more in detail about that" in regards to the decision to roll with Swayman in a series-deciding contest."
On Tuesday, Montgomery opted to clarify the hierarchy in terms of decisions regarding Boston's goalie corps.
"I make the final decision, right? I'm the one that picks the starter," Montgomery said. "So it's not goalie Bob's decision — but I really rely on him heavily … We win Games 3 and 4. So you have two days off, you think Game 5 is gonna go well. And I personally spoke with Linus, and he answered me [off] a real honest question and took ownership of where he was at in Game 5.
"And what he relayed to me made me believe that you learn and you grow, and he was ready to grow and lead us to a Game 6 win. And that in the end is what made me decide that he was our goaltender for Game 6."
As expected, Montgomery also acknowledged that additional lineup changes in Games 5 and 6 hindered Boston's ability to deliver a knockout punch against the Panthers.
"Not starting with my normal lines for Game 5 — I have my logic as to why it made sense, but it didn't help us with our start, obviously. So that I learned from and I think I could have switched the D pairings on who the matchups were a little bit quicker.
"We were shutting down one line really well. We weren't shutting down another line really well — we did for two games, but we didn't for five. Those are the things that really stick with me. But the number one thing is my job is to get the players to elevate their games and I didn't do that."
Sign up for Bruins updates🏒
Get breaking news and analysis delivered to your inbox during hockey season.