Bruins
The Bruins were not spared from Charles Barkley's wrath during Celtics' Game 5 loss to 76ers
The Bruins have become a punchline for the rest of the sports world following their first-round exit.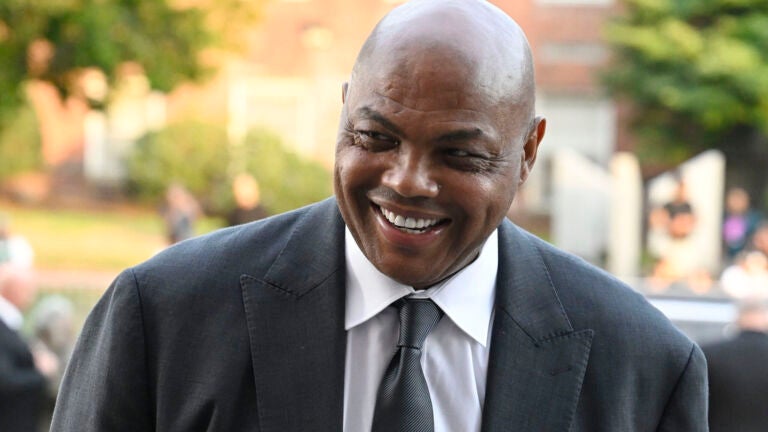 Former NBA great and current TNT analyst Charles Barkley has never been one to hold back from speaking his mind.
Most of the highlights involving TNT's "Inside The NBA" program usually center around Barkley's blunt criticism of teams and players across the NBA — along with his usual banter with Shaquille O'Neal, Kenny Smith, and Ernie Johnson.
Barkley had plenty of material to work with on Tuesday night during the Celtics' disheartening Game 5 home loss to the 76ers.
But the former power forward instead opted to dunk on the Bruins during TNT's halftime segment.
As his co-hosts opined about the potential of the Celtics' season coming to an untimely end, Barkley decided to twist the knife against an already weary Boston fanbase.
"In fairness, if the Celtics lose this series, they still got the Bruins," Barkley said. "Oh, sorry — bad example."
"You've been sitting on that one for a while," Johnson responded.
Of course, the Bruins collapsed in crushing fashion last month, losing in the first round of the Stanley Cup Playoffs after setting an NHL record for the most wins (65) and points (135) in a single season.
Barkley's slam is far from the first time the Bruins have been dragged since their early exit at the hands of the Panthers.
Just a day after Boston's OT loss in Game 7, Skittles' Twitter profile went for the jugular against the Original Six franchise.
"My weekend wasn't great but at least I didn't choke away a 3-1 playoff lead. Anyways taste the rainbow," the candy brand posted.
At various points this winter, it looked like both the Bruins and Celtics were destined to orchestrate title runs deep into June.
If the Celtics can't right the ship on Thursday night in Philadelphia, they'll join the Bruins as yet another punchline for the rest of the sports world.
Newsletter Signup
Stay up to date on all the latest news from Boston.com