Bruins
Watch: Bruins' Garnet Hathaway snags foul ball with bare hands at Fenway Park
"You never think it's going to happen and then it happens."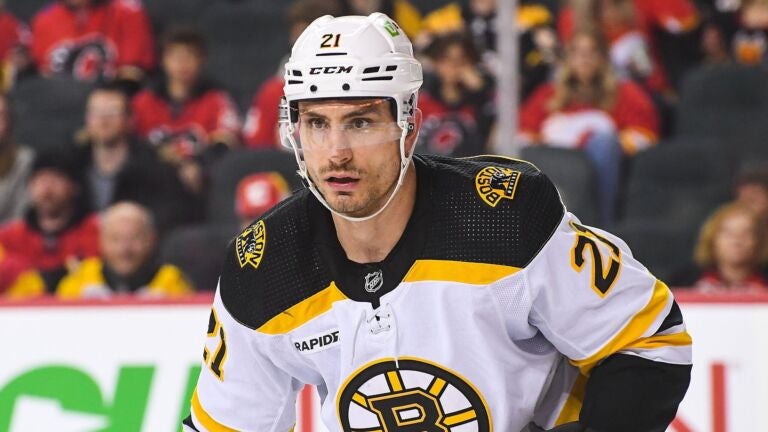 Garnet Hathaway's game usually centers around his propensity to dole out welts against opponents and wreak havoc after the whistle.
But the 31-year-old forward has a pretty sweet glove hand as well.
The scrappy Bruins winger submitted a web gem on Sunday night at Fenway Park, snagging a foul ball with his bare hands during the Red Sox game against the Cardinals.
It was a clean snag by Hathaway, who plucked the ball out of the air with both hands after Justin Turner fouled a pitch back in the bottom of the first inning.
Hathaway told the Associated Press that the foul ball will be going to his son, Luke, who celebrated his second birthday on Sunday.
"You never think it's going to happen and then it happens," Hathaway said. "I've been here for a few hours already. It's my son's birthday. We got to bring him around the stadium. It was amazing."
Hathaway said that this marks the second time that he has caught a foul ball at an MLB game.
"I have actually, years back at Yankee Stadium, Red Sox-Yankees," the Kennebunkport, Maine native noted. "That was probably only about five, six years ago."
Hathaway, acquired by the Bruins back in February as part of a blockbuster deal with the Capitals, played in 25 games with Boston in 2023.
The pugnacious forward scored four goals and racked up 70 hits with Boston during the regular season. The pending free agent added one assist in the Bruins' seven-game series against the Panthers during the first round of the Stanley Cup Playoffs.
Sign up for Bruins updates🏒
Get breaking news and analysis delivered to your inbox during hockey season.