Bruins
If Patrice Bergeron and David Krejci retire, what's next for the Bruins at center?
If both of Boston's top-six centers retire this summer, the Bruins might look internally for help down the middle.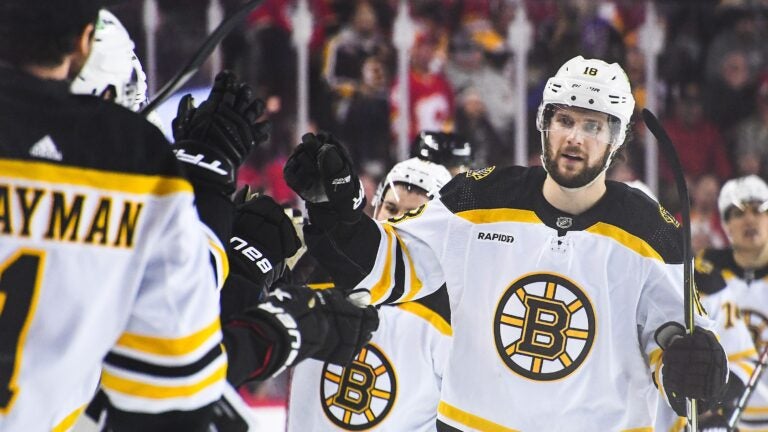 The 2023-24 Bruins should still be a competitive squad.
David Pastrnak, fresh off of a 61-goal season, will anchor a forward corps still returning plenty of high-end talent on the wing in Jake DeBrusk, Taylor Hall, and others.
Despite Boston's breakout woes against the Panthers, a D corps featuring both Charlie McAvoy and Hampus Lindholm on separate pairings is the type of backend foundation that most NHL teams yearn for.
And barring any seismic offseason moves, Boston expects to roll out an effective 1-2 punch in net between Linus Ullmark and Jeremy Swayman.
Even in a loaded Atlantic Division, the Bruins should still be viewed as a playoff-caliber team this season and beyond.
As for their standing as a viable Cup contender? That will come down to how Boston approaches the inevitable void in the heart of their forward corps.
Both Patrice Bergeron and David Krejci have yet to make calls on their respective playing careers. But even if one of Boston's top pivots does opt to return in 2023, the odds aren't high that both star centers will sign on for another 82-game campaign.
So if one (or both) of Bergeron and Krejci hang up their skates, where do the Bruins turn to for help down the middle?
Pavel Zacha
When the Bruins handed Pavel Zacha a four-year, $19 million extension in January, it wasn't just a fiscal tip of the cap for his productive play in Boston's middle-six grouping. It was a proactive measure by a franchise in desperate need of capable top-six candidates down the middle.
Zacha may not have the playmaking prowess of Krejci or the two-way acumen of Bergeron, but the 26-year-old forward proved multiple times last season that he can hold his own at center, especially when stapled next to some elite wingers.
If either Bergeron or Krejci is out of the equation in 2023-24, Zacha stands as the first man up for an elevated role, and for good reason.
Over 82 games last season, Zacha ranked fourth on the Bruins with 57 points (21 goals, 36 assists).
Zacha was arguably at his best when slotting in for either Krejci or Bergeron at center.
In total, there were 14 games last season where Zacha replaced either Krejci or Bergeron in a top-six pivot role.
In those 14 games, Zacha posted stat lines of:
10/28 @ Columbus – 16:50 TOI, 1 assist
11/1 @ Pittsburgh – 16:55 TOI, 1 goal
11/3 @ New York – 15:46 TOI, 1 assist
12/11 @ Vegas – 17:58 TOI, 1 assist
12/13 vs. Islanders – 16:43 TOI, 2 assists
3/19 @ BUF – 16:29 TOI, 0 points
3/26 @ Carolina — 20:01 TOI, 1 assist
4/1 @ PIT – 15:04 TOI, 3 assists
4/2 @ STL – 19:32 TOI, 0 points
4/6 vs. TOR – 18:32 TOI, 0 points
4/8 vs. NJD – 17:23 TOI, 2 goals
4/9 @ PHI – 16:49 TOI, 1 goal, 1 assist
4/11 vs. WSH – 14:20 TOI, 0 points
4/13 vs. MTL – 16:32 TOI, 0 points
That's an 82-point pace over a full season at center for Zacha, who also should benefit in the coming years with more reps on the power play, especially at the bumper position. Of Zacha's 57 points, 43 came at 5v5 play — with only David Pastrnak accruing more away from the man advantage (61) on Boston's roster.
"He's really developed the puck pressure we like to see in the D zone from a centerman," Jim Montgomery said of Zacha back in April. "And offensively, he's gifted attacking through the middle. So we didn't know that was a great strength of his, but it is a great strength of his. … I think he can consistently hit 65 points for us."
Even though Zacha may not have the longest track record in terms of driving play down the middle, he could be aided next season if he has linemates like Pastrnak and either Hall/Tyler Bertuzzi to his right and left.
The Bruins might be staring at an uncertain future if both Bergeron and Krejci aren't in the picture next fall. But Zacha stands as a solid contingency plan, especially as a 2C on an offensively-gifted forward trio.
"I mean they're [some] of the two best players, two-way centers in the league," Zacha said of Bergeron and Krejci during the team's break-up day. "I was just trying to watch them at practice like faceoffs and stuff like that, that kind of helped me a little bit too to get better at mine.
"Just the way they interact in certain situations and what they do on the ice, so I was able to watch them the whole season. It was great for me moving forward."
Charlie Coyle
When asked about the potential of an extensive retool this summer, Bruins president Cam Neely noted that Boston might have received a preview of what's to come during Boston's road victories over the Panthers at FLA Live Arena last month.
"The pieces that we have coming back are pretty good hockey players," Neely noted. "I think we got a little taste of potentially what the team might look like in Games 3 and 4. I thought those two games obviously put us up three games to one. So, I think we can still be a better team, but there's a lot of work to do this summer, there's no question."
In those victories, Zacha was planted in his expected spot on the second line next to Pastrnak. But with Bergeron out of commission due to a back injury, Montgomery opted to shift Charlie Coyle up to the top line next to Brad Marchand and Jake DeBrusk.
The results were impressive, with Coyle's puck-possession capabilities and defensive fortitude augmenting that top line into more of a shutdown grouping.
In some respects, that first-round series against Florida was a microcosm of Coyle's contributions on the ice for Boston. Even though he finished with two points over seven playoff games, Coyle's baseline stats didn't exactly paint the full picture of a player whose at his best when his wearing down opponents along the boards and creating space at the netfront.
When he's on, Coyle is like an effective fullback. Even if his stats aren't all that gaudy, he often does plenty of the little things that contribute to a winning gameplan.
"He's just a man. It's a weird compliment, but it is," Nick Foligno said of Coyle's game last month. "He's a beast. He's so lanky and long, but also strong. When he puts his body into a puck or into another body, you're not getting it. He really drives our team that way, when he plays like that."
If both Bergeron and Krejci are off the roster next season, Coyle could shift a line with Marchand and DeBrusk into more of a defensive-first unit. It's a familiar spot for Coyle, whose steady dose of D-zone starts (35.00 percent Off. Zone faceoff percentage) gave both Bergeron and Krejci more favorable reps down the other end of the ice in 2022-23.
Of course, Coyle doesn't necessarily have the highest offensive ceiling when compared to both Bergeron and Krejci. That could cause two of Boston's top scoring conduits in Marchand and DeBrusk to wane in terms of their contributions on the stat sheet.
Coyle might be best suited for his regular role as Boston's third-line center, where he can continue to serve as a defensive ace.
But if both Bergeron AND Krejci call it quits this summer, the Bruins may not have a choice but to slot up Coyle into a featured role.
"It's hard to replace those two," Coyle said of both Bergeron and Krejci. "You really can't. It's, I guess, me being in the center position; it's a big responsibility. But it was a big responsibility for all of us.
"Everyone kind of chipped in and did their part. That's what we do. That's why we're a good team, is our depth and the people who can step up and take on that responsibility when you have guys of their caliber who are out of the lineup. You've got to take pride in that."
Trent Frederic
Frederic had a breakthrough season in 2022-23 with Boston, burying a career-high 17 goals and 31 points over 79 games.
Of course, that scoring surge doesn't mean that the pugnacious forward will get the bump up to top-six minutes once camp wraps this fall.
Frederic might be handed the keys to Boston's 3C or 4C role if Boston opts to solve its center issues internally this offseason.
Even though Frederic came through the Bruins' system as a natural center, he has spent most of the last season on the wing. Filling in for either Coyle (3C) or Tomas Nosek (4C) would lead to a steady diet of D-zone starts and matchups against opposing top-six forwards in 2022-23.
"I came in as a center and then went to left and played a lot of right this year, which I really like," Frederic said. "It was nice to go back and play center. I want to [work] at faceoffs this summer to be trusted in that aspect (of the game). I've been good at faceoffs my whole life. … I think I can do a good job and help this team."
Beyond Frederic, the Bruins will likely give AHLers like Marc McLaughlin and Johnny Beecher extended looks in camp, especially if Nosek signs elsewhere in free agency. Even though the Bruins highly value Nosek's two-way game, there just may not be enough cap room available to sign him to a new deal.
A free-agent pickup?
This might be the most unlikely route that the Bruins take this offseason if one or both of Bergeron and Krejci retire.
Some of that sentiment is due to the barren field of available free-agent centers this summer. Beyond Bergeron and Krejci, the next-best option is probably 32-year-old Ryan O'Reilly. The former Conn Smythe Trophy winner is a proven playoff performer. But he's probably best suited as a steady 3C at this stage of his career.
Of course, the main reason why Boston will be on the outside looking in at free-agent shopping this summer is due to its dearth of available cap space.
With a little over $6 million in cap space on hand right now (per CapFriendly), the Bruins already need to move out cash if they want to retain talent like a Bertuzzi or a Dmitry Orlov, let alone try to sign a Bergeron or Krejci to another bargain-bin deal.
Boston's best bet is to wait for clearer financial waters in 2024, when more cap flexibility and a potential surge in the cap ceiling allow it to be a player for a free-agent center like Sebastian Aho, Elias Lindholm, Elias Pettersson, Chandler Stephenson and others.
A trade?
If one of Bergeron or Krejci does return, one can see a one-year plan where Boston rolls out a 1-2 punch of Bergeron/Krejci and Zacha in the top-six grouping and then re-assesses its center position next summer when more money should be available.
But Boston could also try to jump the gun this offseason by way of a trade, especially if such a move both clears out cap space and adds a building block for the future.
As evidenced by Don Sweeney dealing for Hampus Lindholm and Zacha (and signing both to extensions), the Bruins are cognizant about building a sustainable, effective roster in the years ahead.
As we noted last week, the Bruins don't have the appetite (or the draft capital) to simply blow things up and rebuild.
But if they can pry a center like Pierre-Luc Dubois out of Winnipeg and sign him long-term, you have the framework of a pretty stout core that should remain in the playoff picture for the next 4-5 years.
Granted, you need to give to get in this league.
Whether it be Dubois or the other centers who might be dangled on the market this summer, the Bruins will need to part ways with both blue-chip prospects (Fabian Lysell? Mason Lohrei?) and valuable NHL talent (Linus Ullmark? Jake DeBrusk? Matt Grzelcyk? Taylor Hall?) to make it work.
It's far from an ideal situation for Don Sweeney and the Bruins.
Alas, such is the hand that Boston has been dealt as it braces for a potential reshaping of its tried-and-true center corps.
Sign up for Bruins updates🏒
Get breaking news and analysis delivered to your inbox during hockey season.