Bruins
Bruins' Hampus Lindholm was playing through a broken foot during Stanley Cup Playoffs
"Everyone has bumps and bruises that time of year. There's no excuses on that stuff."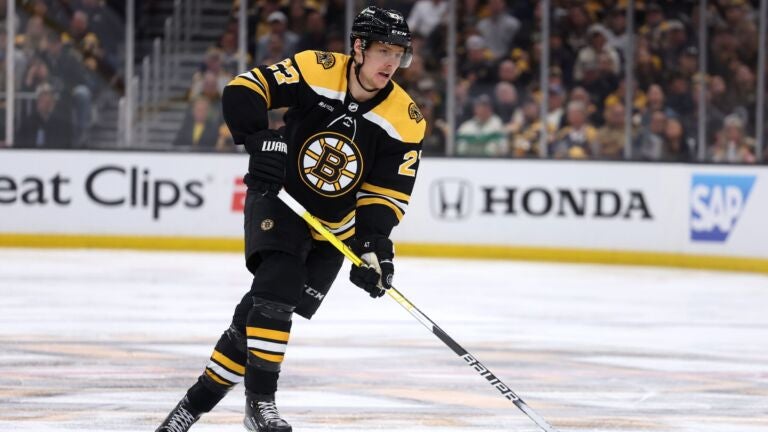 During the Bruins' break-up day at Warrior Ice Arena earlier this month, defenseman Hampus Lindholm brushed aside any talk of injuries impacting his play on the ice.
"I'd say I was fine," Lindholm said of his health during the playoffs. "Everyone has bumps and bruises that time of year. There's no excuses on that stuff. I think even if you were to have something linger — like we had guys play through stuff. It's just that time of year."
Of course, Lindholm's words stood in stark contrast to the optics playing out on the ice during Boston's failed first-round series against the Panthers.
Weeks later, we have a more concrete answer as far as what plagued Lindholm down the final stretch of the 2022-23 campaign.
On May 9, Lindholm told Stockholm-based newspaper Aftonbladet that he did not join Sweden for the 2023 World Championships because of a broken foot he suffered earlier in the year.
"I found out this morning that I have been playing with a fracture in one foot for the past month," Lindholm texted to the Swedish paper.
Such an ailment serves as a logical explanation as to why Lindholm's sterling play cratered in the postseason.
Lindholm was arguably Boston's top blueliner all season long, earning serious Norris Trophy consideration after posting a career-high 53 points and averaging 23:11 of ice time per game.
An effective conduit in the Bruins' transition game and an anchor on Boston's shutdown D-zone pairing with Brandon Carlo, Lindholm was an essential cog on a stout roster that rewrote the record books during regular-season play.
But against the Panthers, Lindholm struggled to settle into a groove. Beyond his lack of offense (zero points in seven games), the veteran D-man was knocked for tentative play and multiple lapses in execution.
His delay-of-game penalty in Game 6 down at FLA Live Arena (called after he flipped a puck over the glass with no pressure bearing down on him) was a back-breaker.
Even though Jake DeBrusk buried a shorthanded goal on the subsequent sequence to give Boston a 5-4 lead, Florida eventually notched the equalizer off a Matthew Tkachuk tally with Lindholm still in the box.
"Everyone can be smart looking back," Lindholm said of Boston's misplays following the series-ending defeat. "Going through shift after shift. If you want to win in playoffs, you have to find ways to shut down the other team. We did score a lot of goals in some games. Enough goals to win a hockey game."
Lindholm likely suffered the injury during the waning weeks of regular-season action, as he missed a game on March 12 against the Red Wings — just a day after blocking a shot that clanged right off his skate.
He also sat out Boston's road matchup against the Hurricanes on March 26 due to a lingering lower-body issue.
It remains to be seen what changes will augment Boston's roster by the time training camp opens in September. But a healthy Lindholm is once again expected to drive play on the blue line along with Charlie McAvoy in 2023-24 and beyond.
"I want to keep feeding off all the stuff you learn from [Patrice Bergeron] and [David Krejci] and the culture that's been here," Lindholm said of building off of his first full season in Boston. "Obviously, coming out and having a better season than I had this year. I think I haven't reached my ceiling yet. I think I have a lot of hockey left in me.
"I feel like this is the first year I really got to showcase what I can be as a player. I think that's something that I'm going to learn from the playoffs and the end of the season that didn't really end the way we want. And really have a feed into the future next season, and all that comes with that."
Newsletter Signup
Stay up to date on all the latest news from Boston.com