Bruins
Should the Bruins trade a goalie this offseason? Weighing the pros and cons of a seismic roster reshuffle
If the Bruins need to clear cap space and recoup assets, moving a goalie might be an option this summer.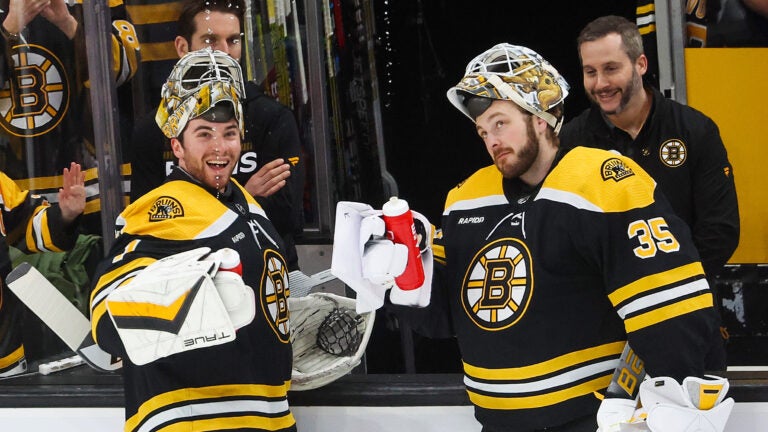 Don Sweeney stated the obvious during the Bruins' end-of-season press conference on May 9.
"Roster changes are likely coming," Boston's general manager noted. "We're not going to be the same team."
As much as Boston would prefer to roll out the same roster that rewrote the record books during the 2022-23 regular season, it's not possible in a salary-cap league.
With a little over $6 million in available cap room, over $4.5 million in bonus overages on next year's books, and no answer yet in regards to their top-six centers, Boston will need to make some drastic moves this summer in order to field a competitive roster under the $83.5 million cap ceiling.
And while most of the cap-shaving measures proposed usually revolve around dealing bodies off the blue line or up front, could a goalie trade make the most sense for Boston?
Let's run through the pros and cons of what could be a franchise-altering move for the Bruins this summer.
PRO: Your goalies are your top trade chip
There are a number of trade chips that Boston might part with before directing its attention to either Linus Ullmark or Jeremy Swayman.
On the blue line, at least two of Matt Grzelcyk, Mike Reilly, and Derek Forbort might need to be moved.
Taylor Hall and Jake DeBrusk are key cogs up front, but both players should draw some suitors if Boston is dangling them out on the market.
And even though offering up a star like Charlie McAvoy or Hampus Lindholm would spur a feeding frenzy among the rest of the NHL, Boston isn't moving pieces that they view as part of their next core of talent.
But if one of Ullmark or Swayman was available, many teams might be willing to pony up a hefty haul of draft capital or other assets.
Swayman's an obvious blue-chip trade target, given his contract (restricted free agent), age (24), and the potential he's showcased for multiple seasons.
But if Ullmark (who has his no-movement clause revert back to a 16-team no-trade list on July 1) was available?
Be it the Kings, Oilers, or countless other clubs felled by substandard goaltending, there will be no shortage of desperate front-office personnel willing to give up a nice return in order to acquire the likely 2022-23 Vezina Trophy winner.
If Boston needs to both shed a contract ($5 million cap hit for Ullmark) and recoup assets like a first-round pick or a forward/defenseman that aids in its rebuilding process, targeting a position of strength like goaltending makes plenty of sense.
PRO: Ullmark's value might never be higher
Whether it be injury, fatigue, or an ill-timed regression from his sterling play between the pipes, Ullmark did not have a postseason to remember.
Over six games against the Panthers, Ullmark posted a 3-3 record with an .896 save percentage.
It was a shocking dip from his superb regular season, when the 29-year-old netminder posted a 40-6-1 record, .938 save percentage, and 1.89 goals-against average.
Even his underlying metrics were top-notch, with his 42.4 goals saved expected in all situations ranking second in the league behind Nashville's Juuse Saros (46.7), per MoneyPuck.
But Ullmark's season for the ages should still make him a valued trade target if Boston does indeed field offers for him.
And let's face it, Ullmark's value may never be higher than this summer, especially if he is crowned the league's top goalie.
PRO: Jeremy Swayman could be due for a breakout
Even though moving Ullmark brings its fair share of consequences, Boston does have quite the contingency plan in Swayman.
Ullmark might take home the Vezina next month, but Swayman was no slouch as Boston's backup in 2022-23
After posting a .887 save percentage over his first 10 games, Swayman went on a heater once the calendar flipped to 2023.
Over his final 27 games of the regular season, Swayman posed a .929 save percentage. Only Minnestoa's Filip Gustavsson and Ullmark posted higher marks over that same extended stretch.
In total, the 24-year-old Swayman posted a 24-6-4 record with a .920 save percentage in four shutouts. His goals saved above expected rate of 24.0 ranked eighth in the league, while his save percentage on high-danger shots (.862) ranked fourth in the league among goalies with at least 1,000 minutes of reps, per Natural Stat Trick.
If handed the keys to Boston's No. 1 spot in net, there's a lot to like about what Swayman can offer in an elevated role.
Moving Ullmark will also open the door for Boston to either sign a veteran backup at a much lower rate, or even turn to 24-year-old Brandon Bussi. The Western Michigan product thrived in his first full season in the AHL, ranking second in the league with a .925 save percentage.
CON: Moving a goalie offers little in terms of a safety net
Swayman might be poised for a larger role, but there's a lot that can go wrong if Boston opts to move out an established veteran like Ullmark.
Boston can save some change if they roll with Swayman/Bussi in 2023-24, or even a cheap backup.
But if Swayman does take a step back as Boston's top choice, the Bruins don't have someone like Ullmark to fall back on to right the ship. Not only does that put pressure on Swayman to deliver, but also can put an unproven player like Bussi in a bad spot.
The Bruins can't have a repeat of the 2014-15 season, when Jonas Gustavsson's lackluster play not only let Boston bleed points, but also tired out Tuukka Rask (64 games played).
CON: You're taking away one of Boston's top strengths
Boston's current goalie corps might be viewed as a luxury given the high-end ceiling that both Ullmark and Swayman boast.
But even if moving one of Ullmark or Swayman frees up cap space or nets you a solid return, it's still a high-leverage roster reshuffle that presents plenty of risk.
Beyond the chemistry and hugs shared between Ullmark and Swayman, their effective rotation in net formed the backbone of a Bruins defense that regularly gave teams little to work with in their own zone.
Yes, perhaps Ullmark isn't a Vezina Trophy contender once again in 2023-24. But even a regression from Ullmark still leaves you with … a very, very good goalie.
As Boston prepares itself for the eventual post-Bergeron era, it has plenty to work with in terms of the framework of its roster.
They still have a 60-goal scorer in David Pastrnak to build around up front. A defense featuring both Charlie McAvoy and Hampus Lindholm offering a rock-solid foundation.
And a goalie corps featuring both Ullmark and Swayman together gives Boston arguably the best 1-2 punch in the entire league, even when factoring in the variance that comes with the position.
Boston has other areas of the roster to address, no doubt. Money needs to be moved. But the Bruins might be robbing Peter to pay Paul by shipping out one of Ullmark or Swayman.
PRO: The Bruins may not need an Ullmark-Swayman tandem to still contend
Let's get one thing straight here. The 2022-23 Bruins don't win 65 games in the regular season without their dynamic duo of Ullmark and Swayman.
Had Jim Montgomery and the Bruins opted to keep that rotation going in the playoffs, we may not be even penning these offseason musings. At least not in the middle of May.
But does Boston necessarily need two top-10 goalies in 2023-24, especially with Swayman due a pay raise this summer?
Even though Swayman doen't have as much leverage this summer as an RFA, he's still due a nice bump in pay from the $925,000 annual cap hit he earned over the past three seasons.
If both Swayman and Boston opt for a bridge deal, comparable contracts include Dallas' Jake Oettinger (three years, $4 million cap hit) and Florida's Spencer Knight (three years, $4.5 million cap hit).
A similar contract for Swayman means Boston is likely allocating at least $9 million to their goalies in 2023-24 and beyond if both remain on the roster.
And when you look around the league at the other teams still in the hunt for a Stanley Cup, it's not like you're staring at a gauntlet of elite talent.
Even though Sergei Bobrovsky has turned his game around in the postseason, he's been far from the player that captured two Vezina Trophies with the Blue Jackets. And playoff heroics aside, the Panthers can't be too thrilled that he's logging a $10 million cap hit per year through the 2025-26 season.
Bruce Cassidy and the Vegas Golden Knights punched their ticket to the Western Conference Final with a dynamic goalie grouping of … Laurent Brossoit and Adin Hill.
The Hurricanes have rolled out three goalies so far this postseason in Frederik Andersen, Antti Raanta, and Pyotr Kochetkov.
Dallas might have the lone "franchise" goalie for the present and future in Oettinger.
Boston might have the best duo in the entire league. But as this postseason proves, sometimes all you need is a guy or two who can simply get the job done … rather than spend heavily to retain field two Vezina-level talents.
It's a gamble that could determine just how viable Boston's contention odds are in 2023 and beyond.
Newsletter Signup
Stay up to date on all the latest news from Boston.com