Bruins
Bruins' Don Sweeney named a finalist for NHL GM of the Year Award
Don Sweeney helped build a roster that set the record for most wins (65) in a single NHL season.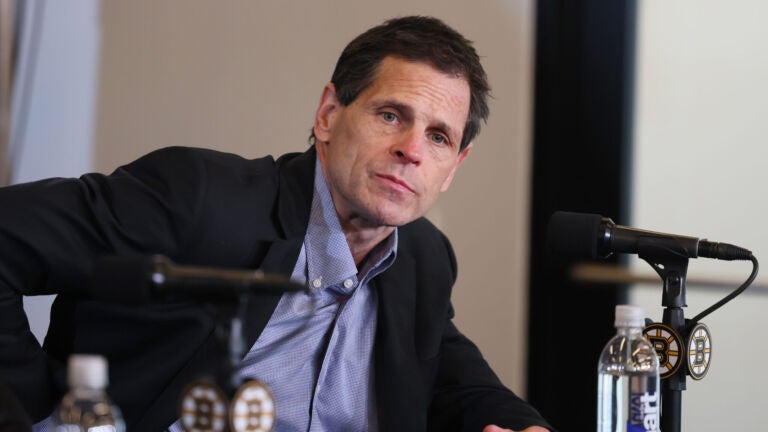 The Bruins were unable to see a record-setting season through with a Stanley Cup championship, but little of the blame falls on the shoulders of general manager Don Sweeney.
With Boston fixed in a win-now window, Sweeney and Boston's front office assembled one of the deepest rosters in recent memory during the 2022-23 season.
For his efforts toward trying to put the Bruins over the top, Sweeney was named a finalist for the 2023 NHL General Manager of the Year Award on Wednesday afternoon.
Bill Zito of the Florida Panthers and Jim Nill of the Dallas Stars were also named finalists for the annual award. This year's winner will be announced at the NHL Awards in Nashville on June 26.
Sweeney left his fingerprints all over Boston's revamped roster, starting with the hiring of Jim Montgomery after the polarizing decision to let Bruce Cassidy go.
Even though Cassidy now sits just one game away from the Stanley Cup Final with the Vegas Golden Knights, the writing seemed to be on the wall that Cassidy's messaging had gone stale in Boston's dressing room.
During an offseason where both Patrice Bergeron and David Krejci returned for a combined $3.5 million cap hit, Sweeney further bolstered Boston's forward corps by swapping out Erik Haula for Pavel Zacha.
Zacha, who later signed a four-year extension with Boston in January, posted a career-high 57 points in his first season with Boston. If one (or both) of Bergeron and Krejci retire this summer, Zacha stands as an obvious candidate for a top-six role during the 2023-24 season.
Other moves Sweeney reeled off back in 2021-22 set the foundation for Boston's success this past year. After signing Linus Ullmark to a four-year contract in free agency back in July 2021, the B's netminder developed into a Vezina Trophy frontrunner in 2022-23.
After trading for Hampus Lindholm back in March 2022 (and signing him to an eight-year extension), the B's blueliner was a Norris Trophy contender in his first full season with Boston.
During Boston's most recent trade deadline, Sweeney further added to an already first-place roster by trading for Tyler Bertuzzi, Dmitry Orlov, and Garnet Hathaway in a flurry of deals.
The same day that Sweeney dealt for Bertuzzi, he also signed David Pastrnak to an eight-year, $90 million contract extension.
Unfortunately, Boston let a promising Cup run slip through its grasp against the Panthers. Looking ahead, Sweeney has a cap crunch to navigate as the Bruins look to retool on the fly.
Still, Sweeney is likely considered the frontrunner to take home his second GM of the Year Award. Regardless of the end result, Sweeney went above and beyond to put his team in the best position to win this past season.
Sweeney will be one of many Bruins representatives at the NHL Awards in Nashville. Along with Sweeney, Patrice Bergeron (Selke Trophy), Linus Ullmark (Vezina Trophy), David Pastrnak (Hart Trophy and Lindsay Award) and Jim Montgomery (Jack Adams Award) are all finalists for league accolades.
Newsletter Signup
Stay up to date on all the latest news from Boston.com