Bruins
As Bruce Cassidy sits four wins away from the Stanley Cup, should the Bruins regret canning their former coach?
Bruce Cassidy and the Golden Knights sit just four wins away from a Stanley Cup title.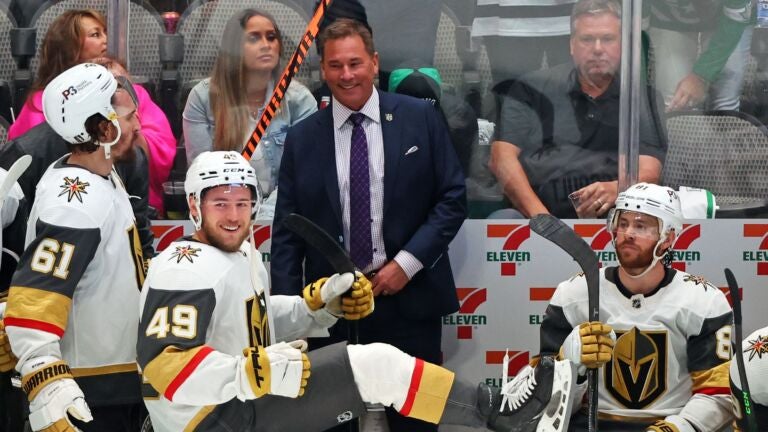 It's been over four weeks since the Boston Bruins skated off the ice at TD Garden in heartbreaking fashion.
Out west, their former bench boss in Bruce Cassidy sits just four wins away from hoisting hockey's top prize.
During a spring where little seems to have gone right for a record-setting Bruins roster, the sight of Cassidy leading the Golden Knights to the Stanley Cup Final feels fitting.
For most fans, it was another way to twist the knife in a season gone awry.
For a choice few, Cassidy's success stands as bitter validation — with the Bruins inevitably facing repentance for canning a coach who led them to 245 wins, a President's Trophy, and 60 minutes away from a title.
When the Bruins opted to fire Cassidy after a first-round exit against the Hurricanes last year, the prevailing message from Boston's top brass centered around the need for a new voice.
"You don't go out and get 107 points, win 51 games, if the players aren't responding to you. It just doesn't happen. He's able the push the buttons that are necessary," Don Sweeney said last June after firing Cassidy. "But it takes its toll. Over the course of time, it takes its toll. You've got to find a way to either develop that message a little differently."
Clearly, the Golden Knights tuned into whatever Cassidy preached in his first year out in the desert.
Vegas has carved a swath through the Western Conference thanks to an abundance of scoring depth and a smothering defensive system — the latter a hallmark of a Cassidy-led club.
While star players like Jack Eichel have bought into Cassidy's game plan in search of a sought-after championship, Vegas has not wavered against multiple waves of adversity.
Adin Hill, once fixed as the third option on Vegas' goalie depth chart, has now posted a .937 save percentage through 11 playoff outings.
Following the postseason trajectory of both Cassidy and Jim Montgomery was always going to be a narrative worth following, especially if the hockey gods eventually paved the way for a clash in the Cup Final.
But as Cassidy braces his team for the Panthers and the Bruins sit in pained anticipation for a seismic offseason, it's only natural to ask: Should the Bruins regret firing Cassidy?
It might be tough to ignore the optics, especially as the Golden Knights open the Cup Final on Saturday night at T-Mobile Arena.
But ultimately, holding onto such second-guessing sentiment is a notion that's not only short-sighted — it overlooks the inexorable shelf life that all coaches are saddled with in pro hockey.
Ultimately, two things can be true here.
Cassidy is a fantastic coach whose candid cadence and lofty expectations can elevate just about any locker room he's given the reins to. It's tough to argue against the body of work that Cassidy has crafted over the past seven years now.
But you can also say that the time had come for Boston to move on, especially if Cassidy's overall messaging was starting to get tuned out across the board.
Yes, you can look at the obvious domino effect that played out after Cassidy was fired, be it Jake DeBrusk rescinding his trade request or David Krejci returning from a one-year trek back to his native Czechia.
But every year, very good coaches are handed pink slips across pro sports whenever management believes that their voice and principles have started to go stale. Even the most professional, accountable players in a locker room will start to tune out the same mantras and commands that have been shouted out year after year.
Beyond the potential discontent from a few players at Cassidy's communication style, the Bruins decided they needed to shake things up in search of a higher ceiling with a tried-and-true core that wasn't getting any younger.
And let's face it. There were plenty of critics of Cassidy's firing who were quickly won over by Montgomery and his role in Boston's record-setting season.
Beyond his positive approach on and off the ice, Montgomery's system tweaks drew more talent out of a roster that once seemed to have peaked years ago.
An emphasis on shot quality over quantity and more offensive freedom on the blue line paid instant dividends. After ranking 15th in 5v5 high-danger goals in 2022, Boston ranked fourth this past season.
Boston placed second in the league with 3.67 goals scored per game, along with a league-leading 2.12 goals against per contest. All season long, Montgomery seemed to push the right buttons with a roster that clicked across the depth chart.
Beyond the expected contributions from star players like Patrice Bergeron and David Pastrnak, players like Pavel Zacha and Hampus Lindholm took major steps forward. Brandon Carlo and DeBrusk both submitted arguably the best seasons of their respective careers. Trent Frederic broke through with 17 goals.
Of course, it's tough to hang your hat on record-breaking numbers in regular-season play when you bow out in the first round. And make no mistake, Montgomery played a major role in the Bruins' momentum collapse.
Be it his mishandling of the goalie rotation or various lineup switcheroos that yielded disastrous results, just about every call Montgomery made from Games 5-7 backfired tremendously for his team.
"The overriding one is it's my job to get players to own the moment, seize the moment. And that didn't happen, right? And that falls on me," Montgomery said in his last presser of the season. "And I think with the hard times we went through, we have to learn from them, right? If we don't learn from them, how are we going to grow?"
It was a brutal ending to a season marked with so much promise, with that loss to the Panthers further magnified by the murky future of both Bergeron and Krejci.
But Montgomery is far from the first coach to be marred by lineup miscues and costly calls.
Even Cassidy was far from immune from season-deciding slip-ups in Boston.
His stubborn refusal to split up the Marchand-Bergeron-Pastrnak line time and time again stunted Boston's scoring depth — especially in the 2019 Cup Final when Ryan O'Reilly's line dominated Bergeron's grouping.
His commitment to an injured Tuukka Rask in the 2021 Eastern Conference Semifinal proved to be Boston's undoing against the Islanders, especially with a poised rookie in Jeremy Swayman ready and willing to play.
Montgomery, much like Cassidy, is a very, very good coach. And much like the lessons that Cassidy has learned over his previous six years with Boston, Montgomery will have his chance to right his wrongs in 2023-24.
So far, Cassidy has earned the last laugh against his former club. There's no doubting that.
Now the onus is on Montgomery — and especially the players themselves — to offer up an appropriate retort next season.
After all, that's what good coaches do. And both Vegas and Boston have the luxury of having one behind their respective benches.
Sign up for Bruins updates🏒
Get breaking news and analysis delivered to your inbox during hockey season.