Bruins
Bruins reportedly 'exploring' what they need to do to keep Tyler Bertuzzi
Bertuzzi is set to become a free agent while the Bruins don't have much cap space.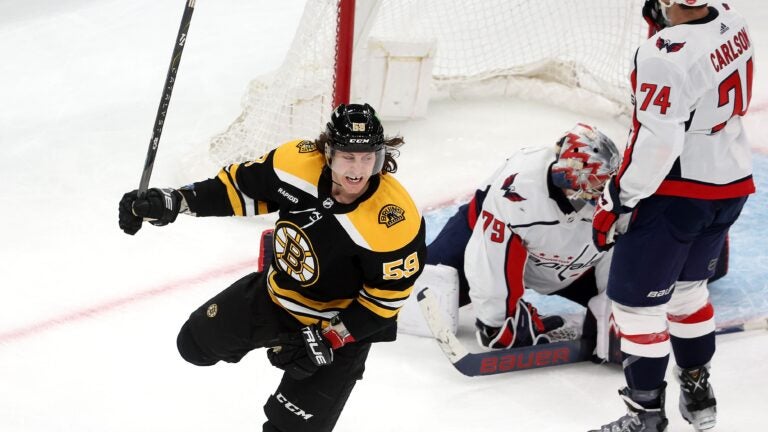 In an offseason where the Bruins will have to decide whether to keep or part ways with several key players, it appears Tyler Bertuzzi falls in the "like to keep" column.
Bertuzzi is set to become a free agent in less than a month, but "Boston is exploring what it needs to do to keep" him, Sportsnet's Elliotte Friedman reported Friday.
The 28-year-old forward certainly impressed after Bruins traded for him ahead of the deadline in March. He scored four goals and recorded 16 points in 21 regular-season games with the Bruins.
Bertuzzi stepped up his play in the postseason, scoring five goals and recording 10 points in the Bruins' first-round loss to the Panthers. His five goals were tied with Taylor Hall for the most on the team in the playoff series, and his 10 points were tied with Brad Marchand for the most on the team in the seven-game loss.
Prior to his two months with the Bruins, Bertuzzi played for the Detroit Red Wings for six-plus seasons. He consistently produced in the seasons that he played 65-plus games. He had 21 goals and 47 points in the 2018-19 season. He followed that with 21 goals and 48 points in the 2019-20 season. He had his best season in 2021-22, scoring 30 goals and recording 32 assists as he was nearly a point-per-game player in the 68 games he played.
However, Bertuzzi also dealt with injuries in recent seasons that kept him off the ice. He played just nine games in 2020-21 due to a back injury. He played in just 50 regular-season games this past year because he suffered injuries to each hand/wrist.
But Bertuzzi's production is expected to far outweigh any injury concerns in teams' valuation of him when he becomes a free agent. Daily Faceoff's Frank Seravalli projects Bertuzzi will receive a six-year contract worth $5.25 million per year.
If Bertuzzi's contract is worth that much, that would be a bit of a problem for the Bruins if they'd like to keep him. They're projected to have less than $5 million in cap space at the start of the offseason as of Saturday.
Patrice Bergeron, David Krejci, Dmitry Orlov, and Garnet Hathaway are all also projected to be free agents as well. Seravalli projected that Orlov will be the third-highest-paid free agent this offseason, right behind Bertuzzi, as he thinks he'll receive a five-year contract worth $6.25 million per year.
So, if the Bruins want to keep their top free agents, multiple other key players will almost certainly have to be traded this offseason.
Sign up for Bruins updates🏒
Get breaking news and analysis delivered to your inbox during hockey season.