Bruins
Which Bruins players could be on the move in order to clear cap space?
With a little under $5 million in cap space, the Bruins will likely need to move multiple contracts this summer.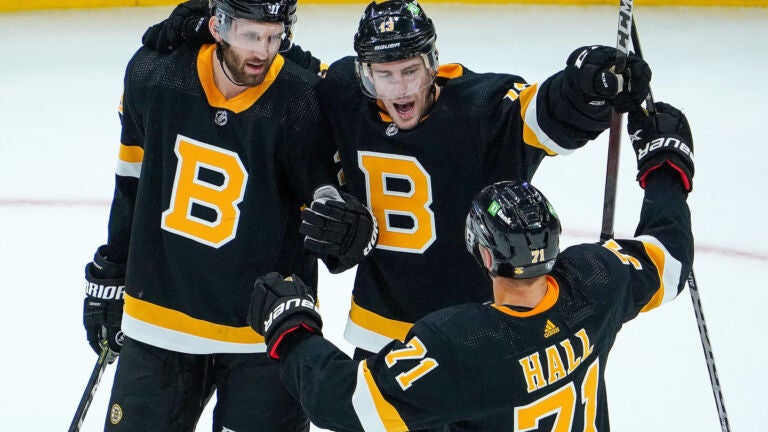 Something's got to give when it comes to the Bruins' looming cap crunch this summer.
With $4.5 million in bonus overages on the books next season and David Pastrnak commanding nearly double his previous cap hit, Boston doesn't have plenty of fiscal flexibility going into a potentially transformative offseason.
The NHL sure isn't going to bail out Don Sweeney and Co., with NHL commissioner Gary Bettman confirming on Saturday that the league's salary cap upper limit will likely only increase by $1 million this summer.
With a little under $5 million in cap space (per CapFriendly) and just seven forwards signed through 2023-24, Boston is going to need to shed a few contracts in order to bolster this current grouping.
So who might the Bruins consider moving this summer?
Mike Reilly, Defenseman
The left side of Boston's defense is an area of the roster that's destined to be chipped away this summer in order to save some cash. It wouldn't come as much of a surprise if at least two blueliners have to be moved.
Reilly stands as the obvious first domino to fall. And frankly, a split would be the best for all parties involved.
Reilly's contract ($3 million cap hit) and Boston's depth made him the odd man out last season, with the puck mover logging 36 games down in Providence and just 10 games up with the big club.
That's an untenable situation for everyone, given that Reilly is still a solid pro who can and should be playing every day up in the NHL. Boston could try to flip him this offseason to a team that could use the bodies like the Blackhawks, although his $4 million in base salary could make things difficult.
If Boston can't find a suitor for Reilly, it could opt to buy him out after the Stanley Cup Final wraps. If Boston executes a buyout, they will save $2.6 million in cap space this season ($333,333 penalty) … but will get knocked for an additional $1.333 million in 2024-25.
Regardless of the avenue they take, the Bruins need to find a way to shave off a majority of Reilly's contract moving forward.
Derek Forbort, Defenseman
Forbort is another left-shot D whose contract is set to expire next season. And while the Bruins have valued Forbort and his efforts on the PK, his less-than-stellar numbers at 5v5 play could make him the odd man out if Boston needs to move a starter off of its blue line.
In a perfect situation, the Bruins don't move a useful player like Forbort or Matt Grzelcyk on the back end. But Boston isn't granted such a luxury with their cap situation.
Given Forbort's struggles next to Charlie McAvoy and the strong returns of a Hampus Lindholm and Brandon Carlo pairing, Forbort is essentially penciled into his usual spot as a regular on the third D pairing.
If Boston flips Forbort for a late draft pick, they can replace him further down on the depth chart with Jakub Zboril ($1.1 million) or even sign another hard-nosed D-man on a cheaper contract like Luke Schenn.
Matt Grzelcyk, Defenseman
Grzelcyk might be the most appealing trade chip that Boston possesses on the blue line, although his versatility and puck-moving prowess could make him an asset that the Bruins shouldn't part with.
If Boston dangled Grzelcyk (signed for one more year at $3.687 million), it'd likely get a solid return for a player who boasts sterling underlying numbers and can even log power-play reps on a team with fewer puck-moving options on defense.
At this point, we all know the warts in Grzelcyk's game when it comes to countering physical play and whether he has the fortitude to log 19-20+ minutes a night.
Still, moving Grzelcyk does make the 2023-24 Bruins worse in the short term. Not only was Grzelcyk the most effective D partner next to McAvoy (especially when compared to options like Dmitry Orlov and Forbort), but he also held his own across the depth chart, even on the right side.
Grzelcyk's ability to serve as a useful Swiss Army knife across the lineup should make him a dependable weapon on Boston's defense. But Jim Montgomery's usage of him during Boston's first-round series against Florida should raise eyebrows.
Grzelcyk only played in four of Boston's seven games against the Panthers, and only logged an average of 12:00 of ice time. That doesn't exactly seem like a player that the Bruins had an abundance of trust in during the postseason, even though Boston's defense was arguably worse in games when Grzelcyk was swapped out.
Still, if Montgomery and the Bruins don't think Grzelcyk is a steady option on their roster, they might be better off seeing what they can get for the Charlestown native in a deal.
Taylor Hall, Forward
Hall could be the top trade chip that the Bruins have to cash in if they plan on handing out another hefty contract or two this summer.
A top-six stalwart who posted 61 points in 2021-22, Hall was a dependable foot soldier on a loaded Bruins roster in 2022-23. Slotted into a third-line defensive role next to Charlie Coyle, Hall recorded 36 points in 61 games, and elevated his game in the postseason with five goals against Florida.
Hall could be in line for another top-six promotion in 2023-24 next to skaters such as Pavel Zacha and David Pastrnak. But if Boston wants to prioritize another forward in free agency such as Tyler Bertuzzi, moving out Hall's contract (signed through 2024-25 at $6 million AAV) could be the avenue the team takes to make the money work.
Even though Hall's value has taken a slight hit in terms of his lack of power-play reps, he could still be a 60-point player if thrust back into a more high-scoring role next season. But it'll ultimately come down to whether or not the Bruins think that another middle-six stalwart can offer higher value, both in 2023-24 and further down the road.
Expect to hear Hall's name mentioned in many trade talks this summer, but the veteran still has a 10-team no-trade list for the 2023-24 season.
Linus Ullmark, Goaltender
We've already delved pretty deep into what could be a seismic move for Boston this summer.
Yes, it's not often you see a team trade the likely Vezina Trophy winner in the same offseason. But if the Bruins believe that Jeremy Swayman is ready for No. 1 reps (and someone like Brandon Bussi can step in as the backup), moving Ullmark for a solid haul and $5 million in cap savings is a pretty tangible scenario that Sweeney and his staff need to weigh.
But if Swayman labors in his first full season as Boston's top netminder and a backup option can't counter extended slumps, the Bruins could be in deep trouble in 2023-24 if Ullmark isn't around.
Jake DeBrusk, Forward
At first glance, moving a 26-year-old top-line winger is a foolhardy move.
After all, the Bruins already need bodies up front and DeBrusk was destined for 30+ goals last season if he didn't break his leg during the 2023 Winter Classic. And with DeBrusk accounting for just a $4 million cap hit, he represents a very strong value for a team that needs key players playing under affordable deals.
The decision to deal DeBrusk might come down to what a team will offer the Bruins, as the winger could net a pretty solid return this season, be it for future assets or even as part of a larger "hockey trade".
Perhaps the most impactful factor in any DeBrusk trade is whether or not Boston wants to pay him a hefty new deal next summer when he officially hits unrestricted free agency.
Do the Bruins want to be the team handing him a six-year deal worth at least $6 million per year? If not, then a deal at least becomes more realistic this offseason — even though he'd still be a net positive for this team in 2023-24.
Charlie Coyle, Center
Signed through 2025-26 with a $5.25 million cap hit, Coyle has drawn some criticism for his annual payout not necessarily matching his tangible production.
And while the Weymouth native may not be a 50+ point player year in and year out, he still offers tremendous value to the Bruins, especially in a more defensive-minded role.
With Jim Montgomery allocating fewer and fewer D-zone reps to Patrice Bergeron and David Krejci, Coyle's role was augmented into more of a defensive specialist in 2023-24. Not only did he thrive under taxing minutes both at 5v5 play and on the PK, he ranked fourth on the Bruins with 34 5v5 points — more than Brad Marchand, Bergeron, and DeBrusk.
Add in the uncertainty regarding both David Krejci and Bergeron, and Boston really shouldn't be looking to move out any more centers this summer. He may not be a top-six regular, but the Bruins' top brass really liked what they saw from the team when both Zacha and Coyle were earning heavy minutes up front against the Panthers in Games 3 and 4.
Newsletter Signup
Stay up to date on all the latest news from Boston.com