Bruins
Bruce Cassidy reflects on his firing from Bruins, their first-round exit and his pursuit of the Stanley Cup
"You take it a bit personal, right, but I know the circumstances."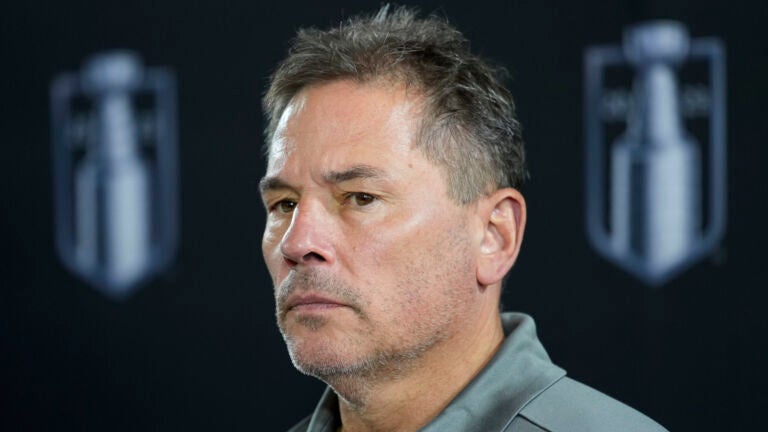 Bruce Cassidy has built a reputation as one of the more candid and honest interviews in the NHL.
As such, it came as no surprise that the Golden Knights' head coach was open and direct when asked to reflect on his firing as the Bruins' bench boss and Boston's subsequent record-setting season.
In an extended interview with Jesse Granger of The Athletic, Cassidy acknowledged that even successful teams often switch things up if management believes that an overhaul is needed. Oftentimes, it's the coach that's the first one to go.
"You take it a bit personal, right, but I know the circumstances," Cassidy told Granger of his firing and Boston's record-setting run in 2022-23. "They did a good job of changing some things.
"We changed some things here that helped the Knights. Pete [DeBoer] changed things in Dallas that helped the Stars. You can't beat yourself up over it. Coaches move. I got an opportunity there because a very good coach in Claude Julien got let go, so that's just the way it works."
Cassidy crafted quite the resume during his tenure behind Boston's bench. The Bruins clinched a playoff berth in all six of his seasons as head coach, bringing Boston within 60 minutes of a Stanley Cup title in 2019. He posted a 245-108-46 record with the B's, winning a Presidents' Trophy in 2020.
After swapping out Cassidy with Jim Montgomery this past summer, the Bruins steamrolled the competition from October through April. Not only did they clinch another President's Trophy, they set the league record for most wins (65) and points (135) in a single season.
Cassidy wasn't bothered by any narratives crafted about his coaching style and how it impacted the Bruins during his time with the team. However, Boston's stunning first-round loss to the Panthers has erased any notion that the Cassidy family will hear jeers when they return to Massachusetts later this summer.
"I'm a big boy. I can deal with it," Cassidy said of criticism. "What I was more concerned with was we have a house in Cape Cod, and we like it there in the summer. We have a lot of roots there. I worked there for 15 years and the kids were born there.
"I was a little relieved after [the Bruins] lost in the playoffs for my kids not having to hear about 'Oh, if your dad had done a better job…' You know what I mean? Kids say things. … "I think of my kids every day, because if they're happy I'm happy, and if they're sad I'm sad," he said. "I was so relieved from that point, for them."
Though Cassidy and his family now call Las Vegas home during the NHL season, he added that he expects to remain in Massachusetts for the foreseeable future, especially during the offseason.
Cassidy, a longtime Bruins fan while growing up in Ottawa, still has deep roots in the Boston area. He first joined the organization in 2008, and his children have spent most of their lives in New England.
Still, Cassidy remains fixated on the lowlights that came with his otherwise impressive tenure in Boston, headlined by that Game 7 loss to the Blues in the 2019 Stanley Cup Final.
"I took it hard," Cassidy said. "It was tough, and even to this day, it stings when you get that close. You go all the way to Game 7, with your home crowd. I live in Boston and people are disappointed. They let you know. They're proud of their team, but they're like 'C'mon.'"
Of course, Cassidy isn't focused all that much on the past at the moment.
While the Bruins' season concluded on April 30, Cassidy and the Golden Knights now sit just two wins away from hockey immortality.
Vegas now holds a 2-0 edge over the Florida Panthers in the 2023 Stanley Cup Final, with Game 3 set for Thursday night down at FLA Live Arena.
"I don't have my name on it," Cassidy said of the Stanley Cup. "I don't want to say it's everything, but in terms of my career, it is everything to win the Cup. Those [other trophies] are all great. They are. They're accomplishments, but they're not the Stanley Cup. People talk about Stanley Cup champions, not Jack Adams winners or Presidents' trophy winners."
Newsletter Signup
Stay up to date on all the latest news from Boston.com