Bruins
Weighing the pros and cons of a Pierre-Luc Dubois trade for the Bruins
Dubois, 24, could be a key addition to a revamped Bruins core entering the post-Bergeron era.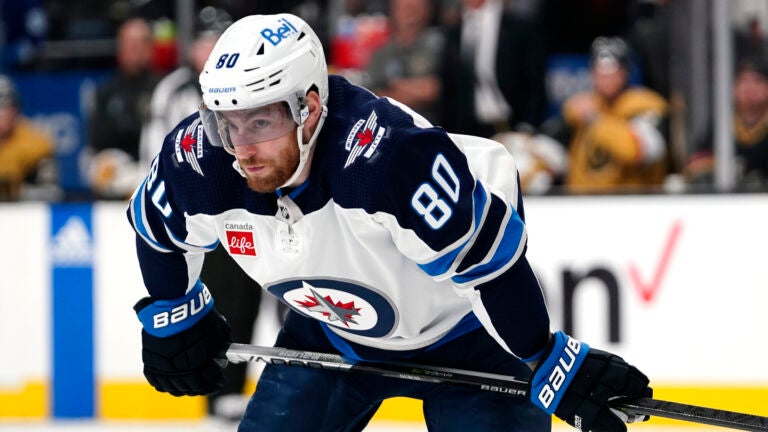 Don Sweeney has plenty on his plate this offseason.
Clearing cap space in order to alleviate a fiscal crunch stands at the top of the Bruins' to-do list over the summer.
But with both Patrice Bergeron and David Krejci still weighing their futures in the wake of a crushing first-round exit, the Bruins also need to leave no stone unturned when it comes to adding talent at the center position.
It hasn't taken very long for one promising pivot to put himself out on the trade market.
According to Pierre LeBrun of The Athletic, Pierre-Luc Dubois and his representatives have informed the Winnipeg Jets that the young forward doesn't intend to sign long-term with the organization, and a trade might be the best path forward.
Dubois, 24, is set to hit restricted free agency this summer before becoming a UFA in 2024.
Given Dubois' skillset, age, and Boston's murky future as far as its center pipeline, targeting the Jets forward sure seems like a no-brainer.
But just how viable is a Dubois trade for the Bruins in 2023? Let's weigh the pros and cons of a potential blockbuster move.
Pro: Dubois is a perfect piece to add to a revamped Bruins core.
Even with their cap woes and the uncertain futures of Bergeron and Krejci, the Bruins should still field a very competitive roster in 2023-24. Beyond that, they've got a younger core locked in place long-term that Sweeney and Boston's front office should be able to build around in the years ahead.
David Pastrnak (signed through 2031) is a 60-goal scorer who should continue to torment opposing defenses for years to come. Pavel Zacha (signed through 2027) could be a top-six stalwart moving forward.
Boston's blue line will be anchored by two top-15 defensemen in Hampus Lindholm and Charlie McAvoy, both now signed through 2030.
And even though their goalie corps could see some major upheaval this summer, the Bruins should be in good hands if they lock in Jeremy Swayman long-term as their future No. 1 option between the pipes.
Add in a growing cap ceiling in 2024 and beyond, and the Bruins are positioned well as a team that should continue to compete beyond the Bergeron Era.
The lone roadblock in that equation is the lack of two quality centers down the middle. Even though Zacha could step into a 2C role, the Bruins will have some tough sledding ahead in 2023-24 if both Bergeron and Krejci hang up their skates.
And even if one of those two legendary pivots do return next year, it only further delays the inevitable (and unenviable) task of replacing them down the middle in 2024.
Swinging a trade for a proven top-six regular like Dubois does more than just alleviates those concerns in the short term.
With Dubois still not even in his prime, he'd fit the mold of Sweeney's long-term plans of building a sustainable, contending roster five-plus years down the line.
Even though Boston has been fixated on a "win-now" mindset over the last few years, Sweeney has planted the seeds for his long-term vision by acquiring and signing key assets like Lindholm and Zacha long-term to join the next wave of B's leadership.
Dealing for a 24-year-old Dubois and inking him to a lengthy contract would follow a similar script.
Con: It will cost a ton to acquire Dubois.
In a shocking turn of events, trying to trade for an established, 24-year-old center is going to cost a pretty penny.
And while the Bruins do have some assets that can be moved, Winnipeg isn't exactly an ideal trade partner in terms of what Boston might be comfortable with giving up.
The Jets seem destined for an extensive retool this summer, with GM Kevin Cheveldayoff likely breaking up an underachieving core of players like Blake Wheeler, Mark Scheifele, and Dubois.
Of course, the Bruins could dangle blue-chip prospects like Mason Lohrei, Fabian Lysell, or Georgii Merkulov. But a first-round pick is likely another ask from Winnipeg, and Boston doesn't have another first until 2025. They won't pick in the second round until 2026.
Another way to facilitate a deal is to send established NHL players back in a trade with the Jets. But would a retooling Winnipeg team really want players already hovering around 30 years old?
Linus Ullmark could be Boston's top trade chip this summer, but does a Jets team that already has Connor Hellebuyck really want to replace him with a fellow veteran?
Taylor Hall could be a useful middle-six pickup for many other teams, but what would the Jets really do with a 31-year-old forward like him?
Even if Winnipeg wanted either Ullmark or Hall, both players have trade protections that could hinder a trade out to Manitoba.
If Boston has to move lineup regulars off this team in a deal with the Jets, you're likely looking at younger, effective players like Jake DeBrusk, Brandon Carlo, or even Jeremy Swayman — along with the aforementioned draft capital.
That's a lot to give up by a team that ideally wants to retain most of their younger contributors for the long haul.
But again, you've got to give to get in this league.
Pro: Dubois fits the mold of what the Bruins are looking for in a top-six regular.
Dubois isn't a superstar placed in the same tier as a Jack Eichel or Matthew Tkachuk.
But Dubois could create a similar impact for a team looking to do some damage in the postseason.
Bruins fans likely haven't spent much time assessing Dubois' game during his time up in the frozen tundra of Winnipeg. But the pugnacious forward would likely endear himself to the TD Garden crowd in short order thanks to his coveted blend of skill and snarl.
A steady offensive contributor, Dubois has surpassed the 60-point mark three times in his six full NHL seasons, including a career-high 63 points (27 goals, 36 assists) in 73 games in 2022-23. He's also thrived as an effective netfront option on the Jets' power-play unit during his tenure there.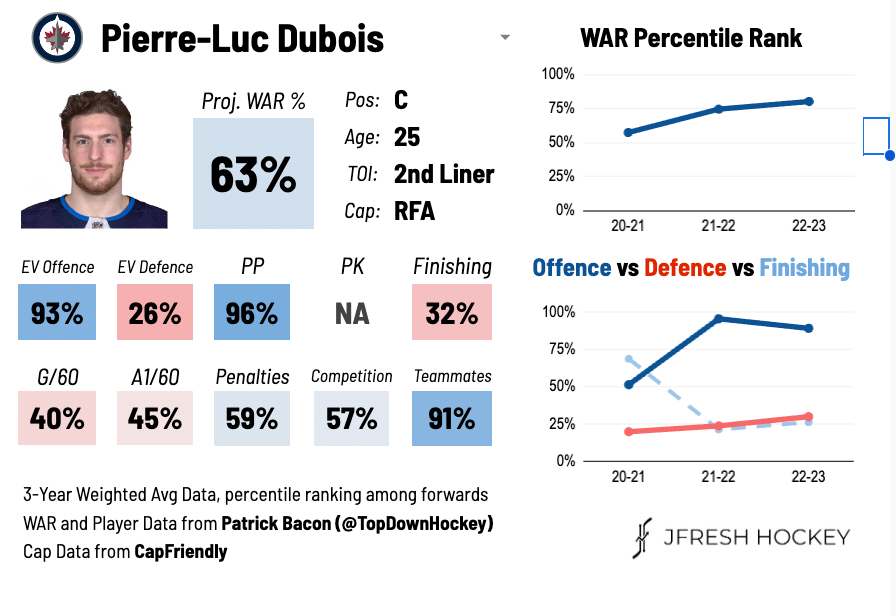 But at 6-feet-4-inches and 214 pounds, Dubois is also a bruising power forward who has a knack for making his presence felt beyond just the scoresheet. Dubois has logged over 100 hits in three of his six seasons, finishing with 71 hits and 77 penalty minutes in 2022-23.
Rolling out a top-six regular capable of scoring 30 goals and doling out a slew of punishing hits is a rare asset in today's NHL. The Panthers benefited from having a power forward like Tkachuk anchoring their top six unit during this playoff run.
Prying a player like Dubois out of Winnipeg not only would address a critical void on Boston's depth chart, it would give the B's roster makeup some much-needed heft, especially once the calendar flips to the spring.
Con: Does Dubois even want to play in Boston?
The Bruins are already looking at an uphill climb in the Dubois sweepstakes, given that many other suitors with more draft capital/prospects should be able to outbid them this summer.
But when it comes to Dubois' second trade request of his young career, it's impossible to ignore the multiple ties between him and his local team, the Montreal Canadiens.
Dubois' agent, Pat Brisson, noted last summer during the 2022 NHL Draft in Montreal that the Habs are a team that the Quebec native would want to play for.
That speculation has carried over into this offseason, further fueled by Dubois' desire to seek a trade out of Winnipeg.
Even though Dubois doesn't officially hit unrestricted free agency until 2024, any team that trades for him this summer likely wants a long-term contract in place.
According to Arpon Basu and Marc Antoine Godin of The Athletic, it does seem like Dubois will submit a list of five or six teams to the Jets that he'd be willing to sign an extension with.
Montreal will likely be on the list, and both Basu and Godin added that Dubois might be willing to settle for less money on a new contract if he lands with a true Stanley Cup contender.
But are the Bruins on that short list?
Con: Dubois does have some baggage during his previous stops.
You can't deny Dubois' high-end talent and his ability to wreak havoc whenever he hops over the boards.
But you also can't ignore the various red flags he's planted in the ice with both the Blue Jackets and now the Jets.
Dubois drew plenty of criticism for requesting a trade from Columbus in 2021 and subsequently dogging it on shifts in the days leading up to his trade to Winnipeg.
And even though he was productive in Winnipeg, this will now mark his second reported trade request in a little over two years.
Add in the Jets' second-half slide and subsequent lackluster showing in the postseason (as called out by their coach in Rick Bowness), and Dubois doesn't exactly have the most sterling resume beyond the stat sheet.
Of course, a ticket out of Winnipeg and that leadership group might be the best for Dubois, especially if he lands in an established dressing room like Boston.
There have been plenty of instances where players with "red flags" have thrived after a clean slate. Just ask the Golden Knights if they have any regrets over plucking a miserable Jack Eichel out of Buffalo.
Still, if the Bruins are going to give up a ton of assets for Dubois, they need to do their due diligence.
Given the likely cost, they need to make sure he fits in with the accountable, team-first culture that they hope endures long after franchise pillars like Bergeron call it quits.
Sign up for Bruins updates🏒
Get breaking news and analysis delivered to your inbox during hockey season.