Bruins
Bruins free agency live updates: Boston signs Lucic, 8 other players
The Bruins have $13.6 million in cap space going into free agency.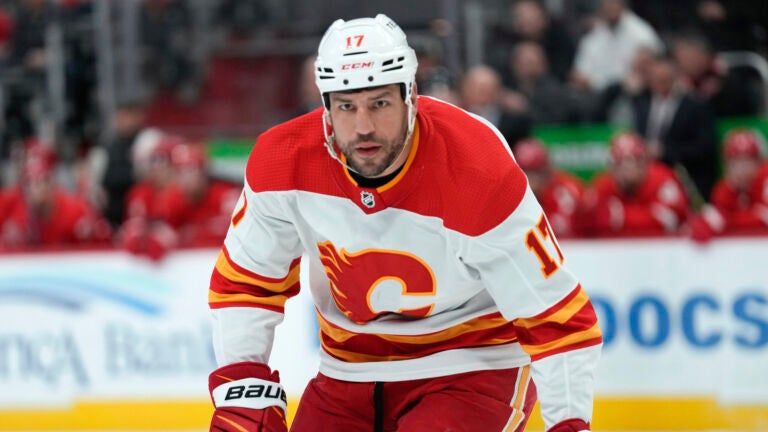 Don Sweeney didn't mince words earlier this week in Nashville.
"I think the one thing that we're going to have a tougher time, unless I make a subsequent move, would be to chase the upper end of the marketplace," Sweeney said of Boston's plans in free agency. "Both from a term and dollars standpoint, I think that's the simplest way I can describe it, but we are going to find some guys that can slot in and bring a boost to our hockey club in different ways."
Even after buying out Mike Reilly's contract (creating around $2.6 million in additional cap space), the Bruins still only have roughly $13.6 million to sign seven forwards and re-up Jeremy Swayman, among other roster tweaks.
With the start of NHL free agency set to commence at noon on Saturday, we'll have live updates on who the Bruins will sign, which former B's skaters will head elsewhere, and what other offseason maneuvers Sweeney might have up his sleeve.
Live Updates:
11:00 p.m.: So … what's next?
Boston clearly opted for value and future flexibility with their free-agent signings today. It will be interesting to see how they make use of what should be a boatload of cap space next summer.
More on Boston's next moves above:
4:45 p.m.: Milan Lucic speaks to media
4:34: Don Sweeney press conference highlights
3:45 p.m. – Acciari heads to Pittsburgh
Nice deal for Acciari. Considering the cheap deals that other veteran fourth liners are signing, good to see Acciari got both term and a solid deal.
3:25 p.m. – Bruins reportedly add depth D-man
Another depth add for Boston. Wotherspoon played in 12 games with the Islanders last season. Turns 26 in August.
3:16 p.m. – Bruins reportedly sign Anthony Richard
Another depth signing for Boston here with its reported deal for Anthony Richard.
Posted 67 points in 60 games with the AHL Laval Rocket last season. Either a nice add for Providence or a potential option if he puts together a strong training camp. 26-year-old forward.
3:01 p.m. – Donato to Chicago
Another former Bruin finds a new home.
2:50 p.m. – Bruins remain focused on cap flexibility in 2024
We'll likely gain more insight once Sweeney speaks to the media, but it does seem like the plan for Boston is bridge the gap during this cap crunch year and set themselves up for a larger spending spree (and aggressive retool) in 2024-25.
Boston will be flush with cap space next summer, and that's not even counting the expected cap bump after years of stagnation.
The Bruins still desperately NEED Bergeron back, but they still have a group of players (especially in net and on the blue line) that can remain competitive.
Might be gunning more for a Wild Card spot, but Boston should remain in the mix — and will be able to really shuffle things around next summer.
2:30 p.m. – Duchene to Dallas
Didn't expect a player like Duchene to sign for just $3 million.
One would think that Boston would be interested in signing him, given the lack of clarity with Bergeron and Krejci. Still think Bergeron is back.
2:15 p.m. – Geekie's fit in Boston
It will be interesting to see where exactly a player like Geekie fits in Boston's lineup.
Even though he played his best on the wing with Seattle, he is capable of playing down the middle. He could be a replacement for Nosek at 4C, BUT if Coyle does bump up to the top-six, he could be a potential 3C option.
2:00 p.m. – Bruins sign Patrick Brown
The Bruins are further bolstering their depth, with the team announcing that they have signed former BC captain Patrick Brown to a contract.
According to Elliotte Friedman, the Bruins' deal for Brown is two years with a $800,000.
The 31-year-old forward 12 points over 61 games with the Flyers and Senators last season. 167 hits over those 61 games. Good at faceoffs.
Could be another depth add or a replacement for Hathaway.
1:50 p.m. – Bruins reportedly sign Kevin Shattenkirk
Bruins continue to plug up holes in their lineup with cheap players on short-term deals.
Kevin Shattenkirk, 34, played in 75 games with the Ducks last season — scoring 4 goals and posting 27 points. Seems like the logical replacement for Connor Clifton as the right-shot D on the third pairing.
1:35 p.m. – More on Lucic's return
Milan Lucic is back in Boston. More on his return above:
1:33 p.m. – Caps get another value pick-up
Nice deal for Washington. Would have liked to see Boston explore a player like Pacioretty, especially if Bertuzzi walks.
1:25 p.m. – Boston targeting value … and size
The first thing that sticks out about Boston's first three signings? Value.
Lucic, Geekie and van Riemsdyk are accounting for a $4 million total cap hit.
But they're also a bunch of big bodies – Lucic and van Riemsdyk are established power forwards. But Geekie is 6-foot-3, 200 pounds.
1:24 p.m. – What to know about JvR
Here's our longer piece on James van Riemsdyk.
Again, we'll see where Bertuzzi signs — but this is likely your netfront option. Don't know if I'd call him a second-line winger, however.
1:20 p.m. – Orlov to Carolina
Didn't expect Orlov to return to Boston — but that's a tough hit to see him go to Carolina.
Reports have him signing a two-year deal, but at $7.75 million cap hit. Really thought he was going to ink a six or seven-year deal out there as his last big deal.
Still, that's a sizable payout. Sheesh.
1:19 p.m. – Reilly heads to Florida
A nice value add for Florida.
1:04 p.m. – Lucic reportedly returns to Boston
There it is.
1:02 p.m. – Clifton signs with Buffalo
Nice pay raise for Clifton. A great pro here in Boston, but was likely going to price himself out.
12:55 p.m. – Bruins reportedly sign Morgan Geekie
The Bruins continue to bolster their forward corps with Morgan Geekie, who is singing a two-year deal with an annual cap hit of $2 million.
Geekie is a versatile right-handed forward with size and skill who can slot both on the wing or down the middle. His best results last season came on the wing with the Kraken.
The 24-year-old forward is 6-foot-3 and posted 28 points in 69 games with the Kraken.
More info to come.
12:50 p.m. – Gudas for … $12 million?
Listen, I like what Gudas can provide as a bruiser on a third D pair. But NOT for $4 million a year. Holy moly.
The Bruins don't have the fiscal flexibility to sign players to a similar deal, but it might be smart for Boston to wait out some of this market. Some silly deals going on right now.
12:43 p.m. – What are Bruins getting in James van Riemsdyk?
A look at some of van Riemdsyk's underlying numbers.
Again, if he's a straight replacement for Bertuzzi? It's understandable that Bruins fans will be disappointed.
Still, he can be a productive third liner and a PP1 option, all for $1 million.
You'll take that if you're the Bruins.
12:30 p.m. – Rangers banking bargain deals
Man, the Rangers are absolutely dealing in terms of bargain-bin contracts.
Really though Wheeler was going to sign somewhere for around $3-3.5 million.
12:21 p.m. – Sheary to Tampa
Another potential signing off the board for Boston.
12:14 p.m. – James van Riemsdyk to Boston
Here's your potential Bertuzzi replacement — at least in terms of a netfront option.
Just 12 goals last season, but did bury 24 goals the year before. Remains to be seen how much he has left in the tank, but no complaints for that $1 million cap hit.
Bruins have to essentially "moneyball" this season.
12:10 p.m. – Ryan Reaves to Toronto
Seems like the Maple Leafs want to add some heft with Ryan Reaves. Didn't expect a three-year deal, though.
Could be some heavyweight bouts between Boston and Toronto, at least if Lucic signs with the Bruins.
12:07 p.m. – Potential Bruins target off the board
Seems like Connor Brown will look to recoup his value coming off a lost season next to McDavid and Draisaitl. A pretty smart move.
Still, Brown was an intriguing option for Boston on the wing, especially if Bertuzzi does indeed sign elsewhere.
12:06 p.m. – Bertuzzi long gone?
Not exactly encouraging news regarding Bertuzzi over the last few days.
The Hall trade is much less palatable if it didn't lead to Bertuzzi returning.
12:03 p.m. – Schenn off the board
Well, that didn't take long. Feels like we're going to see some silly contracts right out of the gate.
12:00 p.m. – Free agency underway
And we're underway.
11:50 a.m. – 10 minutes out
We're 10 minutes away from the start of the free-agency feeding frenzy. A lot of players go off the board in a hurry, so it'll be interesting to see how many dominos fall for Boston.
11:41 a.m. – Another New Englander hits the market
11:35 a.m. – Cheap deals on the wing?
Beyond targeting proven players coming off of severe injuries, Boston might be able to ink a capable middle-six winger if the market (and cap space) begins to really dry up for other teams.
Local product Conor Sheary is coming off of a 15-goal season with the Capitals and can inject plenty of speed up front for Boston.
Daniel Sprong just scored 21 goals and 45 points with Seattle, but wasn't qualified and is also hitting free agency.
Miles Wood is a physical forechecker who was viewed as a prototypical Bruin for many years during his time in New Jersey. A coveted plenty of skill and speed.
Again, it remains to be seen how the market does pan out — but it sure feels like there will be at least a few capable forwards who will need to ink short-term deals for around $1.5 – $2 million per year.
11:10 a.m. – Value in middle-six
Bruins don't necessarily have plenty of contingency plans down the middle if both Bergeron and Krejci do retire — as I don't think they have the cap space to sign someone like Matt Duchene.
But if Boston is looking for help on the wing, there could be a few reclamation projects who could be eligible for cheap, bonus-laden contracts.
Connor Brown is a potential 20-goal, 40-point player who plays with a high motor, but he was limited to just four games last season due to a torn ACL.
Max Pacioretty has been one of the more productive goal-scorers in the NHL over the last decade — but he's coming off of two Achilles injuries over the past year. Might be worth a flier, even with those red flags.
If the Bruins can't retain Bertuzzi, it wouldn't surprise me if Boston targets a low-risk, high-reward option like these two.
Not flashy, yes. But Sweeney might have to opt for a "Moneyball" route if he wants to fill out this roster.
11:05 a.m. – Fourth-line help?
Beyond Lucic, it will be interesting to see if Boston looks on the market for more checking-line reinforcements. This segment of the lineup seems to be the best avenue for younger players like Johnny Beecher, Marc McLaughlin, Jakub Lauko, Oskar Steen and others to cut their teeth.
But if Boston is looking for a bit more heft, it will be interesting to see if someone like Garnet Hathaway opts for a cheaper contract.
IF Boston is looking for a replacement down the middle for Tomas Nosek, Pius Suter is a very intriguing option.
Yes, Suter isn't exactly a household name — but the 27-year-old 4C scored 14 goals last season with Detroit and was a PK ace. He might be out of Boston's price range, but he's a very capable option further down the lineup.
10:53 a.m. – Ekman-Larsson likely heading to the Panthers
So much for the OEL to Boston rumors, again.
Again, the Bruins defense does seem set (barring any additional moves). Most of Boston's focus in free agency will likely revolve around forward help.
10:43 a.m. – A fascinating free-agent market
The Bruins are in a severe cap crunch, but it will be interesting to see how this free-agent market plays out.
As of Saturday morning, there are 14 teams who have $10 million or less in cap room. Once a few of the big names go off the board, there aren't exactly a ton of teams that have the fiscal leeway to sign players to market-value deals.
There could be quite a few players who sign below their value during this cap-crunched marketplace — perhaps even a few players who opt for "bridge" deals until the cap bumps up significantly next summer?
10:40 a.m. – Lucic to Boston feels inevitable
One move that seems likely once the clock strikes noon? Milan Lucic returning to Boston.
As we noted here, Lucic isn't the same player he was when he served as a top-six stalwart in Boston for close to a decade. But with Boston in need of bodies to fill out their roster, Lucic can provide heft and veteran leadership on the fourth line for a likely cheap deal.
10:35 a.m. – Setting the stage
Here are the Bruins' seven unrestricted free agents worth monitoring:
Patrice Bergeron
David Krejci
Dmitry Orlov
Tyler Bertuzzi
Garnet Hathaway
Connor Clifton
Tomas Nosek
It seems unlikely that we'll get definitive clarity on Bergeron/Krejci's futures by today, although their decision might be the top domino that needs to fall this offseason.
Given their cap space, it remains to be seen if Boston can retain any other UFAs, even though they'd obviously like to keep Bertuzzi as a building block for the future.
Boston did free up more cap room on Friday by buying out Reilly's contract, but it sure feels like the Bruins need to make another move or two in order to realistically add someone like Bertuzzi.
Sign up for Bruins updates🏒
Get breaking news and analysis delivered to your inbox during hockey season.