Bruins
Bruins' top prospect Mason Lohrei is looking to make a 'real push' for NHL roster this fall
Mason Lohrei's blend of size and playmaking ability on the blue line could make him a key piece for Boston.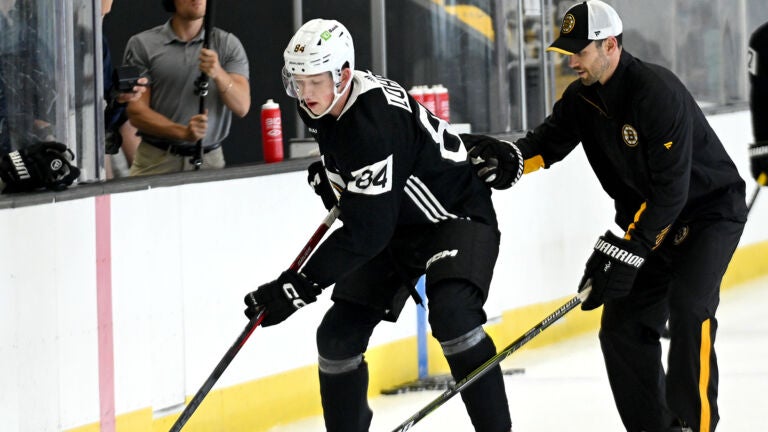 Before the next crop of Bruins prospects etched their skates into the frozen sheet at Warrior Ice Arena on Monday morning, a message needed to be delivered.
Huddled in the video room within the team's practice facility, the future of the Original Six franchise heeded the words of one of its legendary architects in Ray Bourque.
It's asking a lot for any of Boston's blue-chippers to pen their names anywhere close to the numerous records set by the Hall-of-Fame defenseman.
But Bourque's address still rang true for arguably the most intriguing blueliner within the system in Mason Lohrei.
"That's just what this organization is all about," Lohrei said of Bourque's speech. "And that was his biggest message — just [that] being a Bruin isn't for everyone, and his approach to the game was perfection every day. I think that's something that I like to think, too — where every day, you show up to the rink and try to be perfect. It's never really going to happen, but as close as you can get it is good."
An offensive-minded skater operating off the blue line, the 22-year-old Lohrei operates with plenty of risk when he's playing to his strengths. Perfection is rarely achieved on any shift, especially in a game predicated on mistakes.
But it doesn't take long to see why Boston remains smitten with Lohrei's unique blend of skill and size (6-foot-4, 204 pounds) on defense.
And after cutting his teeth with the Providence Bruins in the spring, Lohrei is already setting his sights on even loftier goals this fall.
"That's my goal," Lohrei said Monday of making Boston's roster. "That's why I'm here and just checking off the boxes this summer, trying to improve my game and give myself the best shot come training camp to make the big club."
Plucked out of relative obscurity as an over-ager in the second round of the 2020 NHL Draft, Lohrei has validated Boston's faith in his two-way game since entering the system.
While today's NHL caters more toward puck movement and speed, few defensemen can carry out said duties with Lohrei's pro-ready frame.
But even with the expected learning curves that come with each step up the developmental ladder in hockey, Lohrei hasn't stumbled.
After posting 59 points (19 goals, 40 assists) in 48 games with the USHL's Green Bay Gamblers following his draft year, Lohrei logged heavy minutes as a freshman at Ohio State.
He finished second on the Buckeyes in scoring (behind fellow B's prospect Georgii Merkulov) with 29 points in just 31 games, ranking fourth in the NCAA in scoring among freshman defensemen.
In Lohrei's sophomore season, he posted 32 points over 40 games while taking on more defensive responsibilities for an Ohio State squad that made it to the NCAA Regional Final in Bridgeport.
After just two years in the collegiate ranks, both Lohrei and the Bruins believed he was ready to take the next step.
"You see right away — obviously, his size and his mobility at that size. He has offensive instincts, I think his defending has come a long way," Bruins player development coordinator Adam McQuaid said of Lohrei. "I think when he's simplifying his game, he can be really efficient.
"And when he has the opportunities on the offensive side, he can make plays, continuing to walk the line. …We're just really excited about him turning pro. I think it was a good opportunity for him to get in some pro games in Providence because it should give him a leg up going into obviously this week and then also into training camp in September."
Lohrei ultimately only played five games with Providence this spring after leaving the Buckeyes, along with three more contests in the postseason.
Given his unique skillset and the physical toll that younger players endure against AHL competition, Lohrei might need more seasoning with the Baby B's this fall before becoming a viable call-up option.
But McQuaid and the Bruins aren't putting any restrictions on Lohrei's path going into training camp, especially if he continues to push past expectations.
The left side of Boston's defense is arguably set at the moment with Hampus Lindholm, Matt Grzelcyk, Derek Forbort, and Jakub Zboril. Still, the Bruins could shed another contract later this summer in order to create more cap space, and that segment of the roster is an obvious area to target.
And if he's ready, a top-four grouping of Lindholm, Charlie McAvoy, Brandon Carlo, and Lohrei stands as a stout foundation on Boston's blue line — both in 2023-24 and beyond.
"I wouldn't be surprised if he doesn't make a real push at training camp and we're hoping for that," McQuaid said of Lohrei. "Like any young player, he still has things to work on. He's a fast learner. He's gonna pick up on things and continue to grow."
Newsletter Signup
Stay up to date on all the latest news from Boston.com