Bruins
Kevin Shattenkirk expects to join a contender in the Bruins — with or without Patrice Bergeron
"Guys have to step up and play bigger roles and take over and if push comes to shove."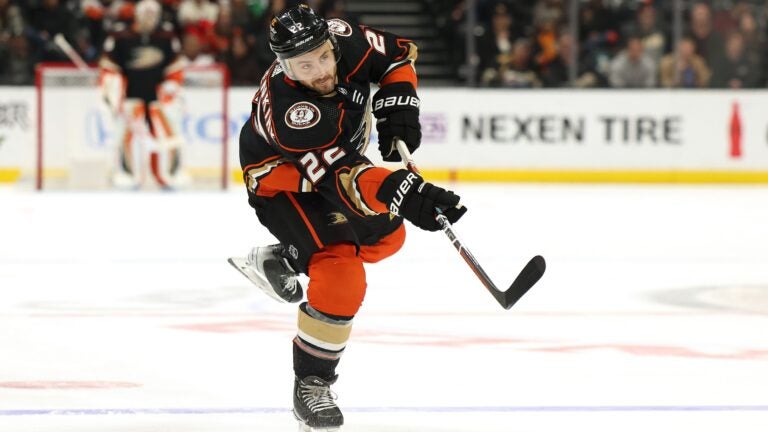 Kevin Shattenkirk needed a change of scenery.
It's a sentiment not usually shared by a pro athlete who spent the last three years in Orange County, California.
A combined 71-114-35 record for the Anaheim Ducks over that stretch likely dimmed whatever joy the SoCal sunshine offered.
After hoisting the Stanley Cup in the Edmonton bubble with the Lightning in 2020, the 34-year-old Shattenkirk was looking to land with another contending team.
He believes he's found as good a spot as any with the Bruins.
"The opportunity and the fit was what really appealed to me," Shattenkirk said via Zoom on Wednesday. "Getting back to a team that's a Stanley Cup contender was exciting. I've kind of lost that over the last three years being in more of a rebuilding situation."
Shattenkirk, who inked a one-year, $1.05 million contract with Boston on Saturday, is a proven commodity.
He may not be a top-four stalwart capable of anchoring a power play, but the former Boston University product will add veteran mettle and puck-moving capabilities to the right side of the Bruins' defense.
What isn't established, however, is Boston's sustained standing as a premier Cup contender in 2023-24.
Despite rewriting the record books in terms of regular-season wins (65) and points (135) last season, an expected cap crunch has sapped Boston of some of its strength.
Don Sweeney and the Bruins needed to dump Taylor Hall's contract last month in order to gain some much-needed fiscal flexibility. Even then, Boston was unable to retain lineup stalwarts such as Tyler Bertuzzi, Dmitry Orlov, Connor Clifton, Tomas Nosek and Garnet Hathaway in free agency.
But it's the uncertain futures of both Patrice Bergeron and David Krejci that truly call Boston's label as a Cup contender into question.
If both star centers opt to hang up their skates, Boston's depth down the middle stands to be decimated.
Having witnessed both Bergeron and Krejci's playmaking prowess and two-way acumen firsthand as an opponent, Shattenkirk knows full well that the 2023-24 Bruins are better equipped for a new campaign if both centers are anchoring the team's top-six unit.
But even if one (or both) franchise cornerstones no longer don black-and-gold sweaters this fall, Shattenkirk believes Boston's remaining star talent and structured system will be able to keep Boston afloat in a competitive Eastern Conference.
"I don't think it affected [me] much," Shattenkirk said of Bergeron and Krejci's uncertain status. "I know what those two mean to this team and those are big holes to fill. You also look at the team that they've put together over the last few years and some of the guys that they've added and I think they're fully capable of shouldering that weight.
"Now, Patrice is obviously a cornerstone of this team and David as well. At every point in a team's progression, guys have to step up and play bigger roles and take over and if push comes to shove, and that's where we end up, then it's going to be on the shoulders of some of the other players on the team to take over that role."
At this stage of his career, Shattenkirk expects to serve as more of a third-pairing regular in Boston's lineup who can move up the depth chart when the injury bug inevitably stings.
He'll likely slot into Clifton's former spot on the right side of Boston's defense, representing close to a $2.2 million cap saving when weighed against Clifton's new deal with the Sabres.
Shattenkirk has few qualms with accepting fewer minutes on a D corps still anchored by Charlie McAvoy and Hampus Lindholm.
"Between Hampus and Charlie, that's two Norris-caliber defensemen there and they're still growing into their expectations as players and I think being able to be a sounding board for them … is something we discussed and something that it's kind of expected of me," Shattenkirk said of his role.
Unlike the porous performances in net over in Anaheim, the expected return of Linus Ullmark and current RFA Jeremy Swayman will keep Boston in many tight contests.
Boston's offense will dip regardless of Bergeron and Krejci's decision. But the Bruins' baseline production will still be buoyed by impact wingers like David Pastrnak, Brad Marchand, and Jake DeBrusk.
The 2023-24 Bruins might take a significant step back from last year's record-setting run. But what remains — as currently constituted — still stands as a competitive group, in Shattenkirk's eyes.
"As a player, you want to play for a team, play for an organization that has tradition, that has passionate fans. You feel that every time you come into the Garden as an opponent," Shattenkirk said. "And I think that, for me, is what I thrive off of, and something I really look forward to is seeing a packed building every night and fans that are gonna wear everything on their sleeves and force you to be your best self on the ice."
Sign up for Bruins updates🏒
Get breaking news and analysis delivered to your inbox during hockey season.
Newsletter Signup
Stay up to date on all the latest news from Boston.com