Bruins
4 things that stood out at Bruins Development Camp
The Bruins' next wave of talent took part in a full-team scrimmage on Friday morning.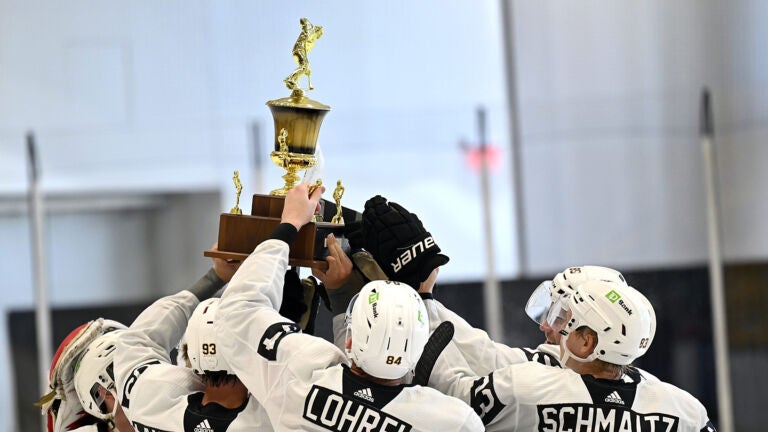 The Bruins wrapped up their annual Development Camp at Warrior Ice Arena on Friday, with the five-day session concluding with a full-squad scrimmage on the frozen sheet at Boston's practice facility.
Team Black secured a 2-1 victory, with defensemen Ty Gallagher and Frederic Brunet lighting the lamp for the winning squad. Forward Cole Spicer found the back of the net for Team White.
Here's what stood out during Friday's scrimmage and earlier drills involving Boston's next wave of talent.
Matthew Poitras' upside is apparent
Both Mason Lohrei and Fabian Lysell have held court as Boston's premier prospects in a largely barren pipeline over the past few seasons. But 2022 second-round pick Matthew Poitras might be pushing his way into the conversation as Boston's most intriguing young asset.
The 19-year-old forward doesn't have the wheels or stick skills of a Lysell, nor does he have the size of a playmaking blueliner in Lohrei (6-foot-5). But the 6-foot, 182-pound pivot has the potential to be an impact player at the pro level, thanks to his craftiness with the puck and hockey IQ.
Even though his skating ability dropped Poitras out of the first round last summer, Bruins assistant GM Jamie Langenbrunner noted that the youngster's "elite brain" allows him to generate Grade-A looks by way of changing pace, positioning down low, and poised passing.
Poitras broke through last season with the Guelph Storm (OHL), ranking fifth in the league with 95 points (16 goals, 79 assists) in just 63 games.
Poitras' shifts during Friday's scrimmage regularly led to quality looks, with the pivot extending O-zone sequences by shielding the puck down low. He often cut inside toward the slot with the puck on his stick, rather than hang on the outside and wait for seams to develop.
With his processing ability, he can drive near the blue paint and still feed the puck to other skaters hovering near the crease.
Poitras may not be flashy, but there's a lot to like about how his game should evolve at the next level, especially as he continues to fill out his frame.
And given the bleak outlook of Boston's depth down the middle in the coming years, Poitras is well aware of the opportunity in front of him if he continues to build his game.
"It's just trying to attack every day, trying to win every day," Poitras said of his mindset moving forward. "Obviously I look forward to that. This is a good opportunity for me. It kind of helps me just probably push myself every day, just having that in the back of my mind."
Few surprises with Boston's blue chippers
Poitras has taken a major step forward during his short time in Boston's system. But the Bruins' other two prized prospects in Lohrei and Lysell were also as advertised throughout the week.
Lohrei's blend of size and playmaking acumen on the blue line offers tremendous upside. His floor at the NHL level might be a third-pairing, power-play specialist. If he hits and reaches his ceiling, he could be cut from the same cloth as a similar big-bodied, points-producing D-man like John Carlson.
Even if he falls somewhere between those two projections, it leaves Boston with a hefty, two-way defenseman who should form a potent top-four grouping in the near future with Charlie McAvoy, Hampus Lindholm, and Brandon Carlo.
Lohrei's improved skating and sought-after sturdiness were apparent this week, especially when weighed against previous development camps.
Lysell's game has been well-documented at this point. After a slow build-up this week while recovering from a concussion, Lysell did plenty of damage during Friday's 3v3 session, thanks to his high-end skill.
Still, after hitting a wall last season in Providence, the 20-year-old winger will need to prove in 2023-24 that his first pro campaign was just a small setback rather than a recurring trend.
He's not afraid to carry the puck down low, and has the hands to do damage on those O-zone chances. But Lysell's smaller frame (5-foot-11, 179 pounds) and head-down mindset could lead to more punishment in the AHL ranks and beyond if he doesn't brace for it.
Heft on the back end
A smaller, puck-moving stalwart on the blue line has been a staple of Boston's defensive units for over a decade.
But just a quick glance at Boston's Dev Camp roster signals how the team is targeting more beef on the blue line moving forward.
In total, the Bruins brought in 10 defensemen this week, nine of which are currently in the organization.
The average height of those 10 D-men? 6-foot-3. Average weight? 204 pounds. Hulking defensemen like Kristian Kostadinski (2023 seventh-round pick) and Jackson Edward (2022 second-round pick) are still raw, but their prickliness is evident on most contact drills.
Boston's smallest option on defense is BU's Ty Gallagher (2021 seventh-round pick) still made his presence felt during Friday's scrimmage with some sound stick work and physical push-back around the boards.
Woburn native Duran seems destined for a checking-line role
Prospects like Lysell and Poitras might offer top-six upside if they hit at the next level. But in terms of set-in-stone projections, a physical forward like Providence's Riley Duran seems like a lock as a fourth-line regular in due time.
The Woburn native and 2020 sixth-round pick has been productive during his two seasons with the Friars (39 points in 67 NCAA games). But Duran's high motor and physicality stick out during 5v5 action, especially on Friday morning.
If he carves a path to the NHL, Duran should ingratiate himself to the TD Garden crowd in short order, given his pugnacious and committed style of play.
Odds and ends
If you missed Development Camp, just tune into any Hockey East contest later this year. Six players on Boston's camp roster will play in the league this upcoming season, with Andre Gasseau and Oskar Jellvik in line for strong seasons on a stacked BC roster. Latvian-born Dans Locmelis will be a name to watch as he begins his collegiate career at UMass Amherst. … Both 2023 picks Chris Pelosi and Beckett Hendrickson popped during various battle drills, but both will need to tack on some much-needed weight. … Ukrainian-born goalie Hlib Artsabanov held his own in the net as a camp invite.
Newsletter Signup
Stay up to date on all the latest news from Boston.com