Bruins
Bruins avoid arbitration with Ian Mitchell, sign defenseman to 1-year contract
The Bruins still have two more arbitration hearings set with Jeremy Swayman and Trent Frederic.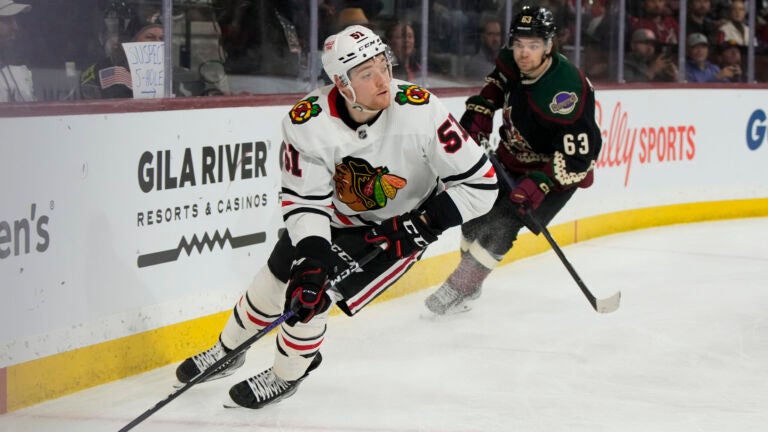 The Bruins settled one of their three arbitration cases ahead of a potentially contentious hearing, with Boston announcing Monday that it signed defenseman Ian Mitchell to a one-year NHL contract with an annual cap hit of $775,000.
The 24-year-old blueliner was acquired by the Bruins last month from the Blackhawks in a trade centered on Taylor Hall. Mitchell was one of three Bruins to file for arbitration last week, joining goaltender Jeremy Swayman and forward Trent Frederic.
Although arbitration hearings are set to begin later this month, teams still have the ability to negotiate contracts between now and whenever said hearings are held.
Mitchell's new contract represents a slight dip from the $1.05 million in NHL salary he commanded last season. Still, Mitchell appeared in just 35 games for the cellar-dwelling Blackhawks in 2022-23, scoring a goal and adding seven assists.
The right-shot D will likely serve as a spare defenseman on Boston's roster this year, with Mitchell looking to battle Kevin Shattenkirk for regular reps on the Bruins' third defensive pairing.
According to CapFriendly, the Bruins still have $6.2 million in cap space this offseason, most of which will be allocated toward whatever contracts Swayman and Frederic eventually ink.
Swayman's hearing date is set for July 30, while Frederic's is scheduled for August 1.
Both Swayman and Frederic are due for pay raises this summer.
Swayman, who went 24-6-4 with a .920 save percentage last season, earned $1.05 million in salary last season. Frederic, who buried a career-high 17 goals and 31 points, made $1.15 million in 2022-23.
Speaking on Friday, Don Sweeney acknowledged that the Bruins would like to craft new contracts for both players before negotiations pivot to hearings.
"We're all working hard on that front," Sweeney said of Boston's dealings with Swayman, Frederic, and Mitchell. "Having pretty much constant dialogue with all three players and representatives – you know that's always the hope [of signing before the hearings].
"But, we know there's a path and there will be a right solution on the other side, and one way or another they will be part of our organization so, it's just a tool in the toolbox, that either player elects or the club elects and you go through and but hopefully we can. It's not the ultimate goal for anybody on either side but it is a path that determines if the player will be back."
Newsletter Signup
Stay up to date on all the latest news from Boston.com