Bruins
Bruins reportedly terminated contract of Mitchell Miller in February settlement
The Bruins announced in November that they parted ways with Mitchell Miller, but he was still under contract.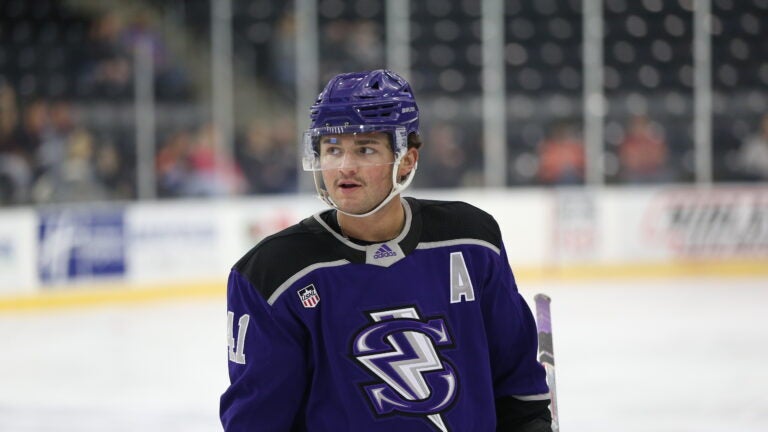 While the NHL's first buyout window of the offseason opened up in mid-June, the Bruins had a number of potential candidates.
Ultimately, Mike Reilly was the lone Bruin to have his contract bought out this summer. But many also expected Boston to end an embarrassing chapter in the franchise's history and buy out the remainder of Mitchell Miller's entry-level contract.
Despite the Bruins announcing that they cut ties with Miller just two days after signing him, he technically was still under contract by the organization. The expectation was that the Bruins still needed to find an avenue to formally terminate his contract this summer, likely by way of said buyout.
But according to Larry Brooks of the New York Post, the Bruins, Miller and the NHL agreed to complete separation way back in February.
According to Brooks:
Slap Shots learned from an NHL official on Friday that, "He and the Bruins have parted ways." A Bruins spokesman then told us via email, "Can confirm Mitch Miller is not under contract with the team. Cannot comment further.
What happened?
Slap Shots has been told the Bruins immediately terminated Miller's contract in conjunction with their disassociation from him. There is, however, no record of the team placing him on unconditional waivers for the purpose of termination as required by the CBA. Then too, that regulation applies to mutually agreed termination, which this was not.
The NHLPA, in turn, filed a grievance.
We have learned that in lieu of a hearing, the parties reached a settlement under which Boston was released from its obligation while Miller received an unknown sum and was granted free agency.
After being listed on the Bruins' organizational depth chart throughout this past year, both CapFriendly and PuckPedia removed Miller from Boston's roster following Brooks' report.
Given the lack of a formal release by the Bruins in terms of a contract buyout or settlement, it appears that Boston also managed to avoid a cap penalty after ripping up Miller's contract.
The Bruins deservedly earned plenty of backlash for their decision to sign Miller to an entry-level contract back in November 2022.
Miller pleaded guilty in an Ohio juvenile court in 2016 on charges of assault and a violation of the Ohio Safe Schools Act after he and a classmate were accused of racially motivated bullying of a developmentally disabled Black classmate, Isaiah Meyer-Crothers.
Shortly after the Bruins announced that they parted ways with Miller, Cam Neely acknowledged that the organization did not reach out to Meyer-Crothers and his family before deciding to sign Miller.
NHL commissioner Gary Bettman also stated back in November that the Bruins did not consult the league before signing Miller, with the defenseman "not eligible" to play in the NHL until he received proper clearance.
"Nobody should think at this point he is or may ever be NHL eligible and the Bruins understand that now," Bettman noted when asked of the Miller signing.
Brooks noted that Miller will likely seek employment in Europe now that his tenure in Boston has officially come to an end.
Sign up for Bruins updates🏒
Get breaking news and analysis delivered to your inbox during hockey season.