Bruins
New Bruins forward Alex Chiasson is ready to bet on himself once again
"I fought for what I believe in and that's to play in the NHL."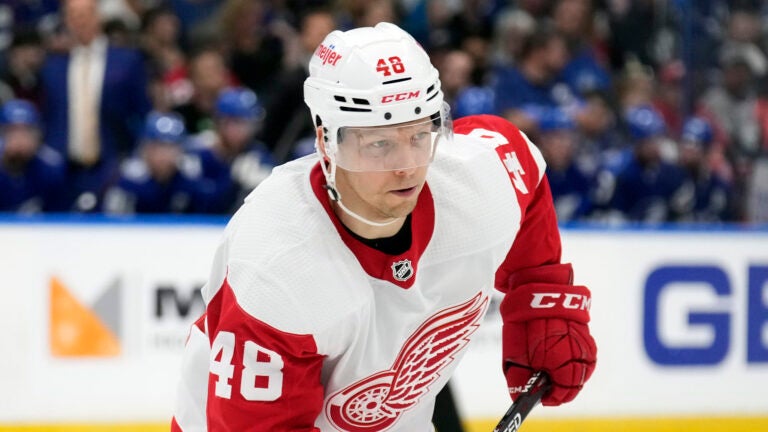 Alex Chiasson has carved out a long career for himself in the NHL.
The 32-year-old winger has logged 651 career games in the pro ranks, scoring 120 goals and posting 233 total points. He's surpassed double-digit tallies in six campaigns and had his name etched on the Stanley Cup with the Capitals in 2018.
But it hasn't been easy for the former BU Terrier.
Since turning pro in 2012, Chiasson has donned the sweaters of eight different teams, including the black-and-gold Bruins jersey during this upcoming training camp.
The longest contract of his career came in the form of his three-year, entry-level deal with Dallas. In each of the last three stops across the league, Chiasson had to settle for professional tryout (PTO) contracts, offering no guarantee of tangible deal once the regular season commenced.
With the Bruins, Chiasson is looking to start anew under the same shaky terms, with a roster spot far from a lock on a Boston roster already chock full of potential options in the bottom-six unit.
The 6-foot-4 winger's mettle and revolve has been tested time and time again, given the dearth of security handed to him during his pro career.
But with another uphill climb in front of him on an NHL depth chart, Chiasson offered a candid look at the arduous road that some hockey veterans must travel in order to keep living out their dreams.
"It sucks," Chiasson said following Bruins practice Friday when asked about signing another PTO deal. "It's tough. I won a Cup in 2018 and I had to go to Edmonton on a PTO. I left with my backpack and a suitcase, and you don't really know where you're going to end up … I think as I've gotten older I've realized that — and I've always said this: It's a privilege to play in the NHL.
"You can't take this for granted, and I know one day when I stop playing, whenever that is, that I really put it all out there. I could have taken the easy way out, but whatever opportunity that came my way I fought for what I believe in and that's to play in the NHL."
The 2022-23 campaign was arguably the most daunting of Chiasson's NHL career.
Inked to a PTO deal with the Arizona Coyotes last summer, Chiasson's latest camp didn't lead to a contract, with the forward forced to bide his time as the regular season got underway.
Rather than head overseas, Chiasson waited until he received a call from former teammate Shawn Horcoff — the Red Wings' assistant GM and GM of their AHL affiliate in Grand Rapids — and signed a tryout deal with the Griffins in November.
Posting 20 points over 29 AHL campaigns earned him a look up with the Red Wings, where he scored six goals and posted nine points over his final 20 games in the NHL.
Still, no formal contract offer presented itself over the offseason.
"It's frustrating. But at the same time… I think for me, it's almost like I take pride in what I do and how I do it," Chiasson said. "When you get rewarded, you go play, play well and you score and whatnot, I think it makes it all worth it.
"I just think one day, when it's done, I can say, 'Hey, I gave it all I got.' I could have gone overseas. I could have gone anywhere, really. I kept building on my career. I've kept adding games. Kind of over the last three, four or five years, created a role for myself. Hope it works out here."
The Bruins have no shortage of candidates to fill out the bottom of the roster, including Milan Lucic, Danton Heinen, Morgan Geekie, Trent Frederic, A.J. Greer, Jakub Lauko, Jesper Boqvist, Patrick Brown, and youngsters such as Marc McLaughlin and Johnny Beecher.
But Chiasson does offer some intrigue as a power-play weapon, especially at the netfront. As noted by 98.5 The Sports Hub's Ty Anderson, the only players in the NHL to score as many power-play goals (30) in fewer games (270) than Chiasson since the 2018-19 season are Colorado's Gabriel Landeskog, Buffalo's Tage Thompson, Buffalo's Victor Olofsson, and Minnesota's Kirill Kaprizov.
Now, the onus falls on Chiasson to prove himself out on the ice — once again.
"I know it's going to be a tough camp. A lot of guys battling for spots," Chiasson said. "I've bet on myself quite a bit in my career. It's always worked out, but that doesn't mean it's easy. I'm willing to put myself up against the odds and see where it goes. … There are no guarantees. Come in, compete and see how it goes."
Sign up for Bruins updates🏒
Get breaking news and analysis delivered to your inbox during hockey season.