Bruins
5 reasons why Brad Marchand was the clear choice as Bruins' next captain
"We're building a culture and want it to stay and to remain the same. I have a lot of pride in that."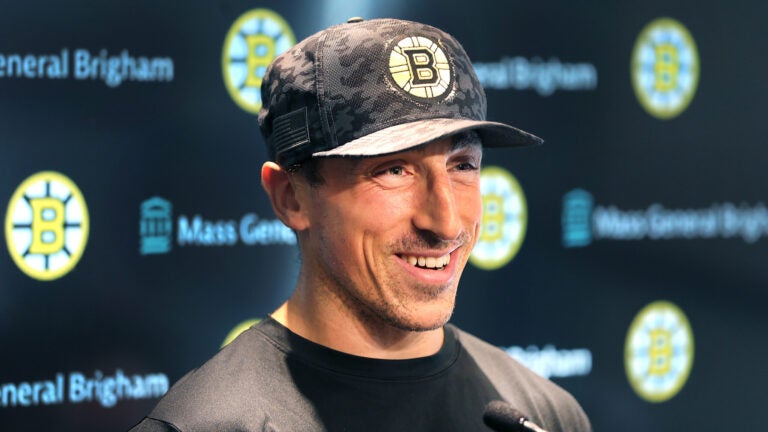 For the 27th time in the Bruins' century-long history, a new player will have a "C" stitched onto their sweater.
Boston announced Brad Marchand as their new captain on Wednesday morning, with the longtime winger set to step into the primary leadership role vacated by his longtime linemate and friend, Patrice Bergeron.
The Bruins had plenty of worthy candidates on their roster, especially younger players such as alternate captains Charlie McAvoy and David Pastrnak.
But even with Marchand's divisive reputation in league circles, the 35-year-old forward was far and away the best option available to take the reins from Bergeron on a retooling Bruins roster.
Here's a look at why the star winger is the right man for the job in 2023-24.
A link to the past
The 2023-24 season will be one of change for the Bruins, who are looking to forge ahead as a competitive club despite losing two franchise pillars in Patrice Bergeron and David Krejci.
But even as Boston begins to pen a new chapter with a revamped roster in place, the culture and accountability first fostered by veterans like Zdeno Chara, Bergeron, and others is expected to carry on for the foreseeable future.
The future of the Bruins might rest on the shoulders of other franchise fixtures like McAvoy and Pastrnak.
But as Boston heads into uncharted territory, keeping a link to those Bruins teams of yesteryear in Marchand stands as a sound way to keep that culture in place.
Over his first 14 years in Boston, Marchand learned plenty from both Chara and Bergeron, winning a Stanley Cup with both while serving as the latter's understudy, especially once Bergeron took over as captain in 2020.
With those lessons in leadership in place, Marchand was as good a choice as any to take over as Boston's captain.
"I've seen two of the best leaders to ever lead in this game come through here and I'd love for my name to be beside theirs in that category when I'm done," Marchand said Wednesday. "But again, I've been fortunate enough to see … they led differently and they led in different ways.
"And I think that there's things that you can implement in our group from both of those guys that were very effective and they thrived in. But I'm also not them. So I can't do what they do. But I just want to try to find our own path as a group."
Setting the tone
Both Bergeron and Chara held a commanding presence in Boston's dressing room over the years, earning respect with their play on the ice and the way they carried themselves off the frozen sheet.
Marchand is cut from the same cloth, especially when it comes to his standing as one of the top left wings in the game. But beyond the production that he's generated over the years, Marchand tends to let his work do the talking when it comes to his off-ice training and the high standards he sets for himself.
"I think just his work ethic is probably the biggest thing," Jake DeBrusk said of what stands out about Marchand's game. "I think that, obviously, we all see it on the ice. He's a little ball of hate, right? So, he's one of those guys that outworks people and he's got the skill to match.
And obviously, his off-ice is the same way and I think he leads in that category of intensity and kind of the same things like Zee and Bergy … I think that he always knows what he needs to do and knows what we need to do to get ready. I remember I was leaving, I think it was like the first or second week of the offseason. He was already skating. So he's going to be ready to go."
There's a reason why Marchand evolved from a fourth-line contributor to arguably the most complete left winger in the game. Expect that work ethic to carry over with the rest of Boston's roster.
A vocal presence
Bergeron's communication style and his ability to read the pulse of the dressing room and his teammates were widely praised during his playing career.
Marchand is a bit more of a bombastic presence when contrasted against Bergeron's steady demeanor. But just as he is on the ice and after the whistles, Marchand should have no issue speaking his mind and getting the message across in the room when it's required.
"What I love is his competitive nature on the ice. And when I got here, I didn't realize that that was an everyday occurrence, whether he's in a weight room, or when he speaks — there's emotion to the way he speaks," Jim Montgomery said Wednesday, adding: "I also think he's the kind of person that will initiate, not having an issue commanding the room vocally.
"I don't think it's going to be something that is forced, I think it's gonna be natural. I don't think it's going to be overdone."
Bringing players into the fight
Marchand is more than just an elite generator on offense and a pesky penalty killer.
For years now, Marchand has asserted himself as Boston's on-ice shot of epinephrine — jolting his teammates during extended lulls by way of a thunderous check, momentum-seizing shift or a ferocious scrap.
Of course, some of that intensity and emotion has also hampered Marchand and the Bruins — especially earlier in his career. Over the span of his time in the NHL, Marchand has been suspended eight times for a total of 28 games, while getting fined on five additional occasions.
"It's something that … it's gonna be continue to [be a] work in progress," Marchand said of keeping his emotions in check. "I definitely don't expect to step in and be perfect off the hop. I do play with a certain type of passion and emotion. I won't lose that. That's just who I am.
"And I'll need to continue to do that to be a good player in this league. It's allowed me to be successful and I don't want to get away from that. I just alluded to it, the guys that I've seen wear the C for this team, the effort that goes into it — you can do it many different ways."
Having an emotional leader like Marchand who can jolt his bench with an impactful shift holds plenty of value. The key will be making sure Marchand doesn't blow a gasket during critical situations, as was the case in the past.
Marchand's short tenure as Boston's de-facto leader during the start of the 2023 first-round series against Florida should offer a blueprint for the forward to follow.
Despite being goaded by the likes of Matthew Tkachuk and others, Marchand rarely put his team in a bad spot by way of an unnecessary penalty or split-second lapse in judgment, opting to make his presence felt once the puck was dropped.
"We don't want him to change his game because of it," Cam Neely said of Marchand. "He's such a great player for us. And his competitiveness makes him a great player. It was a long discussion about him not trying to be anybody that he isn't, but just to control his emotions as he's done the last year or two, but still be that competitive player, and to lean on the leadership group."
Cognizant of culture and setting a foundation
As a former checking-line regular who elevated himself into a top-line star, Marchand knows of the trials and tribulations that await younger players as they try to carve out roles in the NHL.
Expect Boston to harp on Marchand's own career path and his lessons learned as the team tries to push more younger players up to the NHL ranks during the 2023-24 season.
"I hope that everybody can identify — I mean, Brad is one of the best players in the National Hockey League," Don Sweeney said. "He had prolific numbers in junior, had great numbers in the American Hockey League. It took him a little while to establish himself.
"He started out as a fourth line wearing a merlot jersey and wore it with pride. He never put himself in that classification of that's just where he was gonna play. He always had this higher aspiration, as every player should. Just get your foot in the door, ingratiate yourself and be the best player you can be."
Marchand might be focused on setting the foundation for the 2023-24 season with training camp underway. But fostering a sustainable, winning culture in the years ahead is not lost on the veteran, especially given the lasting legacy of other Bruins captains such as Chara and Bergeron.
"You're not just building something for today and tomorrow," Marchand said. "We're trying to build something for the next group of guys to continue to lead on. So we're building a culture and want it to stay and to remain the same. I have a lot of pride in that.
"So it's going to be an incredible amount of work. And there's a lot of pressure, not just from the team and the expectations of the group, but for myself … But I wouldn't have it any other way. That's what comes with wearing a letter on this team, especially the C. So it's something I'm looking forward to figuring out and trying to work through as your group."
Sign up for Bruins updates🏒
Get breaking news and analysis delivered to your inbox during hockey season.