Bruins
Brad Marchand named next captain of the Boston Bruins
Marchand is set to enter his 15th season in the NHL — all with the Bruins.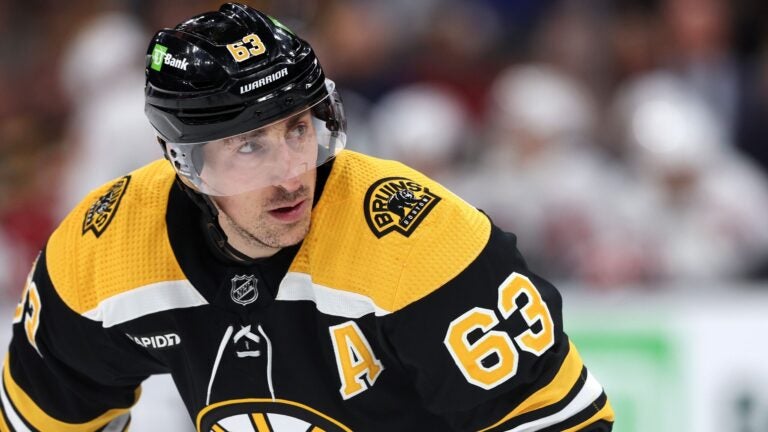 The Boston Bruins have a new captain, and the choice shouldn't come as much of a surprise.
In a video posted on Wednesday morning, the Bruins announced Brad Marchand as the 27th captain in franchise history, with the 35-year-old forward sporting a new "C" stitched on his new sweater.
"I am extremely proud of Brad and the hockey player he has become," said Boston Bruins CEO Charlie Jacobs. "Brad has been a Bruin for over 15 years and had the opportunity to learn from great leaders in Zdeno Chara and Patrice Bergeron. He is ready for this opportunity and our whole team will learn from his competitive nature and tenacity. I am confident he will represent our organization with heart and grit."
Marchand will step into the leadership role vacated by his longtime friend and linemate Patrice Bergeron, who donned the "C" from 2020-23 before his retirement back in July.
Past Bruins Captains include Patrice Bergeron (2021-23), Zdeno Chara (2006-20), Joe Thornton (2002-05), Jason Allison (2000-01), Ray Bourque (1985-2000), Rick Middleton (1985-88), Terry O'Reilly (1983-85), Wayne Cashman (1977-83), Johnny Bucyk (1966-67 and 1973-77), Leo Boivin (1963-66), Don McKenney (1961-63), Ferny Flaman (1955-61), Ed Sandford (1954-55), Milt Schmidt (1947-54), Bobby Bauer (1946-47), John Crawford (1945-46), Bill Cowley (1944-45), Ralph 'Cooney' Weiland (1937-39), Red Beattie (1936-37), Eddie Shore (1935-36), Nels Stewart (1934-35), Marty Barry (1933-34), Aubrey 'Dit' Clapper (1932-33 and 1939-44), George Owen (1931-32), Lionel Hitchman (1928-31) and Sprague Cleghorn (1925-28).
Marchand has spent every season of his 14-year NHL career with Boston, scoring 372 goals and posting 862 points over 947 games. Marchand is already a fixture in many Bruins record books, including:
Games Played: 8th – 947
Goals Scored: 6th – 372
Assists: 9th – 490
Points: 7th – 862
Penalty Minutes: 10th – 973
Shorthanded Goals: 1st – 33
Game-Winning Goals: 4th – 71
Playoff Points: T2nd – 128
Boston had no shortage of valid candidates to take on the role of captain, especially with younger players in place like Charlie McAvoy, David Pastrnak, and Brandon Carlo.
But as the Bruins start to forge a new chapter following the retirement of so many franchise fixtures, Marchand stands as Boston's longest-tenured player and one of the few links remaining to the 2011 Stanley Cup championship roster.
Even with his checkered past filled with suspensions and other run-ins with the league office, Marchand has made significant strides over the last few seasons to shake away from his label as a pest and establish himself as a leader in Boston's dressing room.
Earlier this month, Marchand noted that Boston's leadership in 2023-24 would require a collective effort, rather than just one new captain taking on the role.
"What the guys in the past have done is they did it as a group," Marchand said. "They were so good at bringing a group of guys together, having everyone believe the same goal, having a common goal together and believing in it. … There's no team in any sport that can have one guy dictate what a team does, but it's how they're able to bring a group together. And again, that's what our captains in the past have done and our leadership groups in the past have done, is they've been able to lead by numbers and strength in numbers.
"When we had Bergy and [Zdeno Chara], we had two captains for a while and that just bleeds through the lineup. With Bergy … everyone had a ton of respect for him. So everyone would follow what he did and what he said, but he brought a lot of guys in together and gave them a lot of responsibility and allowed them to feel like they had a voice and that took place again through the lineup.
"So we're gonna have to do that again this year. You're not going to replace guys like that in the room. But collectively as a group, we just have to come together and find out what our goals are, what our beliefs are for this season and build on that together."
Sign up for Bruins updates🏒
Get breaking news and analysis delivered to your inbox during hockey season.