Bruins
Bruins training camp takeaways: Morgan Geekie set for pivotal role, McAvoy's evolution as a leader
"When your best players are confident, everybody follows."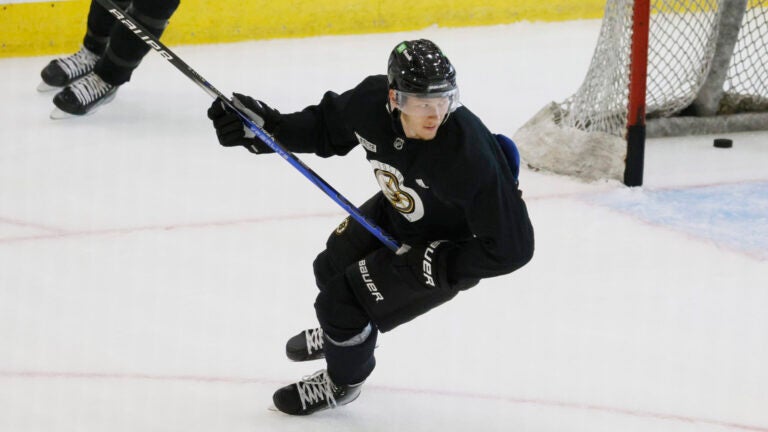 The Bruins continued their 2023 training camp on Friday with another two on-ice sessions at Warrior Ice Arena. Here are a few takeaways from Boston's latest set of practices.
Morgan Geekie ready for key role up front
Morgan Geekie made the most of whatever time was carved out for him last season with the Kraken.
He played in 69 games with the NHL's 32nd team in 2022-23, logging just 10:27 of ice time per contest. For reference, that's over a minute below some of Boston's bottom-six regulars last season like Garnet Hathaway (11:04 ATOI), Trent Frederic (11:55), and Nick Foligno (12:22).
But even with those limited reps, Geekie still managed to produce. He posted 28 points (nine goals, 19 assists) in that bottom-six role. His 2.47 5v5 points per 60 minutes of play ranked 31st in the league among the 593 NHL skaters who logged at least 500 minutes of 5v5 ice time.
And for his efforts, the 25-year-old forward received a one-way ticket to free agency.
Whether it be a cap-crunched league landscape that prompted multiple teams to relinquish promising talent or Seattle's doubts about his long-term production, the Kraken opted to not hand Geekie a qualifying offer at the start of the offseason, sending him to the open market.
"I found out on Twitter," Geekie said of his foray into free agency. "It is what it is. At the end of the day, it's a business, and I enjoyed my time in Seattle, regardless of how it ended. … I'm excited to get started here, and that's kind of in the rearview mirror. But it's definitely going to be something that I was happy to be part of for a couple of years."
Now in Boston, Geekie hopes to make the most of the added minutes that should be up for grabs, especially as a viable candidate for the Bruins' third-line center position. Through the first two days of practices, Geekie has skated alongside Trent Frederic and Anthony Richard.
"I feel like we've been playing well out there," Geekie said of his linemates. "It's the first couple days of camp, we're just trying to get our feet under us and try and make plays and be solid, but it's good. Yeah, I'm looking forward to it. He's a great player, obviously tough to play against. So I'm happy to have him on my team now.
Already a solid presence at the faceoff dot (51.1 career FO%), Geekie hopes to generate more offense with the added reps set to come his way.
But on a revamped Bruins team whose strengths will lie in its defensive structure and goaltending, Boston will also need Geekie to round out his two-way game if he wants to earn steady minutes.
"I don't think it's gonna be that much of an adjustment," Jim Montgomery said of Geekie learning Boston's defensive scheme. "Seattle did a zone-type defense. So he's used to it. I don't know the intricacies or the inner details of how they do their D-zone, but I don't see it being a big adjustment for him.
"I think the offensive side of things and how he transitions and stuff is going to be a bigger adjustment for him."
It remains to be seen how exactly Montgomery plans to allocate offensive-zone starts and deployments for his four lines, especially with Patrice Bergeron and David Krejci no longer in place.
Last season, Geekie started in the offensive zone on 63.3% of his 5v5 reps with the Kraken. As Boston's 3C last year, Charlie Coyle started in the offensive zone just 33.2% of the time at 5v5 action.
"I'd like to think that I can fill a couple of roles, and I think that I'm learning to play at both ends of the rink. To be a defensive center, that's something I'm for sure open to doing and anything to help the team," Geekie said. "So, there's a lot of good players in this organization and this team.
"So I'm just going to try and come in and bring what I can to the team, whatever that may be, and just try to take it and run with it."
Here's a look at Boston's lines on Friday afternoon. There were no changes from Thursday's set of practices.
GROUP A
Marchand-Coyle-Lysell
Heinen-Merkulov-DeBrusk
Richard-Geekie-Frederic
Harrison-Megna-Steen
Wotherspoon-McAvoy
Lindholm-Walsh
Zboril-Shattenkirk
Callahan-Mast
Edward
Ullmark
DiPietro
Starrett
GROUP B
Boqvist-Poitras-Pastrnak
Van Riemsdyk-Zacha-McLaughlin
Lucic-Beecher-Lauko
Greer-Brown-Chiasson
Lohrei-Carlo
Grzelcyk-Regula
Forbort-Mitchell
Brunet-Renouf
Ritchie
Swayman
Bussi
Keyser
A quick turnaround
It won't take very long for the Bruins to hit the ice in a game setting. After Saturday's practice at Warrior, the Bruins will open preseason action on Sunday with a matchup against the Rangers at TD Garden. Puck drop is set for 5 p.m.
"Yeah, honestly I just found out that we had [a game] yesterday when I looked at the schedule," Geekie said. "I thought I was looking at the schedule [for] next week and not realizing that [the start of camp] was only three days long.
"It's good. You kind of get right into it, doesn't give you much time to think and just start preparing. So I think after three days of practice, you're kind of itching to get into it after everything that you learn. So it's good to get our feet under us out there and we'll bring it into Sunday."
As expected, the Bruins don't plan on rolling out a slew of established players against the Blueshirts, especially with the surplus of younger players on the camp roster jockeying for additional reps in the coming weeks.
"You're not gonna see more than eight vets," Montgomery said. "But we're going to look at players that we think have earned the right to get an opportunity to see what they have — to either extend time or improve their position within the team."
Heinen vying for a shot
Danton Heinen might have been one of the last additions to the roster right before the start of training camp. But even with the former Bruin only here on a professional tryout (PTO) deal, don't discount his ability to solidify a roster spot over the next few weeks.
Even though Heinen was a bit of a divisive player during his time in Boston due to some uneven scoring production, he still projects as a versatile two-way player who can play up and down the lineup.
The 28-year-old winger is already familiar with Boston, but he also boasts close ties with his former coach at the University of Denver in Montgomery.
"At Denver, he was our best player. I had him for two years and when he got there, all of a sudden we went from a real poor offensive team to a much better one. I know at this level he's not the same player he was at the college level, and that's true for everybody. And he's learned," Montgomery said of Heinen. "But if I look at the [2019] team that lost to the Blues, he played on the third line and had 12 points, I believe, in 21 games in the playoffs.
"So he was an important part that helped the Bruins get to the Finals. "So this is someone that's been proven to do a lot of good things and yet at the NHL level and we need to see him show that why he needs the opportunity to be a Bruin again."
For the second straight day, Heinen skated on a line centered by Georgii Merkulov, with Jake DeBrusk skating at right wing. After a sluggish start for Merkulov on Thursday, the 22-year-old forward played with much better pace on Friday.
"I like the way he rebounded today," Montgomery said of Merkulov. "I thought he was so-so yesterday. I thought he was really good today. It was very evident, he was on top of pucks, I thought his pace of play was a lot better today. And I think that line in particular was pretty dominant out there with how many goals they've scored."
McAvoy entrenched as a leader
Much like Brad Marchand's ascension as Bruins captain, few were surprised to see Charlie McAvoy solidify himself in the team's leadership hierarchy by getting named as an alternate captain alongside David Pastrnak on Wednesday.
Even in his first season behind Boston's bench, Montgomery was impressed by the presence that a 25-year-old player like McAvoy already commands.
But now that Boston's No. 1 defenseman is another summer removed from major shoulder surgery (held in June 2022), Montgomery believes that McAvoy has even more to give now that his mind is no longer occupied by a lengthy rehab process.
"I don't know if it's just because he has training camp this year … But just the way he carries himself, his swagger, and his confidence on the ice and in the dressing room, I think he's just easier for him to focus on becoming a player than he is for the Bruins — a dominant hockey player in our league," Montgomery said of McAvoy's leadership capabilities. "I think it just comes from he's not worried about how his rehab's going.
"He's just worried about getting ready. And that helps his leadership qualities, just because when your best players are confident, everybody follows."
Odds and ends
Yet another physical set of practices at Warrior on Friday, with battle drills and netfront scraps dropping quite a few skaters to the ice. After taking a hit from Alex Chiasson on Thursday, Marc McLaughlin was hobbled a bit Friday after an awkward crash into the boards. He didn't leave practice early. Oskar Steen might need a few stitches (or a slight readjustment for his nose) after catching a high shoulder.
Another potential checking unit of A.J. Greer, Patrick Brown, and Alex Chiasson have toppled over multiple skaters already through two practices. Given the number of other bottom-six forwards vying for spots, players like Greer will need to provide the thump early and often to warrant a spot in the lineup.
It sure helps having an elite talent like David Pastrnak on his line, but it was a good practice for Matthew Poitras. Even though the 19-year-old center needs to significantly bulk up (176 pounds), he has done a good job consistently winning puck battles thanks to his positioning and ability to anticipate skaters along the boards.
Sign up for Bruins updates🏒
Get breaking news and analysis delivered to your inbox during hockey season.