Bruins
Bruins training camp takeaways: Georgii Merkulov's growth impresses Boston's top brass
"They obviously see the skill and the ability, but is he willing to do it?"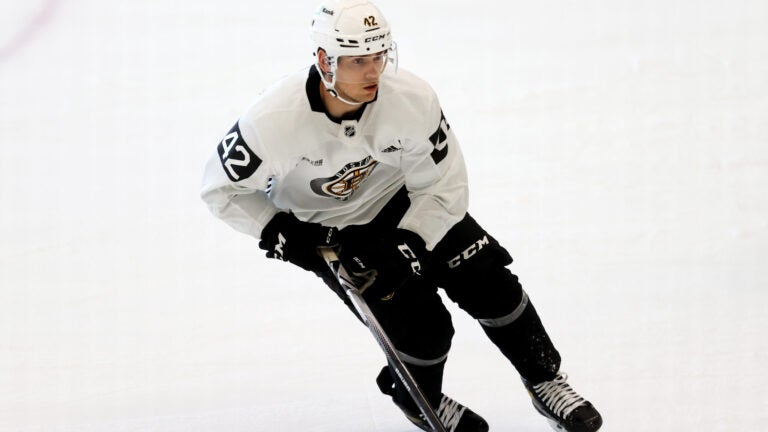 Georgii Merkulov's bombastic play on the ice stands in stark contrast to his phlegmatic presence away from the frozen sheet.
The 22-year-old center might offer the highest offensive upside within the Bruins' prospect pipeline. But he's rarely one to sing his own praises as he tries to carve a path up to the NHL.
"His personality is kind of stoic," Providence Bruins head coach Ryan Mougenel said of Merkulov last week. "He doesn't really give you much."
Rather, Merkulov opts to let his play do the talking. And so far, the Bruins have been impressed.
After a standout first season with the P-Bruins in 2022-23, Merkulov has opened Boston's camp with steady reps alongside Jake DeBrusk. After a sluggish start on Thursday, Jim Montgomery was impressed with the offensive chances generated by Merkulov in his second full-squad skate.
"I like the way he rebounded today," Montgomery said of Merkulov. "I thought he was so-so yesterday. I thought he was really good today. It was very evident, he was on top of pucks, I thought his pace of play was a lot better today. And I think that line in particular was pretty dominant out there with how many goals they've scored."
Even with some expected growing pains against pro competition, Merkulov has made steady progress since first joining the Bruins organization back in April 2022. After playing just one season at Ohio State (34 points in 36 games), Merkulov inked a three-year, entry-level deal with Boston.
The Russian-born forward didn't slow down upon making the jump up to the AHL ranks, leading Providence last season with 55 points (24 goals, 31 assists) over 67 games.
Mougenel and the Bruins were not surprised to see Merkulov light the lamp early and often. In the offensive zone, he's already a poised player with an effective, pro-ready shot. Even though he may not have elite speed, he's methodical and poised with the puck on his stick.
What Merkulov needed to show the higher-ups was improvement down the other end of the ice, as well as a commitment to the team game.
"He was stubborn, I would say, early on (last season)," Mougenel said of Merkulov. "I'd say his attributes obviously that separates him a little bit is his offensive mind. … His ability to buy in was something that we were questioning at first and I think everybody had those questions. They obviously see the skill and the ability, but is he willing to do it? For us, we were extremely pleased with his willingness. … Playing in the D zone is something we preach.
"It's a little bit of a separator for us with the Bruins. … Merkulov is a player that you have to give him a 'why' all the time. He's super inquisitive. The 'why' with Merk was we want to be in and out of our D zone. We want your energy for offense. There's a certain way of selling it and a certain way to buy in, and he bought in. His offense was really attributed to how well he defended, to be honest with you, as crazy as that sounds."
The Bruins have no shortage of intriguing options in camp who can fill out the bottom-six grouping in the NHL ranks. Even though veteran additions and incumbent regulars hold the early edge, Merkulov's upside is tough to ignore, especially if Boston is looking for a bit more of a scoring punch either at 3C or even on the wing.
Even if Merkulov starts the 2023-24 season in Providence, he could be the next man up as the year carries on — especially if he continues to round out his overall skillset.
Bruins announce roster for Sunday's preseason opener
Even though Merkulov won't hit the ice on Sunday, there will be several other youngsters worth watching during Sunday's preseason opener against the Rangers at TD Garden. Puck drop is set for 5 p.m.
Here is the Bruins' full roster for Sunday's game.
Forwards: John Beecher, Patrick Brown, Jake DeBrusk, Trent Frederic, Morgan Geekie, A.J. Greer, Brett Harrison, Fabian Lysell, Jayson Megna, Matt Poitras, Anthony Richard, James van Riemsdyk
Defensemen: Mike Callahan, Ian Mitchell, Alec Regula, Reilly Walsh, Parker Wotherspoon, Jakub Zboril
Goaltenders: Brandon Bussi, Kyle Keyser
As expected, it will be a rookie-heavy lineup for Boston's preseason opener, although it will also give the Bruins an extended look at some veteran pick-ups like Geekie, van Riemsdyk, and Brown.
Top prospects to keep tabs on include Matt Poitras, John Beecher, Brett Harrison and Fabian Lysell.
Montgomery told reporters at Warrior Ice Arena on Saturday afternoon that goalie Brandon Bussi will play all of Sunday's game against New York.
Odds and Ends
After watching Milan Lucic win a Stanley Cup with Boston back in 2011, Bruins forward and North Billerica native Marc McLaughlin still can't believe that he's sharing a locker room with the imposing power forward. He skated on a line with Lucic and fellow BC product in Patrick Brown on Saturday.
"That was really cool," McLaughlin told reporters on Saturday. "I grew up, he was one of the guys that I looked up to and the way he played, the style, the amount of heart he plays with. So it's pretty cool now to be having some conversations with him and getting to skate alongside him."
———
Brad Marchand and Charlie Coyle had a new linemate on Saturday, with Providence regular Oskar Steen slotting in at right wing. Even though the 25-year-old forward is only 5-foot-10, he's stood out to Montgomery for his ability to battle down low.
"He's very heavy," Montgomery told reporters about Steen on Saturday. "And that's why .. it's more important that you are heavy to play against, then you are so much [tall]."
"Like when people talk about players being physical — I would take a 5-foot-9, 195 pound player over a six-foot-3, 195-pound player. They're gonna be heavier. … When you're talking about defensemen — it's different. You want that length."
Newsletter Signup
Stay up to date on all the latest news from Boston.com