Bruins
Bruins takeaways: Brandon Bussi's highlight-reel save and more from win over Rangers
Brandon Bussi stopped all 29 saves that came his way in the Bruins' preseason opener on Sunday.
The Bruins opened their 2023 preseason slate in impressive fashion on Sunday, beating the Rangers, 3-0, at TD Garden.
Brandon Bussi stopped all 29 shots that came his way in the victory, while Matthew Poitras, Jake DeBrusk, and Johnny Beecher all scored for the Bruins.
Here are some takeaways from Sunday's win on Causeway Street.
Brandon Bussi steals the show
Jim Montgomery could only shake his head at the podium following Boston's 3-0 victory.
The Bruins' bench boss, much like the thousands of others at TD Garden, felt like the Rangers finally put themselves on the board in the third period of play.
A perfectly executed passing sequence on a New York power play gave Rangers forward Jonny Brodzinski an open net to fire in the visitors' first tally of the evening. Well, an open net for at least a millisecond.
Bussi may not have a better stop all season than his highlight-reel snag against Brodzinski to take a goal off the board.
"It was unreal. Honest to god — I thought he didn't get it," Montgomery said of Bussi. "It was a great play by them. But the fact that he read it? I mean, that's a double-slot-line play. They go in at like 75% … Brodzinski put it three-quarters of the way up the net. It wasn't like a low glove and shot it in the glove. He went and snared it. Big time."
Unlike some of the younger forwards on Boston's training camp roster who are vying to crack the NHL roster this fall, Bussi has a bit more resistance in front of him on the depth chart. Such is the case for a team that currently deploys arguably the best 1-2 punch in the net in Linus Ullmark and Jeremy Swayman.
But as the next man up, Bussi has quickly elevated his stock as Boston's most promising goalie prospect with just one full year of service time in the pro ranks.
"I mean credit to their power play, they were snapping the puck around, and sometimes you just got to compete and get a little luck," Bussi said of his save on Brodzinski. "So I'm pretty fortunate I made that save and a lot of credit to the team for the defense in front of me, it was a great effort tonight."
Considering what Bussi showcased over 32 games last year in Providence, luck may not be the primary component in Bussi's sterling play.
Signing with Boston in March 2022 after a standout career at Western Michigan, Bussi went 22-5-4 last season in Providence with a .924 save percentage and a shutout.
Along with his stop on Brodzinski, Bussi finished with 10 saves on the Rangers' 10 high-danger scoring chances on Sunday.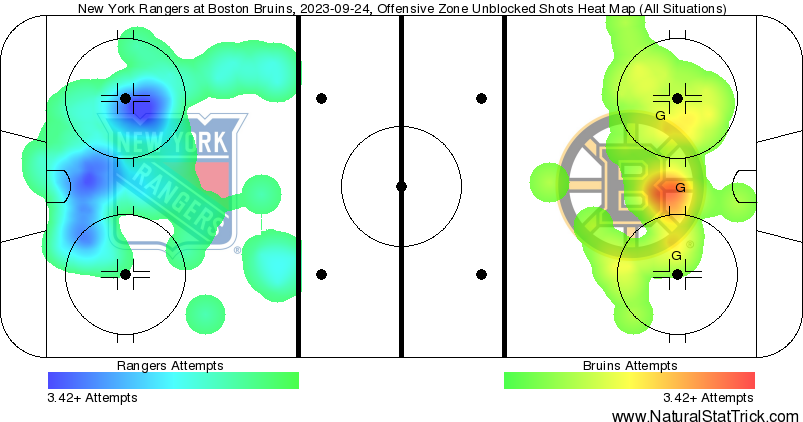 Even with Ullmark and Swayman entrenched in the NHL roster, Bussi stands to be the next man up if needed this season, and will be tabbed as Providence's No. 1 option in net in 2023-24.
For all of the talk of Boston's lackluster prospect pool, the organization has had no shortage of top goalie prospects rise through the systems over the past two decades. Bussi could very well be the next in line.
"Just a wild experience overall," Bussi said of drawing an ovation from the Garden crowd. "I don't think I've ever played in front of a crowd that excited, that much energy. And it's only preseason. It's a testament to how great our fans are. And it was just a super exciting experience to do it here for the first time."
Matthew Poitras makes strong first impression
Matthew Poitras made his intentions very clear earlier this month when asked about his mindset going into training camp.
"I'm gonna try and do my best to make it hard to send me back to Juniors," Poitras said.
The 19-year-old center has a tough task in front of him when it comes to sticking in the NHL ranks. If he can't break camp with Boston, he'll be sent back down to junior hockey to marinate for another full year.
But in his first taste of preseason action, Poitras made the most of his opportunity. Skating as one of Boston's top-six centers alongside NHL veterans in Jake DeBrusk and James van Riemsdyk, Poitras scored a power-play goal and added a primary helper on a DeBrusk wrister during Sunday's win.
Even with a standout performance from the promising pivot, Montgomery did urge caution when it comes to setting unfair expectations for a player who has logged just two full years of junior hockey on his resume.
"It's a big challenge," Montgomery said of Poitras making the team. "Because it's a man's league out there. He didn't see any NHL tonight. So it's a really good start, but that's what he needs to do, right?
"He played a really good game, he's gonna get another game and he keeps playing, he'll continue to get rewarded. It'd be a pleasant surprise if he was able to do it."
Poitras might offer the highest upside among Bruins forward prospects, with his value magnified to this franchise given their dearth of capable center prospects in the wake of Patrice Bergeron and David Krejci's retirements.
But even if he's another year or two away from legitimate NHL reps, the Bruins seem to be committed to giving Poitras an extended run this fall with some proven pro talent.
It now falls on him to force Boston's hand when it comes to leapfrogging dozens of pro players on the depth chart.
Johnny Beecher states case for 4C role
Johnny Beecher closed out the scoring for the Bruins in the second period, using his impressive skating ability to separate in the neutral zone and beat Jonathan Quick clean.
It was an added boost of confidence for Beecher, whose primary knock against his game has usually revolved around his muted offensive production with Providence (28 points in 70 career AHL games).
Any additional scoring punch will further elevate Beecher's odds of making the pro roster in October.
But the best way for Beecher to earn a role on Boston's checking line will come with him winning faceoffs and using his blend of speed and size (6-foot-3, 209 pounds) to cause havoc on the forecheck.
The 2019 first-round pick did the dirty work on a physical line with A.J. Greer and Patrick Brown, winning 7-of-11 faceoffs to go along with two hits and two takeaways.
The competition for Boston's fourth-line center role is still wide open in camp, with Beecher's physicality and skating talent making him an intriguing option for a potential bruising grouping alongside Milan Lucic.
Loose pucks
Much like the New York Jets' offense, the Rangers had some trouble getting to where they wanted to go on Sunday. Sunday's preseason opener was originally set for a 5:00 p.m. puck drop, but it was pushed back to 5:45 p.m. due to travel issues involving the Rangers.
———
Both Jakub Zboril and Patrick Brown left Sunday's game earlier due to injuries. Montgomery said that both exits were more precautionary. Zboril is vying for a spot as Boston's 7th D, while Brown might be Beecher's top competition for that 4C role.
———
Thought forward Anthony Richard had a strong game when it came to generating O-zone chances, with the 26-year-old skater nearly beating Quick with a backhand shot in the first period. Richard, who scored 30 goals and posted 67 points in 60 games with Laval (AHL) last season, could be an impact forward for the P-Bruins this winter.
———
The two former Chicago blueliners that the Bruins acquired in their June deal involving Taylor Hall and Nick Foligno both played on Sunday.
Ian Mitchell logged 19:14 of ice time but was also whistled for two penalties, while Alec Regula skated for 21:11 and helped secure Bussi's shutout by sweeping a puck off the goal line. The most poised D pair all evening might have been the duo of Reilly Walsh and Michael Callahan, especially when it came to shutting down plays and moving the puck with pace.
———
Even with three shots on goal, it was a bit of a quiet night for Fabian Lysell. The Bruins' 2021 first-round pick has evident skill, but seems to struggle at times when it comes to choosing his battles, especially against larger skaters. Some of that fearlessness is commendable, but not when it leads to a turnover or ill-advised pass.
———
A.J. Greer, who is also fighting for a roster spot, dropped the gloves with Ben Harpur late in the third period.
———
Boston will continue its preseason schedule on Tuesday with a matchup against the Sabres on Tuesday night. Puck drop from Buffalo is set for 7 p.m.
Sign up for Bruins updates🏒
Get breaking news and analysis delivered to your inbox during hockey season.
Newsletter Signup
Stay up to date on all the latest news from Boston.com