Bruins
Are the 2023-24 Bruins a playoff team? It comes down to defense.
"We're not putting as many pucks in, hopefully we can keep them out."
Jim Montgomery and the Bruins had an embarrassment of riches at their disposal when it came to assembling their 2022-23 lineup.
Few teams had the depth available to slot a former Hart Trophy winner like Taylor Hall onto their third line, while the shift of 60-goal scorer David Pastrnak away from his usual cohorts of Patrice Bergeron and Brad Marchand made life miserable for opponents trying to slow down Boston's top-six unit.
The 2023-24 Bruins still boast plenty of high-end talent up front, especially on the wing.
But amid the uncertainty at center following Patrice Bergeron and David Krejci's retirements — coupled with depth sapped across the forward corps following a summer of trades and free-agent departures — Brandon Carlo stated the obvious on Tuesday.
The Bruins have the pieces in place to field a competitive roster this winter. But expect far more one-goal leads in the months ahead as Montgomery leans on Boston's defense and goaltending more than ever.
"We've always focused upon the defensive side of the game," Carlo said. "That's not going to change. We're not putting as many pucks in, hopefully we can keep them out."
It should come as little surprise that a Bruins team that rewrote the record books in 2022-23 established itself as a two-way force on the ice.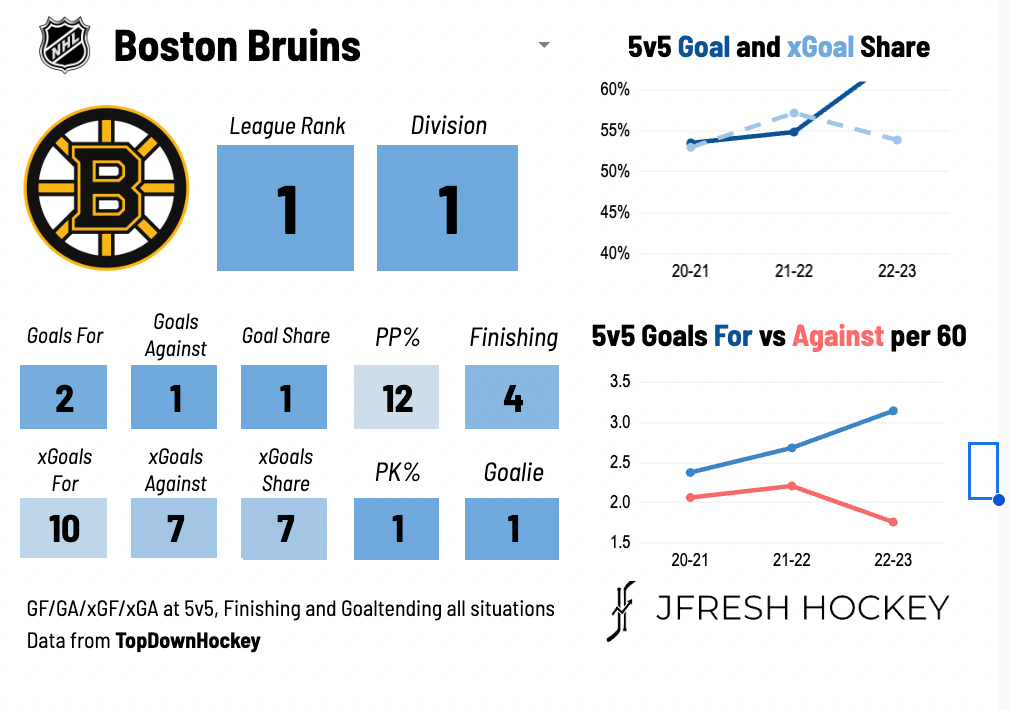 Only Connor McDavid and the Edmonton Oilers scored more goals per game (3.96) than the Bruins (3.67). But Montgomery's club was in a class of its own in the D-zone — pacing the rest of the NHL with just 2.12 goals against per contest. The Hurricanes ranked second in the same category … at 2.56 goals against.
For all the positive sentiment shared in camp about internal options like Pavel Zacha and Charlie Coyle thriving in top-six roles and free-agent pickups shoring up vacancies across the lineup, it's all but a given that Boston's potent offense is due to take a step back this winter.
In total, the Bruins lost a chunk of their forward corps over the offseason that accounted for 80 goals and 210 total points. Even if Zacha posts a 65+ point season next to Pastrnak or signings like Morgan Geekie and James van Riemsdyk cross the 40-point threshold, the Bruins still have some ground to make up when it comes to keeping pace with last season's juggernaut roster.
But Boston's foundation on the backend is in much better shape. Despite the loss of Connor Clifton in free agency (replaced by veteran Kevin Shattenkirk), the Bruins are set to open camp with five of their six starting D-men that helped Boston post a 43-8-5 record before the trade deadline.
Linus Ullmark is coming off a Vezina-Trophy campaign as the best netminder in the league. And even if some regression is in store for the veteran goalie, that could be countered by any additional strides that 24-year-old backup Jeremy Swayman can take in his third full season in the NHL ranks.
Swayman was far from a step down from Ullmark as Boston's 1B last season, with the young goalie's save percentage on high-danger shots (.862) actually holding a slight edge over Ullmark (.859) and ranking second in the league among eligible goalies (min. 2,000 minutes played).
With Boston once again anchored on the blue line by two Norris Trophy candidates in Charlie McAvoy (another year removed from offseason shoulder surgery) and Hampus Lindholm, the Bruins should have the personnel in place to grind down opposing teams as they search for their own consistent offensive conduits.
"I think, our goalies, first and foremost, with the way that they're able to play — it gives us a leg up each and every night," Carlo noted. "It starts with your goaltending out and then from there, we are lucky enough to have quite a few of the defensemen back that we had last year.
"So I think there will be games where we're gonna have to push the pace and kind of lead. That's kind of different at times when the forwards were doing a great job last year of putting the puck in the net."
Montgomery doesn't exactly need to do much tinkering on his blue line if he wants to keep a top-four grouping of Matt Grzelcyk-Charlie McAvoy and Hampus Lindholm-Brandon Carlo intact.
For all of the discourse regarding Grzelcyk's fortitude for playoff hockey, the Bruins need to punch their ticket to the postseason first. And McAvoy is arguably at his best when he has a poised puck mover in Grzelcyk next to him, with Boston outscoring opponents, 36-15, in their 604:05 of 5v5 ice time together.
Lindholm and Carlo established themselves as Boston's shutdown pair last season. Despite having just 27.5% of 5v5 shifts start in the offensive zone, the Bruins still held a 34-18 advantage in goals scored when Lindholm-Carlo skated together for 649:16.
More than anything, Montgomery might need to ask even more out of his sturdy defensive personnel in 2023-24, especially with the first layer Boston's D-zone coverage in poised centers like Bergeron and Tomas Nosek no longer donning black-and-gold sweaters.
"I think where our goalies are with our D corps, we're clearly in the top of the league in those departments," Montgomery said. "It's probably going to rely a lot more on our D-men as far as how we play in our team identity of them having more of an impact at all 200 feet of the ice.
"Not only scoring, but also — we had four centers last year that all knew how we played in our D zone, right? So we killed a lot of plays because of them. We might need them to kill a lot more plays in the offensive zone or in the neutral zone with their skating ability and their hockey sense and competitive level, so we don't end up in our D zone, because we don't have those same layers coming back."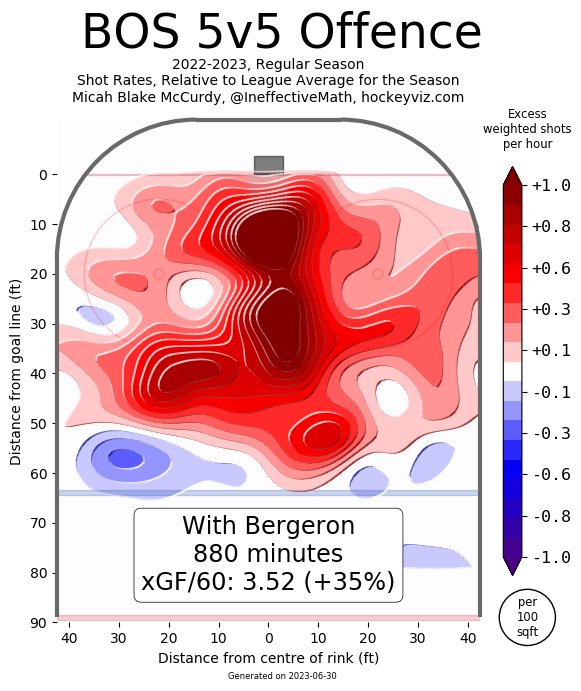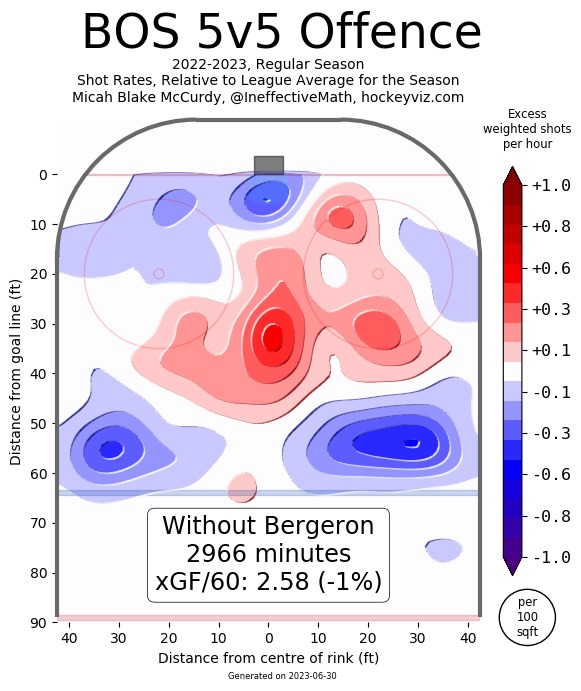 The Bruins do have some game-breaking options up front in names like Pastrnak, Marchand, and Jake DeBrusk.
But if the Bruins plan on charting a course back to the postseason, it's going to have to fall on Boston's goaltending and D corps to keep their retooling roster from taking on water, especially out of the gate.
"There might be some games on the back end and then within the net that we're gonna have to steal this year," Carlo said. "So it's gonna be a great challenge, and I'm looking forward to that."
Sign up for Bruins updates🏒
Get breaking news and analysis delivered to your inbox during hockey season.