Bruins
Bruins takeaways: Matthew Poitras continues to make case for NHL reps
"I thought he did an excellent job tonight. He shows a lot of poise with the puck."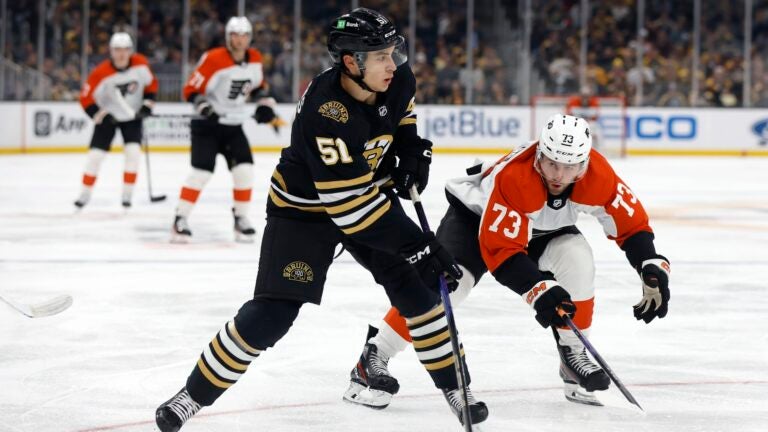 The Bruins came up short in their latest preseason contest on Monday night, dropping a 3-1 loss to the Flyers at Wells Fargo Center.
Morgan Geekie scored the lone goal of the evening for the Bruins, while Jeremy Swayman stopped 21 of the 24 shots that came his way. Boston landed just 14 shots on goal in what was a quiet contest for several players across the lineup.
Here are some takeaways and observations from Monday's loss in Philadelphia.
Poitras keeps on driving play
Monday represented Matthew Poitras' most daunting task yet during preseason play.
The 19-year-old center has impressed through the first few weeks of camp thanks to his playmaking poise. But the strong returns he put forth in his first two preseason outings also saw him log significant reps alongside elite talent like Brad Marchand and David Pastrnak.
But against the Flyers, Poitras was given the task of driving play with a more subdued set of linemates in Jesper Boqvist and Marc McLaughlin — with the onus falling on the young forward to hold his own without having a 60-goal scorer like Pastrnak to rely on for offense.
In what has been a recurring trend all preseason, Poitras passed the latest test that Jim Montgomery and Boston's top brass crafted for him — with the blue-chip prospect continuing to make it hard on the Bruins to ship him back down to juniors.
In a preseason contest that saw the Bruins knocked for extended lapses of lackadaisical play, Poitras continued to stand out as an effective playmaker and key cog down the middle.
"I thought he did an excellent job tonight," Jim Montgomery told reporters postgame. "He shows a lot of poise with the puck. He makes plays and makes intelligent support plays. He's someone that built our team game tonight out there. Made a lot of smart hockey plays."
The 2022 second-round pick recorded an assist and won eight of his 11 faceoffs on Monday, logging 16:39 of ice time in Boston's road defeat. He recorded 3:16 of ice time on the power play, along with 1:56 of shorthanded reps.
Along with his secondary helper on Geekie's power-play tally, Poitras orchestrated a few Grade-A looks for Justin Brazeau and Ian Mitchell in the slot off of some slick feeds.
It was another solid showing for Poitras, even though it's clear that the pass-first pivot still needs to emphasize shooting the puck more. He finished with zero shots on goal on Monday, and only has three shot attempts through three games.
In the 9:31 of 5v5 ice time that Poitras logged with winger Jesper Boqvist, the Bruins held a 7-2 edge in shot attempts and a 4-1 advantage in scoring chances.
In a perfect scenario, a player like Poitras who has accelerated his developmental timeline would open the year against AHL competition — given that Poitras will feast against fellow teenagers in the OHL this winter if he returns to the Guelph Storm (95 points in 63 games in 2023-24).
But Boston isn't afforded such a luxury with Poitras, with the NHL-CHL transfer agreement stipulating that Boston either needs to keep him in the NHL ranks or send him back to juniors.
The consensus for most of the fall has been that Poitras is destined for another year in juniors, given the steep learning curve that likely awaits if he's asked to navigate 82 games against the best players in the world.
But at this point, Poitras is making a compelling argument for at least one more preseason game before cuts arrive.
And even if he's not set for a featured role on this 2023-24 Bruins squad, Poitras can still play in nine games with the Bruins to open the regular season as a trial before reporting down to Guelph.
At this point, he might have earned such a look.
Coyle gets first look as top-line center
After sitting out the first three preseason games on the docket, Charlie Coyle earned his first look as one of Boston's top-six centers on Monday.
The veteran forward — who primarily skated alongside Jake DeBrusk and Fabian Lysell — logged 17:03 of ice time against the Flyers and recorded the primary assist on Geekie's goal in the first period.
"It's an opportunity that's available – and I'm ready for it," Coyle said on Monday morning at Warrior Ice Arena. "I've been working towards this my whole career and wanted to play in a role of this caliber…you always want to improve your game.
You want to be a guy who can be reliable on all situations, and that's what I pride myself on. I want to keep showing that and improving. "We all want to play more minutes, and that's something I'm looking forward to working towards, and to be a better player for this team. I know I can, and I want to be."
Despite that nifty set-up on Geekie's goal, it was a relatively quiet night from Boston's top line. A lackluster showing from Lysell didn't do that forward grouping any favors, but the Bruins were still out-chanced, 10-8, during the 10:10 of 5v5 ice time when Coyle and DeBrusk skated together.
Ian Mitchell could be a favorite for 7th D spot
Barring any surprises (such as Mason Lohrei making the club out of camp), the Bruins will likely open the regular season with a six-man defensive unit of Charlie McAvoy, Hampus Lindholm, Brandon Carlo, Matt Grzelcyk, Kevin Shattenkirk, and Derek Forbort.
But it remains to be seen who shores up Boston's spot as its seventh defenseman. Jakub Zboril was seen as the likely favorite entering camp, but Ian Mitchell is making a strong case as a puck-moving option who can make an impact when pressed into action.
After logging a team-high nine shot attempts last week in Boston's preseason loss to the Sabres, Mitchell once again made his presence felt against the Flyers — finishing with 21:44 of ice time and posting a team-high five shot attempts.
Given his versatility and pace-pushing skillset, Mitchell draws some similarities to Steven Kampfer, who was a steady seventh D in Boston for a few seasons. Granted, Mitchell could offer even higher upside given both his age (24) and familiarity with his former collegiate coach in Montgomery.
Zboril has had a bit of bad luck this preseason after suffering an injury against the Rangers on Sept. 24. But with cap space at a premium, the Bruins could carve out some additional fiscal breathing room by waiving Zboril ($1.13 million cap hit) over Mitchell ($775,000 AAV).
"One of the few players – I thought – in our lineup that I noticed skating tonight," Montgomery said of Mitchell. "Overall, it's hard to say because we didn't have the puck very often tonight. You know, when you don't have the puck, you're chasing the game and you're checking a lot. And we were checking slow, so a lot of times it was hard to notice a lot of players tonight."
Lackluster showing from Lysell
While Poitras continues to defy the odds and put himself in the mix for a roster spot with Boston, it sure seems like Fabian Lysell is setting himself up for a spot in Providence to open the 2023-24 season.
The odds were against Lysell when it came to breaking camp with Boston after an up-and-down AHL season last winter. But Lysell's evident skill set and experience (54 games with Providence) offered up hope that the 2021 first-round pick was primed to push some established NHLers during camp.
That hasn't been the case for Lysell during preseason action, with the skilled winger struggling with board battles and errant passes during Monday's loss.
It was to be expected that Lysell needed more seasoning in Providence before being considered a viable NHL player. But it's still been a relatively underwhelming showing from the winger over these last few weeks.
Loose pucks
A few bad bounces led to Philly's three-goal salvo in the second period, but this easily could have been a 6-1 game had Swayman not turned aside plenty of other Grade-A chances.
———
A rather underwhelming showing from Patrick Brown, who was likely considered the favorite to secure Boston's fourth-line center spot out of camp. But the veteran only won four of his 11 faceoffs on Monday, was whistled for a trip, and landed just one hit over 14:04 of ice time.
During Brown's 10:52 of 5v5 reps, the Flyers held a commanding 14-1 edge in shot attempts and a 5-0 advantage in shots on goal. In a limited sample size, Johnny Beecher has put together the more compelling argument for minutes at 4C once regular-season play begins.
Newsletter Signup
Stay up to date on all the latest news from Boston.com