Bruins
Brad Marchand compares Bruins rookie Matthew Poitras to All-Star forward
"He's smart on both sides of the puck. He's really good with it — the way he moves and can dish it."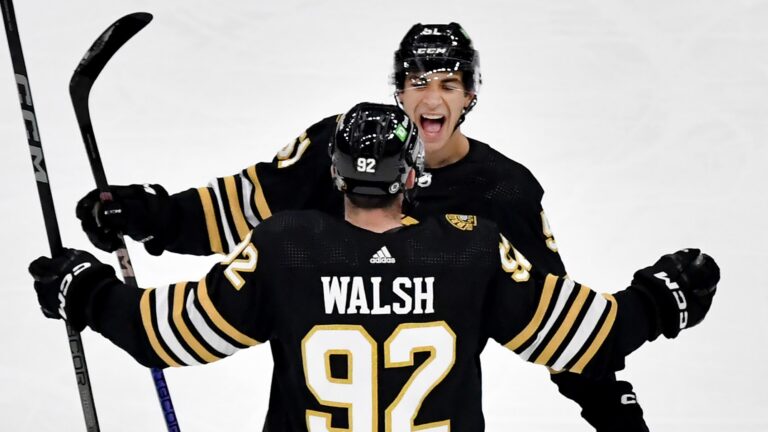 The hype continues to build for Bruins rookie Matthew Poitras.
Once considered a long shot to crack the NHL roster this fall, given both his age (19) and inability to report to the AHL, Poitras has forced the Bruins hand so far by making the most of his preseason reps.
The 19-year-old center has arguably been Boston's most impactful forward during preseason action, posting three points over three games while earning regular reps on both the power play and penalty kill.
During Monday's preseason road loss to the Flyers, Poitras recorded a secondary assist, logged 16:39 of ice time, and also won eight of his 11 faceoffs while skating in a top-six role.
"I thought he did an excellent job tonight," Jim Montgomery told reporters postgame. "He shows a lot of poise with the puck. He makes plays and makes intelligent support plays. He's someone that built our team game tonight out there. Made a lot of smart hockey plays."
Despite the questions surrounding Poitras' slight frame (5-foot-11, 170 pounds) and his ability to withstand both the physical toll and exhausting grind of an 82-game NHL season, Poitras has clearly impressed both Boston's coaching staff and several established players in the dressing room.
Speaking ahead of Tuesday's preseason matchup against the Capitals, Bruins captain Brad Marchand spoke highly of Poitras — noting that his playmaking poise reminds him of a star forward on the Toronto Maple Leafs.
"He reminds me a lot of [Mitch] Marner, the way that he plays," Marchand said of Poitras. "He's smart on both sides of the puck, he's really good with it, the way he moves and can dish it. Just reminds me of him and [he's[ similar where he's not timid to get into the dirty areas and compete for pucks, but he's got great vision.
"He does a great job cutting to the middle, buying himself some space, to be able to find those quiet areas on the ice where he has an extra second to make a play. And even when he's under pressure, when guys are kind of barreling down, he seems to find holes. And so he's got great vision."
Drawing comparisons to a proven playmaker like Marner is high praise, given that the Maple Leafs winger has accrued 554 points in 507 career games with Toronto. Much like Poitras, Marner is far from an imposing physical presence at 6-foot-0, 181 pounds.
But the star winger has developed a knack for using sound positioning and a slick set of moves to both avoid contact and cut into Grade-A ice to create plays.
"It's pretty cool. It's a good compliment," Poitras said of Marchand's lofty comparison. "That's cool."
Poitras has the tools to be an impact player in the NHL ranks, but it remains to be seen if now is the time for the 2022 second-round pick to cut his teeth with the Bruins.
Tuesday will represent Poitras' top test during training camp, with Boston slotting him in the lineup for the second-straight day against the Capitals. He is expected to skate with Marchand and Trent Frederic in a top-six role.
With one last sizable round of cuts likely incoming before Boston's final preseason tilt on Thursday night against the Rangers, Poitras' performance against Washington could be the final determinant on whether or not he breaks camp with the big club.
"To see how he handles being able to play on a back-to-back," Montgomery said Tuesday morning of the reason behind playing Poitras for the second-straight day. "I thought the Flyers had a really good lineup last night, and we're gonna see a really good lineup from Washington.
"From the looks of it, it's pretty much Washington's team up front. So you'll see him go against the [Nicklas] Backstroms, the [Evgeny] Kuznetsovs of the world and see how he handles that."
Even though Poitras can either play in the NHL or get sent back down to the OHL's Guelph Storm for another year of junior hockey in 2023-24, the Bruins do have some options if they want to see if Poitras can hold his own during regular-season action.
Even though Poitras can't be slotted down to Providence to take on AHL competition, the Bruins can open the regular season with the rookie on the roster. He can then play at least nine total games with the Bruins before Boston has to decide to either keep him up with the NHL roster all season, or send him back to junior hockey.
So far, it looks like Poitras has earned a shot at that nine-game trial run.
"It's gonna be tough on him tonight, having a back-to-back with travel," Marchand said of Poitras. "It''s not gonna be easy. So hopefully we can help them out, try to dig some pucks out for him and make it a little easier.
"Those are things that you need to be able to show you can do at this next level is be consistent. Even when you played the game the night before or you traveled or whatever it is. But he's a great little player. He's got a bright future ahead of him."
Sign up for Bruins updates🏒
Get breaking news and analysis delivered to your inbox during hockey season.