Bruins
Matthew Poitras, Mason Lohrei survive latest Bruins roster cuts
The Bruins still have some decisions to make with their final NHL roster.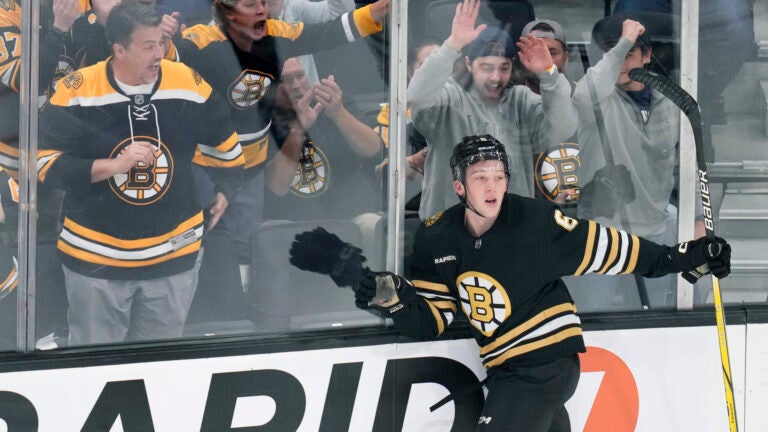 Jim Montgomery noted last week that he hoped to have his NHL roster essentially set in stone ahead of the Bruins' preseason finale, with Thursday's road game against the Rangers serving as a "dress rehearsal" or sorts before regular-season play begins on Oct. 11.
But thanks to a few spirited preseason pushes from players in Boston's prospect pipeline, it looks like Montgomery and his staff still have a few more decisions to make when it comes to crafting Boston's final lineup.
Boston announced its latest round of training camp roster cuts on Wednesday afternoon, subtracting four players from the main group.
The Bruins announced that veteran forward Jayson Megna has been placed on waivers, while Trevor Kuntar, Marc McLaughlin, and Georgii Merkulov will report to Providence.
With these latest moves, the Bruins' trio of promising prospects in Matthew Poitras, Johnny Beecher, and Mason Lohrei are still sticking with the NHL roster — at least for a few more days.
At this stage of the preseason, a poised pivot like Poitras has likely earned himself a nine-game trial up in the NHL ranks — with Boston given an extended trial to see if the 19-year-old has the mettle to hang with the Bruins all season long, or if another year in junior hockey is the apt course to take.
Beecher has looked the part as a fleet-footed, physical skater who can slot into center on a bruising fourth line alongside Milan Lucic and Jakub Lauko, although his chief competitor in veteran Patrick Brown also remains on the camp roster.
Lohrei's ability to avoid multiple roster cuts is a testament to the 22-year-old blueliner's efforts to build his game with each new preseason contest. Still, even though both Beecher and Poitras might hold the inside edge to carving out roster spots on Oct. 11, Lohrei might be better suited to start the season in Providence.
Even with his poise with the puck and knack for logging heavy minutes (24:40 vs. Washington on Tuesday), Lohrei still has plenty to work on at the pro game when it comes to his D-zone play and skating.
At this stage of his development, Lohrei might be better served starting the year against AHL competition, where at least he can log 20+ minutes a night and also earn top power-play reps. Even if he was to break camp with Boston, Lohrei would likely be handed sheltered minutes out of the gate, with little to no power-play reps available.
Even if he's one of the final roster cuts before the week closes, Lohrei has a done a good job of accelerating his timeline for NHL action during this preseason — with a mid-season call-up now a viable option if he continues to make the most of sizable minutes up for grabs in Providence.
The fates of Poitras, Lohrei, and Beecher still loom large over these final days of camp. But the Bruins still have other roster decisions to make in order to get their roster down to 22 or 23 players.
Boston still needs to determine whether forwards Jesper Boqvist, Patrick Brown, Danton Heinen, and A.J. Greer can carve out spots in the bottom six, with Heinen making a compelling argument for a league-minimum deal as either a versatile third-line forward or the team's 13th forward (if Poitras sticks in the NHL all season).
Along with seeing if Lohrei can perhaps make one final push, the Bruins also need to sort out who slots in as the team's seventh defenseman. Jakub Zboril was the incumbent spare blueliner entering camp, but Ian Mitchell might have leapfrogged him over the last week.
More cap space on the horizon?
Some good news for the Bruins and the rest of the NHL, as commissioner Gary Bettman noted after a Board of Governors meeting on Wednesday that preliminary revenue projections have the league's salary cap jumping from $83.5 million in 2023-24 to somewhere between $87-88 million in 2024-25.
That's a sizable bump after years of either stagnant or nonexistent cap growth, due in large part to the economic effects of the COVID-19 pandemic and the sizable escrow debt that the league's players have had to pay off to owners in the wake of that fiscal turmoil.
Once that escrow debt is fully paid off, the NHL could see a sustained surge of cap flexibility, with one projection from The Athletic listing a potential cap ceiling of $92.1 million by 2025-26.
An additional $3-4 million in spending power comes at a perfect time for the Bruins, who could have at least $28 million in cap room available for what could be a busy offseason.
Boston already has plenty of key cogs like David Pastrnak, Charlie McAvoy, Hampus Lindholm, Pavel Zacha, and Linus Ullmark all signed long-term, with new deals for Jeremy Swayman and Jake DeBrusk standing as the most pressing in-house matters to deal with next summer.
That additional cap space could go a long way if Boston looks to search outside of the organization for center depth — be it in free agency or taking on a sizable contract like a Tomas Hertl in the coming years.
Sign up for Bruins updates🏒
Get breaking news and analysis delivered to your inbox during hockey season.