Bruins
Bruins takeaways: Matthew Poitras stamps NHL roster spot as preseason wraps
Matthew Poitras closed out the preseason with five points in five games.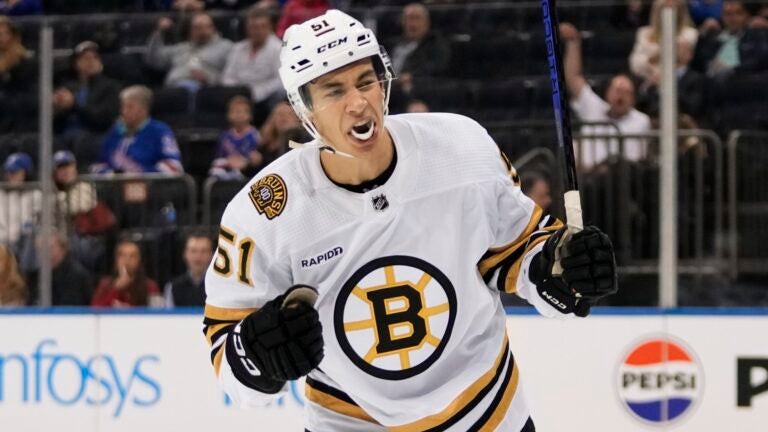 The Bruins closed out their preseason slate on Thursday night with a 3-1 win over the Rangers in New York.
It was a sluggish start for the Bruins, who only landed one shot on goal in the opening 20 minutes. But Boston heated up as the game carried on, with Charlie Coyle, Matthew Poitras, and A.J. Greer lighting the lamp en route to the victory at Madison Square Garden.
Jeremy Swayman played the entire game for the Bruins, stopping 22 of the 23 shots that came his way in the win.
Here are a few takeaways and observations from Thursday's road matchup.
Poitras proves that he belongs … again
At the risk of sounding redundant from our previous preseason takeaways, let's run this exercise once again when it comes to Matthew Poitras.
If it looks like an NHL player, skates like an NHL player, and plays like an NHL player … it's probably an NHL player.
Barring a catastrophic turn of events, it seems set in stone that the 19-year-old center is going to break camp with the Boston Bruins.
The 2022 second-round pick once again made the most of his final preseason contest, giving Boston the lead for good with his third tally of the fall just 1:13 into the third period. He finished with 13:21 of ice time, winning four of his five faceoff opportunities.
Poitras closes out his preseason with five points (three goals, two assists) over five games, with the poised playmaker already displaying a willingness to put more pucks on net in Grade-A ice, rather than instinctively seeking out passing lanes in split-second situations.
At this point, Poitras has done everything asked of him.
"He just seems to be in the right spots," Montgomery said of Poitras. "He has the puck a lot because he's always in the right support position. And then when he gets the puck, his poised with the puck — he's calm beyond his years with the puck."
He capitalized early on in camp when tasked with skating between some elite play drivers like David Pastrnak and Brad Marchand. He was asked to play in back-to-back games on Monday and Tuesday against the Flyers and Capitals, and delivered with a highlight-reel goal at TD Garden.
And on Thursday, Jim Montgomery opted to slot the promising rookie further down the depth chart to see if he could still drive play next to a pair of potential linemates in Morgan Geekie and Trent Frederic.
Once again, Poitras came through.
The question about whether or not Poitras deserves a spot on Boston's Opening Night roster has been settled. The real test lies ahead, as Boston will have a nine-game trial in place to see if Poitras has what it takes to stick around in the NHL full-time or eventually get shipped back down to the OHL.
Yeah, I mean, it certainly looks that way," Montgomery told The Boston Globe's Kevin Paul Dupont when asked if Poitras has done enough to make the team. "He's earned the right to stick around for a while, that's for sure."
Coyle holds steady in top-six role
If Poitras is indeed skating with the Bruins on Oct. 11, one potential lineup tweak could see the rookie open the year in a top-six role, with a stronger supporting cast around him helping to ease his way into an 82-game gauntlet.
But even though Charlie Coyle could potentially benefit from such a lineup reshuffle if he bumps back down to 3C, the veteran forward pushed back against said assertion with an impactful game against the Rangers.
Along with opening the scoring for Boston off a slick power-play sequence involving David Pastrnak and Pavel Zacha, Coyle was as advertised as a puck-possession horse in the offensive zone — extending time in the Rangers' end of the ice by shielding the puck along the boards and driving past opposing skaters.
He even got into a rare scrap with fellow Massachusetts product Jimmy Vesey after he objected to the North Reading native's hit in the second period.
Regardless of where he slots into the lineup, Coyle should be a key cog up front for the Bruins in 2023-24.
The kids are alright
It might have been the Poitras show once again, but the rest of Boston's young crop of skaters continued to hold their own against the Rangers.
Even though he didn't figure into the scoresheet, Mason Lohrei formed an effective shutdown tandem alongside Brandon Carlo on Thursday night. Despite having just 28.5% of their faceoffs set in the offensive zone, the Bruins still held a 4-1 edge in shots on goal and outscored New York, 1-0, in Lohrei-Carlo's 12:40 of 5v5 ice time together.
Lohrei finished with 20:13 of ice time and recorded four blocks in the victory.
It was a quieter night for Johnny Beecher as the 2019 first-round pick tries for a spot on Boston's checking unit.
But the 22-year-old forward still landed two hits and logged 3:49 of shorthanded ice time against the Rangers, and it still doesn't seem like his top competitor in veteran Patrick Brown has done enough to necessarily bump him out of the 4C spot.
Loose pucks
A lot of the focus has understandably been devoted to younger players like Poitras and Lohrei during preseason action. But Thursday was also a very encouraging performance by a few lineup regulars who had been pretty quiet in Morgan Geekie and Trent Frederic.
Frederic's strong work along the boards and heads-up passing found Poitras alone in the slot en route to his third-period goal, while Geekie helped set up Greer's empty-netter with a D-zone clear.
———
After relinquishing an early goal from Kaapo Kakko, Swayman settled down in short order, stopping nine of the 10 medium and high-danger shots that the Rangers generated. Both he and Linus Ullmark should be ready to go.
———
Not the strongest showing from Boston's third D pair of Ian Mitchell and Derek Forbort. Forbort's poise and toughness on the PK is tough to ignore. Still, it remains to be seen if special-teams acumen is enough to overlook the lackluster results he generates at 5v5 play.
Newsletter Signup
Stay up to date on all the latest news from Boston.com