Bruins
Don Sweeney maps out Bruins' approach with final roster cuts, Matt Poitras' future
"We have had some players make the decisions very, very difficult."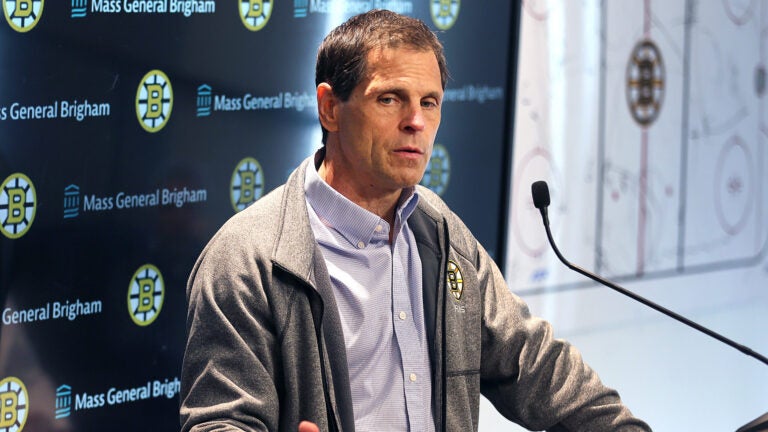 The Bruins have until Monday evening to formulate their roster ahead of regular-season action on Wednesday night.
Not only do the Bruins need to shave their training camp personnel down to either 22 or 23 players, they also need to get under the NHL's $83.5 million cap ceiling.
Boston made another three cuts to its group on Saturday afternoon, placing Jesper Boqvist, Oskar Steen, and Jakub Zboril on waivers for the purpose of assignment to Providence.
"When you're delivering news that isn't what they're hoping to hear, it doesn't matter what business you're in, or what what the situation calls for," Jim Montgomery said Saturday of looming roster cuts. "Same thing is when I tell my kids like, taking your phones away — they don't want that. Players don't kick and scream when we tell them no.
"But it's hard. And today's a hard day, right? It just is. Because everybody's aware, everybody knows that you got to get down to a number at a certain point. So that's why I didn't particularly love practice, but the expectation of human nature, it comes into effect."
But the Bruins still have 25 players on their current roster, with at least another two or three cuts on the horizon before Monday evening.
Here's a look at the Bruins players still in camp:
Forwards (15): Johnny Beecher, Patrick Brown, Charlie Coyle, Jake DeBrusk, Trent Frederic, Morgan Geekie, A.J. Greer, Danton Heinen, Jakub Lauko, Milan Lucic, Brad Marchand, David Pastrnak, Matt Poitras, James van Riemsdyk, Pavel Zacha
Defense (8): Brandon Carlo, Derek Forbort, Matt Grzelcyk, Hampus Lindholm, Mason Lohrei, Charlie McAvoy, Ian Mitchell, Kevin Shattenkirk
Goalies (2): Jeremy Swayman, Linus Ullmark
Speaking on 98.5 The Sports Hub's Hockey Show Saturday morning, Bruins general manager Don Sweeney acknowledged that a few surprising preseason pushes have given Boston a good problem to deal with when it comes to making a call on final roster moves.
"We have had some players make the decisions very, very difficult," Sweeney said. "We've got some decisions over the next couple of days that are going to be hard. But again, that's just part of the job and part of the business. It's not fun. But in some senses, it is — because you are seeing players that have stepped forward. And we're excited about that."
Some of the most pressing lineup decisions for the Bruins remain unsettled.
While goaltending is set in stone with Linus Ullmark and Jeremy Swayman, the Bruins need to make one more cut on their D corps.
With Zboril waived, it seems like Mitchell has shored up the spot as Boston's spare blueliner, considering that Boston likely won't keep a player with a cap hit like Forbort's ($3 million) in a reserve role, nor would they waste Lohrei's development by not playing him every game.
Barring a cap-clearing trade involving an NHL regular like Forbort or Grzelcyk, the Bruins likely need to make a call on Lohrei and whether or not he will start the season in Providence or Boston.
The more likely move is Boston lets Lohrei marinate in Providence to open the year, given that the promising prospect can log 23-25 minutes a night and earn power-play reps right out of the gate in the AHL.
So long as Lohrei continues to build his game, he could play himself into consideration for a call-up a month or two into the new season, especially if a few of Boston's incumbents on the blue line continue to struggle.
At this point, it seems safe to assume that Poitras is a lock to open the season up in the NHL ranks. The next hurdle for the 19-year-old center is proving he can stick with Boston all season over this upcoming nine-game trial afforded to him with Boston.
The Bruins can play Poitras in nine total NHL games this season before they need to decide to either keep him for the long haul (and burn the first year of his entry-level contract) or send him back to juniors for the 2023-24 campaign. He is not eligible to play in Providence (AHL) this season.
"There are a lot of factors," Sweeney said of what goes into the decision to keep a young player after that nine-game sample size. "You're really starting to look, historically, both internally with players that you've had go through it. … When a player is fully ready, you just don't know. You don't know how it's gonna happen game to game. And if you make a decision after nine, you're probably crossing your fingers."
With Poitras likely in place on Oct. 11, the Bruins will need to make at least three cuts to a five-man forward group of Johnny Beecher, Patrick Brown, Danton Heinen, A.J. Greer, and Jakub Lauko.
Lauko should have the inside edge for a starting spot on the wing opposite Milan Lucic, while Boston needs to determine if Beecher has done enough to unseat a veteran in Brown for the fourth-line center role.
Brown could be utilized as Boston's 13th forward if Beecher beats him out for a starting role, although both Greer and Heinen also offer different skill sets that could come in handy as a reserve player.
"We've been doing this incrementally and throughout camp. … In some cases, there's a cap situation, some cases there's waiver situations or guys who don't require waivers and [you] try and balance it," Sweeney said of Boston's approach during roster cuts. "You don't want to deplete depth. … But the most important thing is who's played well, who deserves the opportunity.
"Ultimately, that has to be the overriding decision-making — it might have to be kicked down the road for a couple of weeks as you sort of sort through things and maybe explore some player movement or trades. But you're making really hard decisions, you're having really difficult conversations with sometimes younger or older players. And that's the hardest part of the job at this time of year. You're having really, really heartfelt conversations with players that are either close, or players that got beaten out, and [it's] not very rewarding."
Sign up for Bruins updates🏒
Get breaking news and analysis delivered to your inbox during hockey season.