Bruins
Bruins finalize starting lineup: 4 takeaways as Mason Lohrei heads to Providence
"When players have made an impact in our lineup and they deserve an opportunity, they've earned an opportunity."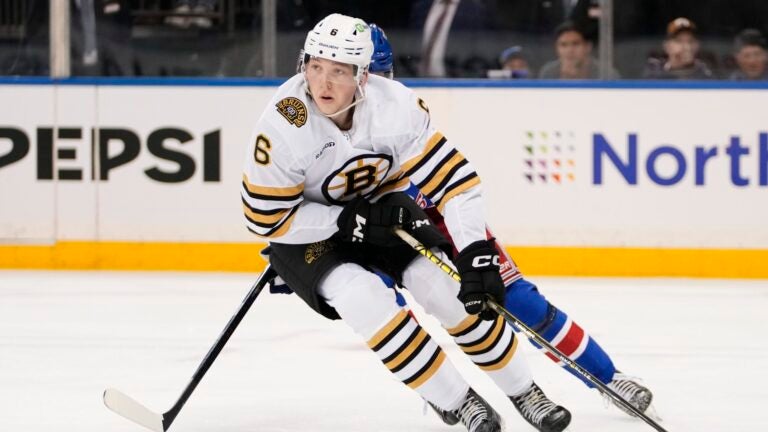 After multiple rounds of roster cuts, the Bruins finally have their personnel in place for opening night on Oct. 11.
Following Monday's Media Day at TD Garden, Boston announced its final cuts ahead of the 5 p.m. deadline for finalized league rosters.
As expected, both Matthew Poitras and Johnny Beecher are set to make their NHL debuts on Wednesday against the Blackhawks after some impressive preseason play, while Mason Lohrei will open the year in Providence.
The one remaining domino is the status of Danton Heinen, who skated on Monday but still needs to sign a contract with Boston. In other roster news, the Bruins lost forward A.J. Greer after the Calgary Flames claimed him off waivers.
Based on the lines we saw on Monday morning at TD Garden, here is a projected look at Boston's lineup on Wednesday.
James van Riemsdyk — Pavel Zacha — David Pastrnak
Brad Marchand — Charlie Coyle — Jake DeBrusk
Trent Frederic — Matthew Poitras — Morgan Geekie
Milan Lucic — Johnny Beecher — Jakub Lauko
Matt Grzelcyk — Charlie McAvoy
Hampus Lindholm — Brandon Carlo
Derek Forbort — Kevin Shattenkirk
Linus Ullmark
Jeremy Swayman
Here are a few quick takeaways about the Bruins' projected starting lineup on Wednesday.
Poitras opens his NHL career on third line
If Matthew Poitras plans on sticking around in the NHL ranks all season long, the Bruins are going to make him earn it.
Poitras is arguably the most exciting prospect to step into Boston's dressing room in years, with his potential ceiling as an impact top-six center holding even more weight in the wake of both Patrice Bergeron and David Krejci's retirements.
But as tempting as it might be to see what a poised playmaker like Poitras could do if slotted next to some elite-level talent like Brad Marchand and Jake DeBrusk, the Bruins aren't going to entrench him in such a vital role … not yet, at least.
The Bruins only have nine games to see what Poitras can offer up in the NHL ranks. After that extended sample size, Boston will need to decide to either keep him for the long haul (and burn the first year of his entry-level contract) or send him back to juniors for the 2023-24 campaign.
But as Boston evaluates Poitras' mettle, the organization will see if he can drive play on a third line next to Trent Frederic and Morgan Geekie.
That grouping was arguably Boston's best forward trio during their preseason finale against the Rangers, with Poitras potting his third goal off of a slick feed from Frederic behind New York's net.
If Poitras proves his worth over the first nine games, the door could open for Poitras to potentially slot up into a top-six role — with the subsequent domino effect pushing another poised pivot like Charlie Coyle to the third line.
But before he's handed the keys to that coveted spot in the top-six, he'll need to deliver further down the lineup.
"We talked about this the other night, Cam [Neely] and I were talking about going way back with David Pastrnak. He's having a pretty good year in the American Hockey League, he went to the World Juniors, he came back and played his ninth game and scored two goals against Philadelphia," Don Sweeney said. "Lo and behold, he's in our lineup for the rest of the year and has become a tremendous player. Call it arguably a top 10 player in the National Hockey League.
"You never know the timelines, you just try to support the development process. Whether that's through the draft, or through college free agency, or whatever players or trades are brought in and try to cultivate through a winning environment. And when kids are ready, players are ready. Give them the opportunity to take advantage of it. That's on them, they've earned it."
Mason Lohrei heads to Providence
The one move that will likely rankle some Bruins fans is Mason Lohrei getting sent to Providence to open the 2023-24 season.
Lohrei entered camp as arguably Boston's most talented prospect, given his profile as a 6-foot-5, puck-moving defenseman.
But the established sentiment surrounding Lohrei's game is that he still needed plenty of seasoning down in the AHL ranks this season, especially after logging eight total games with Providence last year.
After a very impressive preseason slate, it's safe to assume that Lohrei has significantly accelerated his developmental timeline up to the NHL ranks.
"Mason has made our decisions really difficult," Sweeney said. "He's played well. Again, we've put him in similar situations with Poitras and playing them up and down the lineup and in situations that again, on the back end, you're not going to get hit and you're going to get exposed, if anything. He's logged a lot of minutes. We continue to work on his habits without the puck.
"I think everybody starts to see the talent and the vision that he has the creativity, the confidence to be able to execute offensively. Whether that's from his own goal line or the offensive blue line. The biggest adjustment to the National Hockey League is really defending against the top players … because they lean on you, and they press you. Mason's going to have to continue to go through that. There'll be some growing pains associated with it."
Even though Lohrei's skills are evident, starting the season in Providence still makes plenty of sense for the poised blueliner.
As tempting as it might be to slot in Lohrei over a potential third-pairing regular like Derek Forbort (or split up the Grzelcyk-McAvoy pairing out of the gate), the Bruins can keep Lohrei down in Providence, where can not only log 25+ minutes a night, but can also play to his strengths with his extended reps on the P-Bruins' power-play unit.
So long as Lohrei continues to build upon the foundation he set this fall, the Bruins defenseman should be back in the NHL at some point this season — especially if injuries sprout up with the big club.
At this point, it's more of a matter of when, not if as far as Lohrei's arrival.
Bruins still working on Heinen's future
Given the roster cuts that have already been made, it feels inevitable that Boston will eventually hand Heinen a contract before the Bruins take the ice on Wednesday against Chicago.
"We're still weighing our options as it relates to potentially signing Danton," Sweeney said. "And he knows, you know, he's been here in a PTO but he's also made the difficult decision. "We're going to take it right down on the wire when we make our final roster decisions tonight."
Given Heinen's versatility, two-way play, and familiarity with both the Bruins and Jim Montgomery, the veteran forward makes plenty of sense as Boston's 13th forward — with Heinen in line to slot in on the third line if Poitras is eventually sent to juniors.
With Boston now sitting with $1.3 million in available cap space, the Bruins should have enough to tear up Heinen's PTO deal and hand him a (likely cheap) contract for the 2023-24 season.
A youth movement on the fourth line
Even though 35-year-old Milan Lucic is expected to be the anchor on Boston's checking unit, the Bruins will load up the rest of that fourth line with a pair of speedsters willing to dole out welts in rookie Johnny Beecher and second-year NHLer Jakub Lauko.
With Patrick Brown assigned to Providence on Monday, the Bruins have a solid contingency plan in place if Beecher hits a wall up in the NHL ranks. But Beecher earned his chance to break camp with Boston after a strong preseason showing as a fleet-footed pivot.
"When players have made an impact in our lineup and they deserve an opportunity, they've earned an opportunity," Sweeney said. "It's not about deserving one. Makes really hard conversations with veteran players, and it's not an easy business in that regard at all.
"And it's very uncomfortable, because you do have really good conversations when you're talking about bringing a player into the fold and where you see it. And then you have little unpredictability as it relates to younger players taking advantage of their opportunity. But again, it's earned."
Sign up for Bruins updates🏒
Get breaking news and analysis delivered to your inbox during hockey season.
Newsletter Signup
Stay up to date on all the latest news from Boston.com