Bruins
Our 15 bold predictions for the 2023-24 Boston Bruins
The Bruins may not be headed for a bridge year, due in large part to a stout defense and goalie duo.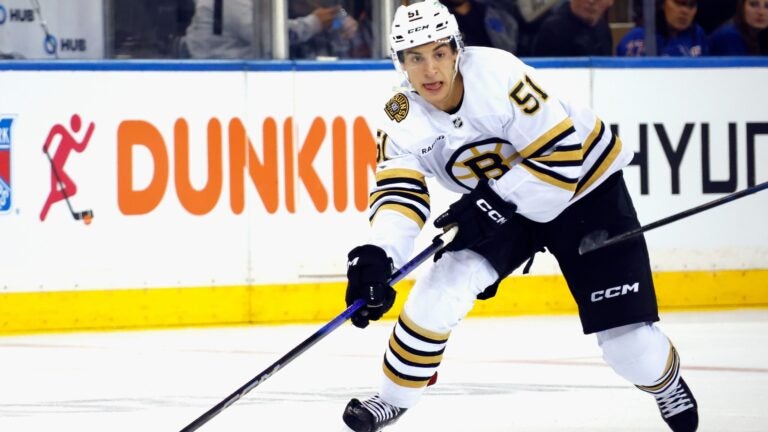 With the Bruins' 2023-24 season set to get underway on Wednesday night, let's run through some of our bold predictions for a revamped roster featuring plenty of new faces — but still entrenched by a few franchise fixtures.
1. Matthew Poitras plays the entire season with the Bruins
Once considered a long shot to even sniff the NHL as a 19-year-old prospect, Poitras accelerated his timeline after acing every test that Jim Montgomery and Co. handed him during five preseason games. Boston now has nine games to determine if Poitras can endure the punishment that comes with an 82-game gauntlet in the NHL ranks.
Even though questions remain about whether the 5-11, 180-pound forward can hold his own night in and night out at hockey's highest level, the 2022 second-round pick has done little to dissuade from the notion that he belongs.
Not only does Poitras stick around beyond his upcoming nine-game trial, he eventually finishes the year skating on a second line with Brad Marchand and Jake DeBrusk — with Charlie Coyle slotted down to the third line.
Boston's dearth of capable options at center following Patrice Bergeron and David Krejci's retirement has loomed over this Original Six franchise for years. It might have taken the Bruins just a few months to find one in-house solution.
2. Mason Lohrei plays 40+ games in the NHL
For all of the rancour regarding Mason Lohrei's demotion to Providence just ahead of Boston's season opener, Bruins fans really shouldn't fret.
After accelerating his developmental timeline with an impressive preseason slate, Boston's top blueline prospect will benefit from logging 25+ minutes a night in the AHL to open the new season, especially with Lohrei likely getting the keys to the P-Bruins' power-play unit.
"Mason had a great year," Montgomery said of the message to Lohrei after getting assigned to Providence. "The message is, we're really deep on the back end, and for him to get the minutes he needs for his development, he needs to go down and play some significant minutes in Providence. For us, we know he's gonna be a big part of our future. We've seen it. He's a really good hockey player. It's just a matter of time."
Lohrei offers tremendous promise as a poised playmaker on the back end with a 6-foot-5 frame that will continue to fill out over the years. After building on his game under heavy reps in Providence, Lohrei eventually earns a call-up to Boston in January and sticks around all season.
3. Milan Lucic wins 7th Player Award
No, he's not the same top-six juggernaut he was during his prime years in Boston. But be it nostalgia or the cacophony of cheers that will rain down from the Garden seats whenever he drops the gloves, Lucic runs away with the fan voting for the 7th Player Award, handed out annually to the player who exceeds expectations in 2023-24.
In reality, the award should go to either Poitras or Jakub Lauko, who brews up chaos every time he hops over the boards (11 drawn penalties in 23 games).
4. Bruins lead the NHL in penalty minutes
Even with some high-end talent up front in the form of players like David Pastrnak, the Bruins don't have the skill sprinkled across the depth chart to consistently burn teams on the rush and via highlight-reel O-zone sequences.
But as Boston relies on its top-six unit to drive the bus as far as its offense is concerned, Don Sweeney added plenty of beef the team's lineup in the form of Lucic (6-foot-3, 236 pounds), James Van Riemsdyk (6-foot-3, 208 pounds), and Morgan Geekie (6-foot-3, 203 pounds).
With a proven bruiser in Trent Frederic (6-foot-3, 220 pounds) on the third line and two fleet-footed, physical skaters joining Lucic on the checking unit in Lauko (6-foot-1, 193 pounds) and Johnny Beecher (6-foot-3, 216 pounds), expect Boston to land plenty of welts against opponents as they try to grind teams down with more methodical, punishing forecheck.
5. Jeremy Swayman starts more games than Linus Ullmark
It's to be expected for there to be a bit of regression for Ullmark after a stellar 2022-23 season that ended with a Vezina Trophy. But even if Ullmark dips from his video-game statline (40-6-1 record, 1.89 GAA, .938 save percentage), Swayman is far from just a backup plan as Boston's "1B" between the pipes.
In 37 games last season, Swayman went 24-6-4 with a .920 save percentage, 2.27 GAA, and four shutouts. Swayman's underlying metrics were just as sterling. Among the 36 NHL netminders who logged at least 2,000 minutes of ice time last season, the Alaskan native ranked second in the NHL in high-danger save percentage (.863), per Natural Stat Trick.
Given Swayman's age (24), already impressive NHL results, and the added motivation amid settling for a one-year deal this summer after an arbitration hearing, the young netminder should take another step forward this winter and assert himself as the Bruins' top option in net.
6. Jake DeBrusk signs a new extension before Jan. 1
Once a promising (and inconsistent) passenger in a top-six role, the Bruins are counting on DeBrusk to drive play on a line with another skilled winger in Brad Marchand. Had he not missed six weeks due to a broken fibula during the 2023 Winter Classic, DeBrusk was on pace for 35 goals in 2022-23, while also averaging 1:22 of shorthanded ice time per contest.
Even with Bergeron out of the equation, a healthy DeBrusk finally crosses the 30-goal threshold this season. And as Boston continues to try and bolster their foundation for the post-Bergeron era, Sweeney and Co. ultimately hand a pending UFA in DeBrusk a contract similar to the eight-year, $52 million extension that the Lightning crafted for Brandon Hagel in August.
With the cap ceiling set to surge next summer, it doesn't take long for the contract to settle comfortably into more-than-fair market value.
7. The Bruins trade a defenseman
If Lohrei makes a legitimate push for NHL reps later this winter, something's got to give on Boston's blue line.
With Matt Grzelcyk and Derek Forbort set to hit free agency next summer, both blueliners could be expendable in order to clear a path for Lohrei. Even though Grzelcyk has been a divisive player for some Bruins fans, his versatility, puck-moving prowess and his chemistry with McAvoy make him an asset that Boston shouldn't part with for pennies on the dollar.
8. Brad Marchand still posts 90+ penalty minutes
Brad Marchand is cognizant of the pressure and weight that comes with getting the "C" stitched onto his sweater.
But even with the decorum that comes with the captaincy, don't expect Marchand to be in the running for the Lady Byng Trophy any time soon.
"It's something that … it's gonna continue to [be a] work in progress," Marchand said of keeping his emotions in check last month. "I definitely don't expect to step in and be perfect off the hop. I do play with a certain type of passion and emotion. I won't lose that. That's just who I am.
"And I'll need to continue to do that to be a good player in this league. It's allowed me to be successful and I don't want to get away from that. I just alluded to it, the guys that I've seen wear the C for this team, the effort that goes into it — you can do it many different ways."
Marchand's prickly attitude, relentless competitiveness, and nonstop motor elevated him from a fourth-line pest to top-line superstar. Don't expect that to change this season, even as Boston's captain.
If anything, expect that to rub off on the rest of a Bruins roster hungry to take out last year's frustrations on the rest of the league.
9. Pavel Zacha surpasses 65 points
Zacha was one of Boston's top surprises last season, surpassing his previous career-high in scoring by 21 points (57 over 82 games) while skating next to Pastrnak and David Krejci.
Even without Krejci orchestrating chances in the offensive zone, Zacha should still be able to rack up points with Pastrnak stapled to his hip in Boston's top-six grouping.
In 12 games last season where Zacha replaced Krejci as Boston's second-line center, he scored four goals and posted 10 points. The Bruins were a perfect 12-0-0 over that extended stretch.
With Zacha also the first in line to take over for Bergeron at the "bumper" position on the top power-play unit, Zacha sets a new scoring threshold for the second time in as many seasons.
10. Charlie McAvoy is runner-up for Norris Trophy
After being limited to 67 games last season while recovering from major offseason shoulder surgery, McAvoy once again establishes himself as one of the most impactful blueliners in the NHL in 2023-24.
"He has a lot more confidence in what he's doing," Montgomery said of McAvoy. "It just seems like because there's no doubts. 'Is my shoulder ready for this' or 'can I handle this and did my training camp prepare me?' He didn't have a training camp [last season]. So all those questions are gone, and he's just playing."
With McAvoy and Hampus Lindholm — who finishes fourth in Norris Trophy voting last season — anchoring separate D pairs, the Bruins will have arguably a top-10 defenseman on the ice for least 40-odd minutes of a 60-minute contest.
11. Bruins aren't buyers at the deadline…
But they're also not sellers, not with the team in the playoff mix. Other than potentially moving a blueliner in order to carve out a path for Lohrei, don't expect the Bruins to relinquish more draft capital and assets in March, especially if it would require moving a blue-chip prospect like Poitras.
With more cap space on the horizon and an established core already in place, the Bruins sit this deadline feeding frenzy out and let their younger players continue to develop.
12. More seasoning needed for other Providence youngsters
A much-needed youth movement might be underway in Boston with both Poitras and Beecher breaking camp — and Lohrei not far behind. But don't expect other promising prospects like Fabian Lysell or Georgii Merkulov to end the season in set roles up at the NHL ranks.
Lysell and Merkulov still need plenty of seasoning with Providence, with Lysell in particular needing more reps at just 20 years old.
13. The Bruins still boast a top-five defense … but their offense takes a step back
The Bruins still boast arguably the best 1-2 punch in net in Ullmark and Swayman. Five of the six starting defensemen on a unit that led the NHL in goals against per game (2.12) last season are back.
Boston will need some time to cultivate chemistry on a reworked forward corps, especially with a left-shot skater in Zacha adding a new wrinkle on the power play.
With the departures of Bergeron, Krejci, Tyler Bertuzzi, Taylor Hall, and others, it's to be expected for Boston's offensive firepower to dip from last year's impressive results (3.67 goals against per game).
But even if Boston's scoring output drops from second in the NHL to more in the middle of the pack, a stingy D-zone structure should still keep the Bruins afloat in more one-goal contests.
14. The Bruins finish second overall in the Atlantic
No, the 2023-24 Bruins are not better than last year's roster.
But as Boston continues to snuff out scoring chances and Ullmark/Swayman stand tall, the Bruins should have enough firepower up front (especially with O-zone cheat codes like Pastrnak) to remain entrenched as viable playoff contender, especially if pivots like Zacha and Poitras hit.
The Atlantic Division should once again be a rock fight, but the Lightning have their own depth issues, coupled with a concerning back injury for Andrei Vasilevskiy.
Boston knows full well not to underestimate the Panthers this season. But Florida is also set to open the year with both Aaron Ekblad and Brandon Montour on the shelf due to injuries, while two other key cogs on defense in Radko Gudas and Marc Staal left in free agency.
15. Boston wins at least one playoff round
Oh, hockey — you unpredictable, foolish, fantastic sport.
The 2023-24 Bruins may not have as much pure talent as other B's squads over the past few years. But with a physical forward corps complementing a stout defense and a goalie tandem that Jim Montgomery sticks to in the postseason, this team goes further in the playoff bracket than last years' record-setting bunch.
Sign up for Bruins updates🏒
Get breaking news and analysis delivered to your inbox during hockey season.