Bruins
Former Bruins standout Taylor Hall looking forward to first-time dad boost in first season with Blackhawks
Hall welcomed his first child on Sunday as he settles into his new home in Chicago months after getting traded from Boston.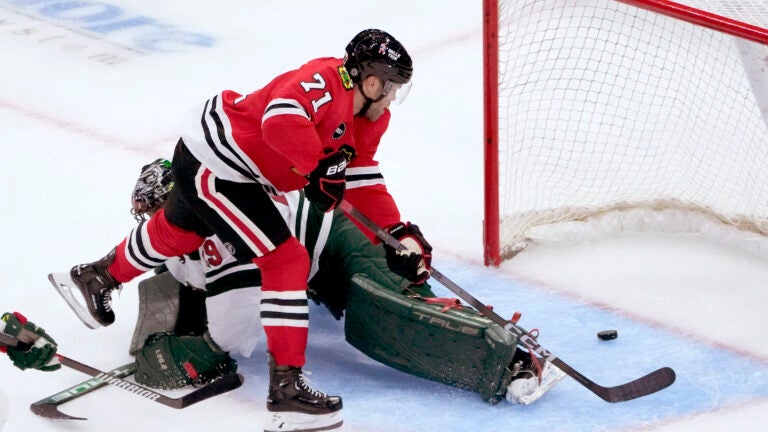 CHICAGO (AP) — Taylor Hall and his wife, Rachel, welcomed their first child on Sunday, a boy.
Then Taylor Hall went right back to work with the Chicago Blackhawks.
"Everyone says you get a boost when you're a first-time dad, and I'm interested to see what that feels like," he said after practice on Monday.
It's a season of new beginnings for Hall after he was acquired in a trade with Boston in June. The winger, who turns 32 in November, had 16 goals and 20 assists in 61 games with the Bruins last year.
Hall is expected to play alongside No. 1 overall pick Connor Bedard when Chicago visits Pittsburgh on Tuesday night. Coming off a last-place finish in the Central Division, the rebuilding Blackhawks begin the season with a five-game trip before playing their home opener on Oct. 21 against Vegas.
It's not exactly an ideal situation for a new dad, but Hall is looking on the positive side.
"It also means that for the rest of the schedule I'm home just that much more," he said. "In February, when he's 3 to 4 months old and he's much more aware of his surroundings, we're only gone I think one time. So there's some negatives and positives to every situation."
Following the matchup with Pittsburgh, Hall returns to Boston when the Blackhawks face the Bruins on Wednesday night. Hall was traded from Buffalo to Boston in April 2021. He collected 44 goals and 67 assists in 158 regular-season games with the Bruins.
"It's their home opener. There's a lot of things that are going on that are a bit different, but also cool at the same time," Hall said. "I mean I love Boston. I love the group of guys over there. The organization treated me well. I hope we win when we go play there, but I also wish that group the best."
Hall, the first overall pick in the 2010 draft, is playing for his sixth NHL team. He made his debut with Edmonton 13 years ago. He won the 2018 Hart Trophy for NHL MVP, setting career highs with 39 goals and 54 assists in 76 games with New Jersey.
Hall likely will begin this season on Chicago's top line with Bedard at center and Ryan Donato at wing.
"I've moved around a couple times, so I know what it's like to come to a new team," Hall said. "I had lot of time to prepare for it mentally this offseason. It's been an easy group to come into."